We are now experiencing a reversal to the downside for the precious metals market with gold declining by 6% last week and 6% this week.
This significant decline in gold price is taking place in terms of all currencies. Here are the 5-year charts of gold expressed in AUD, USD, CHF, JPY, GBP and CAD.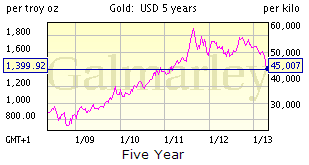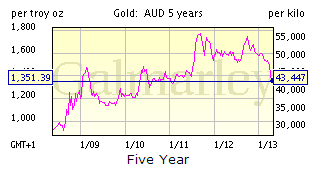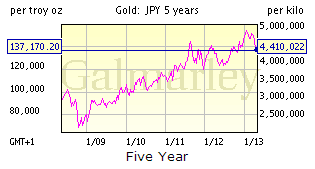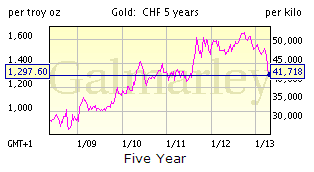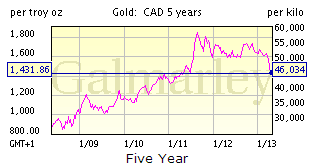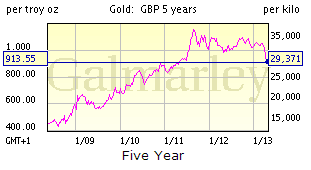 Source: usagold.com
The gold price has fallen in a fast and strong mode. If we take a look at the last macro news that are linked with the gold market we can find two interesting things that should shed some light to the recent developments on the gold market.
First, Cyprus was forced to sell a part of its gold reserves that represent €400m in order to be bailed out by the European Union. As a result it is likely that the gold market participants expect other weak European countries to sell a part of their gold reserves to be bailed out. In this case, the gold market will enter a new bear market. We can clearly observe that the gold market started to become nervous from that specific news.
Second, gold inventories have declined sharply in New York but we do not know why. We remember the silver manipulation in 1997 where gold inventories shifted from New York to London. Nonetheless in that case, gold analysts were bullish because they considered this decline in inventories as a shortage of silver. Silver prices surged first but this significant increase in silver price was followed by a significant decline once the silver "manipulators" were forced to close out their huge silver positions.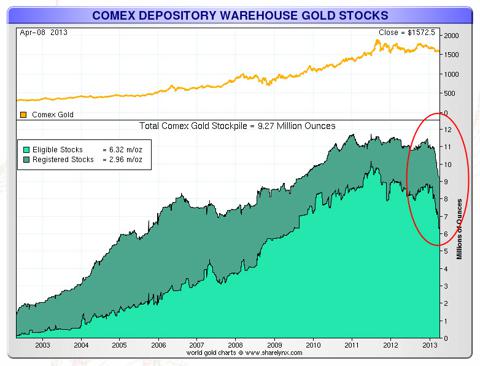 Click to enlarge
Source: sharelynx.com
These are the macro events that could be linked with the recent sell-off in the gold market.
In the investor's minds it is always frightening to observe these asset price declines and it is even more frightening when there seems to be no fundamental reason.
Let's put the recent gold price actions into perspective. On this long-term chart, we can see that gold reached a peak at $1,900 in September 2011 and this historical high has been followed by a consolidation phase (even though 2012 was the 12th consecutive year during which the gold price has risen) that ended up with a sharp decline starting in April 2013 and which could continue a bit longer.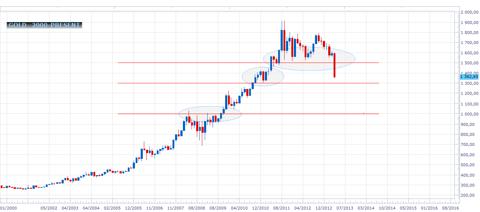 Click to enlarge
Source: FXCM
On this long-term monthly chart, we can identify several supports:
at $1,500
at $1,300
at $1,000
Since the peak reached in September 2011, the gold market has lacked conviction and has been moving sideways.
Indeed, even though last year was the 12th consecutive year the gold price has risen, 2012 saw only a single digit rise whereas the previous years experienced a double-digit performance. This "weak" performance in 2012 has been the "smoke signal" that 2013 should be difficult to the gold market to provide a strong performance.
On April 15th 2013, gold traded at $1,400 so the support at $1500 has been broken and gold could be going to test the $1300 support.
The gold market needs momentum and that is why we have seen a sharp sell off. Of course we can claim that this sharp decline is due to x, y, z macro event or manipulation but the truth is that the market needs new buyers today and we can clearly see it with the overly bullish sentiment from the gold market participants. Indeed, analysts predicted last year a price increase of more than 10% in 2012 whereas gold has risen only by a single digit. For 2013, analysts are still bullish and are expecting an average increase by 5% (GOLD FORECAST 2013 published by Gold Stock News). So if all the gold market participants are bullish, who are the new buyers that could push the gold prices higher? The truth is there is no one this is the reason behind the sharp decline.
As the gold market is plunging, the sentiment is going to turn bearish and it will probably eliminate the "small players" in the gold market. After this necessary pause in the gold market, there will be enough momentum to create a strong rally with a clear trend.
So the next support to watch is $1,300. If the sentiment turns to be sufficiently bearish the gold price will start to rise from that level. Otherwise gold is going to test $1,000.
Disclosure: I have no positions in any stocks mentioned, and no plans to initiate any positions within the next 72 hours. I wrote this article myself, and it expresses my own opinions. I am not receiving compensation for it (other than from Seeking Alpha). I have no business relationship with any company whose stock is mentioned in this article.