By: Todd McDonald, Analyst
Overview
McDonald's (NYSE:MCD) is scheduled to report 1Q 2013 earnings before the opening bell on Friday, April 19. The results are typically released just prior to 8:00 a.m. EST, and will follow with a conference call at 11:00 a.m. This quarter, McDonald's has been steadily trending higher, even in the face of concerns over the Bird Flu in China and the impact of a stronger Dollar on international sales.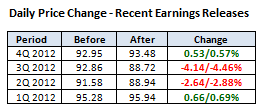 Outliers and Strategy
Earnings Per Share: McDonald's typically reports a "clean" number that is comparable to consensus estimates. The current Street estimate is $1.27 per share (Source: Yahoo Finance) The range is $1.23 to $1.34.
Revenues: The current consensus estimate is $6.59 bln, with a range of $6.33 bln to $6.80 bln.
Global Comparable Sales: According to Zack's Investment Research, the estimate for Global Comparable Sales for the 1Q 2013 period is for a decrease of 1.2%, with a range of -0.9% to -1.5%.
Sympathy Plays: Jack in the Box Inc. (NASDAQ:JACK), Burger King Worldwide, Inc. (BKW), Wendy's (NYSE:WEN), Yum Brands (NYSE:YUM)
Implied Volatility: Over the past eight quarters, the average, absolute move one day after earnings has been 2.34%. Using options premiums, traders are expecting a move of approximately 2.35% after earnings are disseminated.
Recent News
04/16: Fitch Ratings believes that McDonald's is one of the most at-risk companies from the H7N9 avian influenza (Bird Flu) scare in China. According to the post on StreetInsider.com, past pandemics have negatively affected global restaurant companies.
04/01: Analysts at Deutsche Bank believe that the recent strength in the US Dollar could negatively affect McDonald's bottom line. According to a post on StreetInsider.com, the firm maintained its Buy rating and price target of $108.
03/08: According to a post on StreetInsider.com, Goldman Sachs raised its price target to $104, with a Neutral rating. Analyst Michael Kelter cites global comparable store sales stabilization.
03/08: McDonald's global comparable store sales decreased 1.5% in the month of February, versus estimates of -1.6%. The company attributes the marginal decline to a robust February 2012.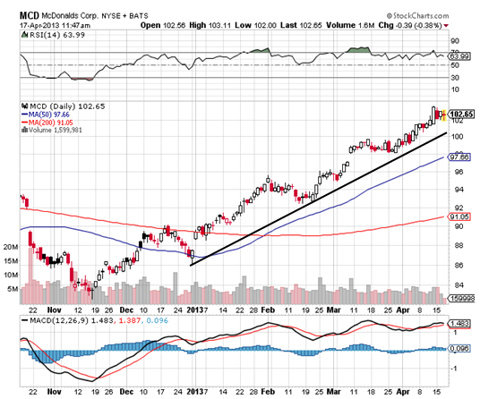 Click to enlarge
Technical Review
McDonald's shares have traded steadily higher this year, with very shallow pullbacks that have been quickly bought. After making an all-time high in recent sessions, shares have been consolidating to work off a slightly overbought reading on RSI. If earnings results surprise to the upside, look for new all-time highs. If earnings disappoint, initial support can be found at the psychological $100 mark, followed by the $98 area, and ultimately the 50-day SMA near $97.66. (Chart courtesy of StockCharts.com)
Summary
McDonald's has had a solid 2013, rising almost 18% year-to-date, thanks in part to an improving economic backdrop and recovering sales figures. However, recent headwinds such as a significantly appreciating dollar and the Avian Bird Flu scare in China have recently become causes for concern. With these circumstances, it would take stellar numbers from the upcoming earnings release to push the shares past recent highs. Look for earnings per share and revenues towards the high end of the range of estimates, coupled with a beat on global comparable store sales for a buy signal. Anything less has the potential to elicit a negative reaction.
DISCLAIMER: By using this report, you acknowledge that Selerity, Inc. is in no way liable for losses or gains arising out of commentary, analysis, and or data in this report. Your investment decisions and recommendations are made entirely at your discretion. Selerity does not own securities in companies that they write about, is not an investment adviser, and the content contained herein is not an endorsement to buy or sell any securities. No content published as part of this report constitutes a recommendation that any particular investment, security, portfolio of securities, transaction or investment strategy is suitable for any specific person.
Disclosure: I have no positions in any stocks mentioned, and no plans to initiate any positions within the next 72 hours. I wrote this article myself, and it expresses my own opinions. I am not receiving compensation for it (other than from Seeking Alpha). I have no business relationship with any company whose stock is mentioned in this article.