Immersion (NASDAQ:IMMR) will be reporting 1Q 2009 results on Monday, May 4.
As this is our first article about the Company, a few words about it and its business model.
Immersion is all about haptics, a word from old Greek that refers to the sense of touch. You can have a look at Wikipedia for more information about Haptic technology or refer to the White Papers (like Improving the Mobile User Experience through Touch) (.pdf) published by the Company – as to the subject of our article, we'll just underline that Immersion is the world's leading supplier of complete, programmable haptic systems, that may be used in medical applications, mobile phones, screen based interfaces, gaming, etc.

The Company's IP is quite impressive, with over 700 issued and pending patents, ranging from simple to very sophisticated force/touch feedback effects.

click to enlarge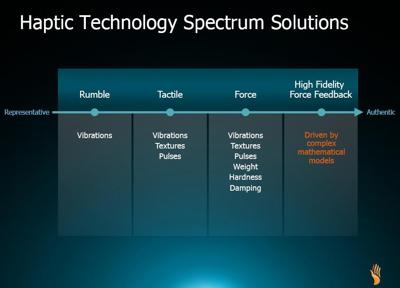 (all images from Immersion's latest Investor Presentation) (.pdf)

The Company has recently reorganized its business units around the following two segments:
Medical

Medical simulators for training physicians on the look, sound, and feel of minimally invasive surgical and medical procedures (approximately 45% of revenue).

Touch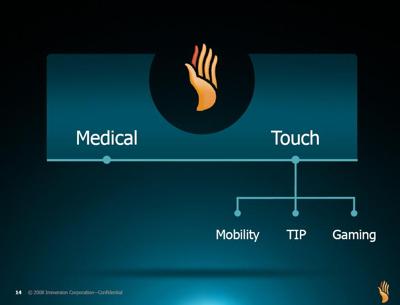 Medical has recently seen the introduction of new product lines:
Notably, 2008 Medical revenues were executed without the benefit of new product introductions. This changes significantly in 2009, with the recent launch of three new products and more in the pipeline. This includes a new

EBUS-TBNA

bronchoscopy module, the first-ever haptic medical simulation for a new lung cancer diagnostic procedure (

see press release

); new

Carotid

modules for our endovascular platform that provide multimodal virtual reality training for carotid angioplasty and stenting stroke prevention measures (

see press release)

; and a new

Lap Chole 2.0

module for our LaparoscopyVR system targeted for training of gallbladder removal (

see website

).
Touch includes several areas that are at different development stages – among them mobile phones (the most important category for number of potential users, with about 1.2 billion units sold per year), console gaming, touch screens for consumers (GPS systems, MP3 players, etc.), portable games, screen controlled devices, casino gaming, and rotary controls and touch screens in the automotive vertical (as a side note, royalties may vary quite a lot depending on the sector and the effect required):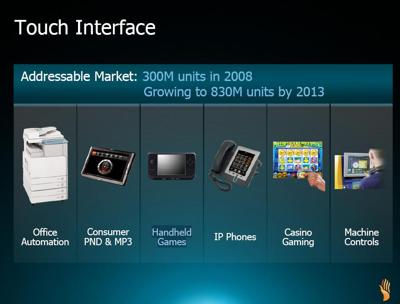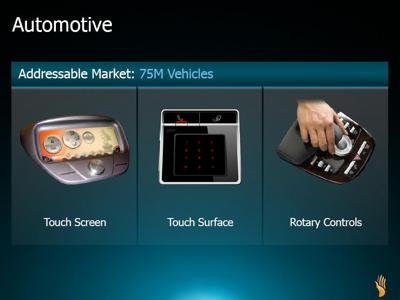 This very quick summary underlines some of the strengths of the Company: several areas of application, an impressive Intellectual Property, a great potential, if only the technology becomes widely accepted and implemented.
Unfortunately for Immersion, things aren't so easy, as is often the case with new products that need an "evangelistic approach" to be brought to the market, and so far the company has struggled converting all this potential into actual revenues. While recently there have been several proofs that haptic is slowly becoming more popular, especially in mobile phones, revenues haven't really started increasing, and management is still working to find a business model that can help promoting the technology, establishing the Company as THE supplier for it, while growing revenues as well.
A typical example is the mobile phone industry: Immersion has a great customer base (Nokia (NYSE:NOK), LG (OTC:LGERF) and Samsung (SSNKF.PK), that represent the three largest unit producers), growth in touch screen smart phones, led by Apple's (NASDAQ:AAPL) iPhone success, which has been impressive, but actual revenues haven't really impressed. It is probably a combination of low per unit royalties or flat fees given as an incentive to its major customers for the acceptance and introduction of the technology: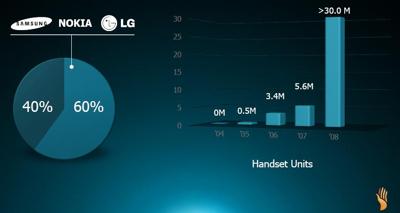 Haptic has been mentioned as gaining momentum in this vertical for quite a while:
Haptics will show up with shocking frequency this year in cell phones and other mobile devices. In some cases, haptics will help compensate for the disappearance of buttons in cell phones. . . haptics will also return to its roots by improving game play on cell phones. One way or the other, haptics will shake up the gadget industry in 2008. (Eagan, Mike. 2007. Top 10 Trends: No. 9, The year of haptic feedback. Computerworld).
Independent researchers have underlined the advantages of using haptic in smartphone-type devises: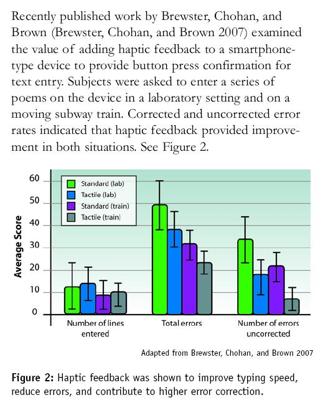 Samsung and LG have been the first large volume producers to embrace the technology and use it as a selling point in their advertisement:

Samsung SCH-W420 Haptic phone commercial (

video

)

LG "Touch the Wonder" Cyon phone commercial (

video

)

Korea's SBS news on Samsung's Haptic phone (

video

)
Although Immersion does not reveal details of its contracts with the major phone suppliers, we can speculate that royalties range around 10 cents per phone including haptics for LG and Samsung, while Nokia has been paying a fixed royalty of about $ 500,000 per quarter, before the release of its first haptic phone, Nokia 5800 XpressMusic, which has been a big success so far (and there's no indication if there may also be a small per unit royalty or an increase in the fee going forward):
Touch user interface optimized for one-hand use with tactile feedback
This is taken from Nokia's recent conference call (transcripts available on Seeking Alpha, emphasis added):
Olli-Pekka Kallasvuo - President and CEO of Nokia

Along these lines, in Q1, the Nokia 5800 XpressMusic, our first mass market touch screen product, combined with our Comes With Music service was a big success story. The Nokia 5800 has seen very strong demand in every country, where it has been launched. Already in Q1, the 5800 was Nokia's number one revenue and gross margin generating product and was the number one volume and value product in the UK.

Despite some capacity constraints, we received approximately 2.6 million units in Q1, as the product ramped up globally. Today, all sales channels are open. We have increased our capacity and we are shipping the Nokia 5800 at the rate of more than 1 million units per month.
Some of the contracts signed in the mobile phone sector will come for renewal soon, and the Company might be able to re-negotiate the royalties, especially if more complex applications will be applied in the future. Immersion might also be able to benefit from games or other applications related to haptic-enabled mobile phone: some clarity or guidance from Immersion about these aspects of the business would certainly help investors understand better which direction the Company is following in this vertical.
Having recently settled all its legal disputes from the past with Microsoft (NASDAQ:MSFT) and Sony (NYSE:SNE), the Company should now be able to concentrate all its effort to execute its business plan, as explained by the new CEO, Clent Richardson, during the 3Q 2008 conference call (transcripts from Seeking Alpha):
Clent Richardson – CEO

Put quite simply our technology is applicable everywhere. Everywhere there is a touch user interface. The user experience in products that don't use Immersion's technology fall far short of what it could be and ought to be. During Q3 we executed against these objectives while posting record revenue. We concluded two important legal disputes that cleared the decks and freed up management's time and energy to focus on execution. We are now able to move beyond these matters enabling us to return our focus on ramping the business. We made meaningful progress in building the executive team and adding key hires who share my passion and vision to implement Immersion's technology globally and pervasively.
Immersion already has an impressive customer list: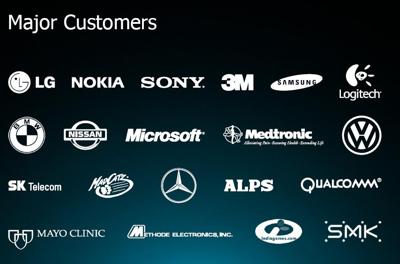 While we've already talked about the three major mobile phone producers, a couple of partnerships, in different verticals, may be worth a closer look:
At the Consumer Electronics Show this past January, not only did haptics feature largely in phones, but

Visteon and 3M

(NYSE:VC), (NYSE:MMM) showcased a BMW SUV cockpit with a very cool haptic interface. In the center stack, a large capacitive panel reacted to a finger press, or even the approach of a hand. When you pressed down, the panel provided haptic feedback, such as a click and a rebound, indicating you had pressed a dashboard button even though the panel was flat. The center control knob also used force feedback and adapted its range of motion and tactile profile to the appropriate function.

The haptic feedback solution enabled the panel to be a single smooth surface rather than a large array of individual switches. It also allowed only currently available functions to be displayed and activated.
Immersion will also be supplying the next 2012 Tesla Model S and is already supplying an innovative Driver Control for Lexus (Toyota) (NYSE:TM):
Immersion has signed a license agreement with tier-one systems integrator

Visteon

that will lead to future innovations for haptic-enabled controls in the automotive sector (

see press release

). Visteon's booth at CES featured a car control console of the near-future with our technology embedded and brought to life. (

See CNET video

). Road & Track just reviewed the new 2012

Tesla

Model S and highlighted its use of haptics. According to Road & Track

"The icing on the cake is inside the Model S, where a huge 17-in. touch-screen infotainment system acts as the center console. It's got a haptic interface (meaning you can feel it click when you press it), with 3G wireless connectivity and is fully configurable like a mobile desktop computer."

(

See Road & Track article

). Immersion also announced the first-ever automotive-grade actuator to enable fast integration of advanced touch feedback into touchscreens and touch surfaces for the global automotive industry. (

See press release

).

A 2D haptic device with Immersion technology developed by Alps Electric was integrated by Denso Corporation into the

2010 Toyota Lexus RX

. Toyota, the world's largest auto manufacturer, is using the device to elevate the automotive user experience, especially safety. The Remote Touch haptic control tips and tilts in all directions, moving a cursor on a screen above. When the cursor moves over different icons, like buttons, the driver feels haptic feedback. The system gives Lexus designers more flexibility in positioning the navigation/audio display, such as very near to the driver's peripheral view of the road – a clear safety advantage.

Watch CNET video

.
3M and Immersion have been working together for quite a while to introduce haptics in the gaming industry:
The 3M MicroTouch Capacitive TouchSense System

, 3M's tactile-feedback touch system, officially debuted at the Global Gaming Expo 2008 in Las Vegas, NV in the exhibits of seven leading gaming display providers: Ceronix, Inc., Effinet Systems, Kortek Corporation, Kristel Displays, Tatung Co., Tovis Co. Ltd, and Wells Gardner Electronics Corp. In displays ranging from 7-inch mechanical button replacement screens to oversized 32-inch slot screens, these display integrators featured tactile-feedback touch solutions as an upgrade option for existing casino games, as well as an enhanced touch displays for next-generation games.

The 3M MicroTouch Capacitive TouchSense System (MCT System) is the recipient of the Casino Journal platinum award for the "most innovative gaming technology product of 2007" and the Casino Enterprise Management "Slot Floor Technology 2008" award.

About the 3M MicroTouch Capacitive TouchSense System (3M MCT System)

The 3M MCT System combines a 3M MicroTouch ClearTek II capacitive touch sensor and an enhanced 3M MicroTouch EX II controller with tactile-feedback technology licensed from Immersion Corporation.



Let's have a look at some financials, finally.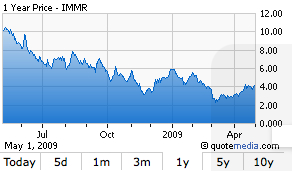 Revenues in 2008 were about $ 36.5 million, including the discontinued 3D line of business. The Company enjoys a very good cash position, with $ 85.7 million available, mostly the heritage of the Sony settlement, a few years ago.
In its own forecast, Immersion was approaching 2009 as an opportunity to accelerate the growth rate, increase market opportunities by signing new licenses and/or entering new markets, and expanding the geographic reach. For this reason, the Company had also taken measures to make additional investments in the business, including strengthening its management team, and was prepared to go through a few quarters at a loss, to return to break even in the last part of 2009 and hopefully to profitability in 2010.
In the last part of 2008, due to the negative economic climate, Immersion has also implemented some cost cutting measures, including relocating the Medical line of business in California.
This is taken from Immersion 4Q 2008 conference call (transcripts available from Seeking Alpha):
Stephen Ambler – CFO

As we've already mentioned, we are relocating our Medical line of business to San Jose. This move stems from the expiration of our lease in Gaithersburg, Maryland and the opportunity to realize significant synergies and cost savings leveraging the space and infrastructure that we have available at our corporate headquarters. This move will also save significant sums on travel, ongoing expenses related to having additional offices, and other operational efficiencies.

Several key managers will be relocating during this process and we expect to supplement them with new hires as needed in San Jose, which we are presently finding to be a quality hiring market and should remain so for the foreseeable future.

While we're not providing specific guidance at this time, we expect to begin realizing cost savings from this move starting in mid-2009. We estimate that savings will exceed $1 million per year in subsequent years.

Clent Richardson – CEO

Being mindful of the economy and our business plans, we have implemented salary freezes across the company and curtailed all non-essential travel. We intend to exit 2009 with a very strong cash position and I want to be quite clear – our goal is to attain a breakeven position, then turn the corner by delivering profit as quickly as possible and drive to sustained profitability moving forward.

2009 is a year of execution, where we will begin to deliver on the promise of Immersion, and I look forward to updating you on our progress regularly.
In its recent Annual Meeting of Stockholders filing (.pdf), Immersion gave more details about this:
As the macro-economic climate declined and began to affect our financial results, the Board, at the recommendation of the committee, took action in early 2009, freezing executive salaries at 2008 rates and instead chose to incentivize the executive team with long-term incentives, which is discussed further below. Further, in March 2009, Mr. Richardson, recognizing the need to reduce costs in the extraordinarily tough business environment, voluntarily reduced his base salary by 12% and reduced all other executive's base salary by 5%
A couple of one-time events will probably impact 1Q 2009 revenues:
Stephen Ambler

Fourth quarter mobility revenues of $1 million represented 11% of total revenues. I'll note that due to revenue recognition rules related to payment terms from one of our licensees, approximately $700,000 of repeating license revenues that we would normally have recognized in Q4 of 2008 will now be recognized in Q1 2009.

Also I alluded to in my part of the discussion that we had to defer about $700,000 of revenue out of Q4 into Q1. We weren't actually expecting at the beginning of the quarter; it came up during the quarter. And so it makes the quarter look worse and the next quarter will look a little bit better.

I will also note that we expect to generate some remaining revenue from our 3D line of business in the first quarter of 2009 or until the disposition of this group is finalized.
As I noted previously, Immersion is not issuing guidance:
Mark McMahon - Raymond James & Associates

Is that something you guys are thinking about changing going forward from this straight, absolutely no guidance rule towards helping analysts out there or potential analysts get better a better handle on what your businesses look like currently?

Stephen Ambler

So some extent our business is seasonal as well. We have different parts of the business seasonal at different times. Q4 is normally good for the gaming side of the business. Q3 is normally very good for some of the Medical side of the business. So those come into play, and we're still an early stage company. Some of our revenues are effectively lumpy. That's just one of the things you suffer with.

Clent Richardson

And I think, to your question, Mark, this will be an unsatisfactory answer to your question - we're just not going to be giving guidance for the foreseeable future, and I think if you're someone that tracks our business, if you look at 2006, 2007, 2008 results you can see quarter by quarter, and our goal is to grow year-on-year quarter by quarter. And I think that's probably as much as we're going to say on this at this point.
For this reason, too, not many analysts are following the Company and Yahoo shows coverage by just two firms, with a 1Q 2009 estimate of revenues in the $ 7.54 million range, and a $ 0.23 loss foreseen for the quarter.
Disclosure: Long IMMR