VIX - Market Sentiment
Wednesday futures of the S&P were under heavy selling pressure as markets around the globe traded lower across the board. Led mostly by Europe losses were in above 1.5% in most cases futures sharply lower after markets across the world were lower across the board. Investors rushed for the sidelines and looked to put protection to help hedge against losses from falling equity prices. Commodities volatility continues as both Gold ETF (NYSEARCA:GLD) and Silver ETF (NYSEARCA:SLV) again try to rebound from the massive sell-off. Market bulls stepped up again right at the 50 dma causing the SPX to bounce near the 1540 level testing it yet again for the third time in less than six weeks. If this level breaks be careful as 1522.49 is the next Fibonacci retracement point from the November low. Tomorrow has two key economic readings, which must be closely watched for those both long or short.
Welcome to settlement Wednesday where front month VIX options come off the books. VIX settlement came in at an astounding 15.46 making those who bought the puts and sell calls yesterday cry. Amazingly the 14 strike call could have been bought yesterday for a mere .25 and would have made almost 600% profit today alone. The CBOE Volatility index or spot VIX and futures for the third day moved violently to the upside as whipsaw action in the name continues. Volatility ETF (NYSEARCA:VXX) and 2x ETF (NYSEARCA:UVXY) again just like Monday performed extremely well today as front month futures again were screaming to the upside. VIX options screamed today with buyers of VIX calls all the way to the June 60 strikes looking for possible protection if the market rolls over. Not everything was bullish for volatility today however as yet again just like clockwork there were buyers of the VIX puts to the tune of 1.3M in net premium. Overall options volume was almost 150% average daily volume with calls outnumbering puts almost 2 to 1.
Click to enlarge images.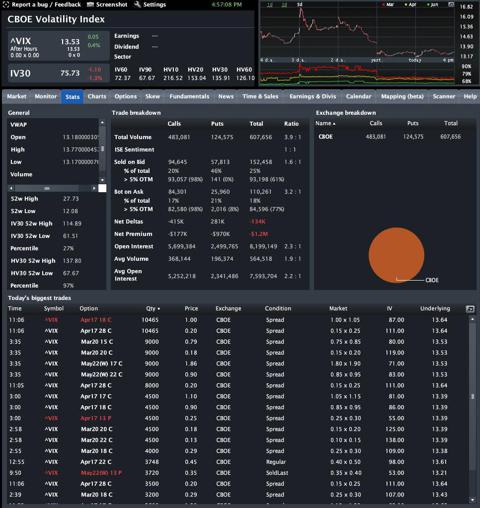 Statistics and Screenshot Provided By LiveVol.
VIX futures are listed below.
Yesterday
April VIX futures 13.95
May VIX futures 14.75
June VIX Futures 16.35
Today
April VIX futures settlement 15.46
May VIX futures 16.40
June VIX futures 16.75
July VIX Futures 17.15
Options Paper
Today on Twitter I noted two names receiving directional bets. The first name SLM Corp. (NYSE:SLM) was seeing some heavy call buying to the tune of 1.4M in net premium versus just 639K in put premium. The interesting part here was plays looking for this name to really shine in the upcoming months with implied volatility heading higher almost 7% on the session. Today option volume was more than 20x average daily volume with bulls and bears beating each other with knockout punches. Options activity was crazy interesting as the total % of calls bought today were 90% and puts were overall bought 95% of the time on the ask. Compare this to just 3% of calls sold on the bid and puts only sold on the bid 2% the names are not giving up. SLM reports after the close tonight so I'm sure there will be some serious follow up action tomorrow and Friday. Calls outnumbered puts 2 to 1 on the trading session.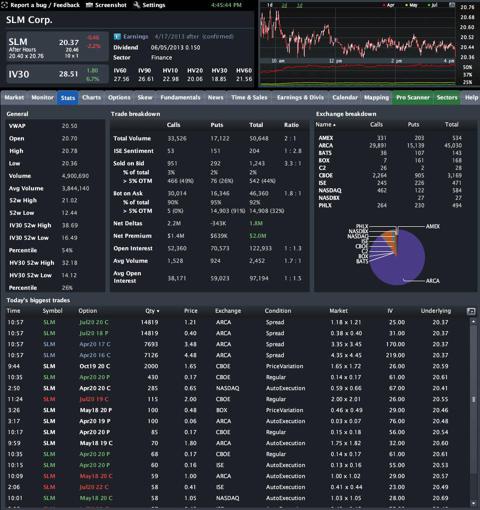 Statistics and Screenshot Provided By LiveVol.
The second name today catching my eye was a buyer of the April 42.5 strike puts in Rio Tinto (NYSE:RIO). These puts only have two days to perform and today traded almost 4x average daily volume on the put side. Although a relatively low dollar bet for the sonar report this is interesting as metals, material, and related stocks continue to take it on the chin. Puts were only net bought to the tune of 50K today but is on my radar none the less. I put this on the same level as my Joy Global (NYSE:JOY) short I put on last week. Sometimes the smaller unusual option activity can pay nicely for a smaller investor. Options activity was overall almost 2.5x average daily volume with puts outnumbering calls 7.5 to 1. If I can get a bounce in this name I may use calendar spreads to go short this name.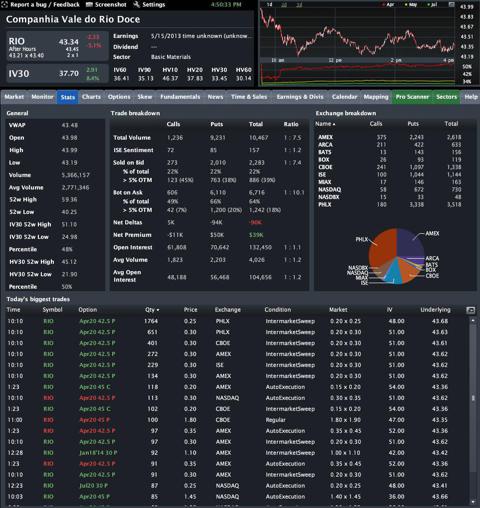 Statistics and Screenshot Provided By LiveVol.
Popular ETFs and equity names with bullish / bearish paper:
Bullish Option Flows - ISE and % OTM calls bought on offer
InvenSense (NYSE:INVN) 77% - 2.3K OTM calls - Never heard of this name till today
Activision (NASDAQ:ATVI) 77% - 2.1K OTM calls bought
Bank of New York 60% - 2.3K OTM calls bought
Bearish Option Flows - ISE and % OTM puts bought on offer
Home Loan Servicing Solutions (NASDAQ:HLSS) 93% - 5.2K OTM puts bought
Eli Lilly (NYSE:LLY) 93% - 9.15K OTM puts bought
Family Dollar (NYSE:FDO) 89% - 6.3K OTM puts bought looking for a pullback.
Disclosure: I am long AGNC, BA, BAX, CBB, CIM, CONE, DNDN, DRYS, HEK, IOC, LNG, NQ, SNDK, and TLM. I am short ASH, EA, HPQ, LULU, and SPY.
Trades Today: Closed BBBY short, bought SNDK 1x2 ratio call calendar, short AAPL, and cover holding nothing overnight.
Portfolio Exposure:
Long: 22.1%
Short: 13.8%
Cash: 64.1%
Disclaimer: The opinions in this document are for informational and educational purposes only and should not be construed as a recommendation to buy or sell the stocks mentioned or to solicit transactions or clients. Past performance of the companies discussed may not continue and the companies may not achieve the earnings growth as predicted. The information in this document is believed to be accurate, but under no circumstances should a person act upon the information contained within. I do not recommend that anyone act upon any investment information without first consulting an investment professional as to the suitability of such investments for his or her specific situation.