Is the title of the article outrageous? Probably, in that no analysts -- or even those most bearish on Apple (NASDAQ:AAPL) -- would suggest that sales will decline 5% annually for the next five years. Yet with this latest washout in shares of Apple, the valuation of the company is beginning to approach a level associated with a Dell (NASDAQ:DELL) or Hewlett-Packard (NYSE:HPQ). These companies are levered with debt to the hilt, and their core personal computing businesses are tied to a secularly declining market.
The outlook for Apple could not be any more different than that of Dell or HP than it currently is. The products that Apple sells today are in categories expected to see an explosion in growth over the coming years. Apple pioneered these categories with the iPhone and iPad. While competition exists today that did not exist in the past, no data is available that would suggest the growth period of Apple is over. However, to prove why Apple represents the greatest buy in the market today, we can look at what the business outlook for Apple would be even if it saw annual revenue declines of 5% over the next five years.
A Fallen Apple Is Still Worth Picking Up
This is not rocket science, and that is why investors need to stop looking a gift horse in the mouth and buy Apple shares. Stop worrying about the prospect of sales or gross margins declining. No company can have gross margins that stay in the stratosphere forever. It is a rather straightforward analysis. Apple revenue should continue to grow, but gross margins will come under pressure with added competition and lower-priced products offered by Apple. We could even paint a more bearish picture for the future of Apple, and the stock is still a screaming buy at today's valuation. Assume the following:
revenue decline of 5% annually, gross margin decline of 5% annually, operating expense as percent of revenue consistent with 2012, tax rate consistent with 2012.
operating cash flow as a percent of gross margin $ is the same as 2012, $10B in capital expenditures annually per 2013 guidance, $2.5B in annual dividend payments, and $2B in annual stock buybacks. The reduction in dividend payments from the current level would reflect a bearish decline in revenue, as well as the lack of credit the market gives to the current dividend being paid. The stock repurchases would be at a level to prevent further share dilution.
If you use those assumptions based off the company's actual performance from 2012 and cash position at the end of the year this is what a five-year outlook for Apple would look like:
Click to enlarge images.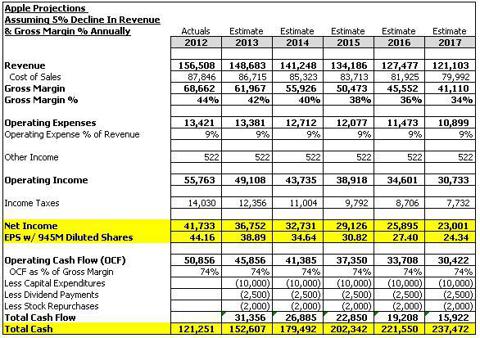 You are looking at a company that is generating $24 in EPS in 2017 compared to $44 in EPS in 2012. Doesn't that sound awful? There is, however, another side to the story. The cash balance would balloon under these same assumptions to $237B in 2017 from $121B at the end of 2012. This should be the "ah-ha" moment when you finally realize that buying Apple today is as close to a sure bet in the market that there is. If you need another reason to spur your "ah-ha" moment, see the table below showing P/E ratios as of today compared to a burn-the-house-down bearish 2017 forecast:

Again, your eyes may first drift to the 15.5 P/E ratio in 2017 and think that this is awful compared to the 8.5 P/E ratio the stock trades at today based on 2012 earnings. However, do not let that fool you. Because the stock actually would be cheaper on a P/E basis, net of cash, in the uber-bearish scenario presented for 2017.
Investment Outlook
Assume no further innovation, no new products, no further growth in existing products, declining margins, and any other negative assumption you desire to make. Apple is still one of the greatest value investments in the market at today's price. Until today, I did not own a single Apple product. After today, if you count shares of Apple stock as owning its product, I am finally a proud owner.
Disclosure: I am long AAPL. I wrote this article myself, and it expresses my own opinions. I am not receiving compensation for it (other than from Seeking Alpha). I have no business relationship with any company whose stock is mentioned in this article.