General Motors (NYSE:GM) could anticipate a material profit margin expansion of an estimated 80 basis points this year, despite a back-end loaded profit trajectory. The key drivers of this margin expansion are: 1) market share gains on the back of its newly design, more fuel efficient truck portfolio, 2) geographical product expansion, and 3) tailwind from global recovery of volumes.
New K2XX: A Refreshed Pickup Portfolio
General Motors management announced that 2013 is all about product launch and execution of the new K2XX. The first to launch will be the All New 2014 Chevrolet Silverado. While management was very reluctant to say more during the January management review of earnings, it appears that the new line of pickups will have a lower total cost of ownership than the competition. According to the 2014 Silverado website, product upgrades seem to include improved V8 fuel economy and towing capability. The list of rumored product launches for the rest of the line-up can be found here.
While investors cited concerns over Ford's (NYSE:F) ability to support a $4,000 pricing premium in large pickups over GM, further comparison reveals Ford's pricing premium is closer to $500 to $1,000. GM aims to trim this price gap with its new K2XX, yet despite the optimal marketing strategy, GM remains underappreciated by investors.
Although pricing strategy has yet to be decided, GM is targeting the price improvement on K2XX over the prior platform to cover for the incurred incremental costs of the new platform.
Geographical Product Expansion
GM's strategic focus extends down to Latin America. It is also launching the Chevrolet Onix, which remains the last key entry in its new portfolio in Brazil. Management believes that strong execution around these launches is the best way to create value for shareholders, as opposed to focusing on capital allocation. Analysts would then expect some fixed cost inflation globally and increased content costs associated with the new product.
U.S. Automakers' Export Market Forecast, 2006 - 2016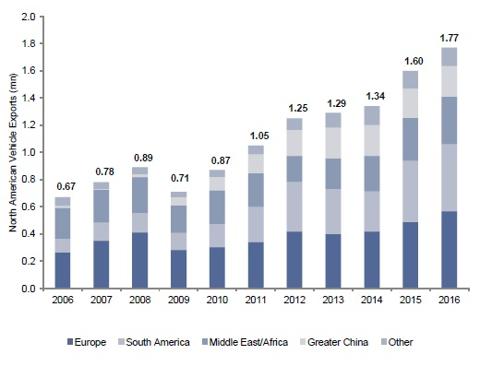 Source: Goldman Sachs
The overhang of excess inventory may cause some pressure on the stock price. Car production is still under pressure as the global demand environment remains weak.
Declining Market Shares
GM has been the market leader in the full-size pickup segment in the U.S. in recent years. It has a lion's share of 40%. However, given the drastic change in strategy to wind down its old pickup platform, the company lost approximately 250 basis points of its market share last year, a significant portion of which was stolen by Chrysler's Ram product while leaving Ford the leader in this segment.
U.S. Pickup Truck Manufacturer Market Shares, 2009 - 2013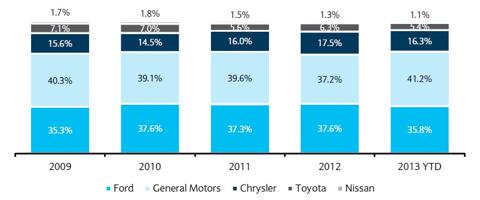 Source: Barclays
Other Financial and Product Risks
General Motor's pricing risks include a moderation of U.S. automotive pricing over the medium-term. GM's strong near-term product cycle elicits some pricing resistance. The company has greater earnings concentration in light trucks and crossover SUV's than most automakers, which pose risk in the event of significantly higher fuel prices.
GM's near-term product pipeline is somewhat deficient versus its U.S. peers through late 2012, as a result of its product development spending pullback during the financial crisis. Other risks include the failure of the company's European restructuring plan, margins in China (if current market price premium deteriorates), and lower than expected pension asset returns.
Industry Performance and Outlook
The global market for automobiles can expect profit margin pressures for the first half of 2013. Near-term production environment remains difficult for automakers, given the destocking of inventories in both Europe and North America. The outlook for European auto sales has worsened somewhat, with preliminary sales down 11% in February versus 9% down in January, driven by demand deterioration in Germany.
Auto stocks rest fairly close to mid-cycle averages after a significant bull run in share prices since the July 2012 valuation. Analysts see there is enough growth left in the cycle to warrant being an attractive sector in terms of valuation. The auto sector's 12-month forward P/E multiples have moved up from 9.5X to 11.0X.
Since then, auto equities are up 21.5% versus the S&P 500's 11.9%, primarily driven by strong performance by the broader market and investor expectations that European demand might affect the second half of this year.
The chart below shows the auto sector's Equity Risk Premium (excess return over the sector's equity provides over a risk-free rate; excess return compensates investors for taking on higher risk of the equity market) remains significantly above historical average implying further upside potential in auto equities.
Equity Risk Premiums for Auto Stocks Remain at Highs
(Earnings yield (E/P) minus 10-year Treasury rate)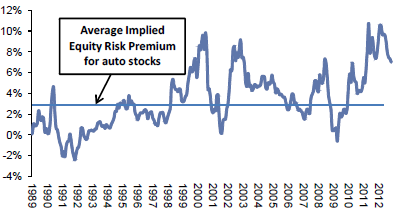 Source: Company Reports
Steel Prices Pull Back
Steel prices will decline this year by 5%, driven primarily by oversupply. This trend should keep prices from rising beyond what input costs would dictate. Steel mills recently announced a $50/ton price increase, but so far, only a small portion has stuck. Higher scrap prices may provide some upside to steel prices. However, this will not sustain for more than a few weeks as mill lead times are still short and channel checks suggest that steel demand remains soft but stable.
Presently, there is insignificant demand for restocking by the service centers and price hikes did not see much enthusiasm among buyers to jump into the market and stay ahead of price increases.
Steel Prices
in US$ per Short Ton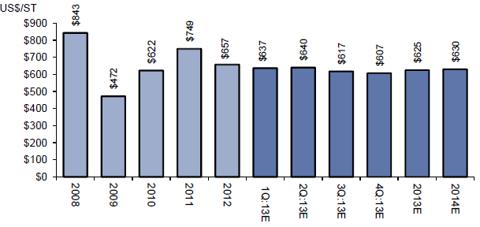 Source: Purchasing Magazine, Goldman Sachs Research Estimates
Conclusion
GM's release of higher fuel efficient pickups, global expansion and the industry's recovering volume could all be potential catalysts to higher share price catalyst.
Barclays expects profits to increase $695 million and $753 million in 2013 and 2014, respectively. EBIT (Earnings before Income Tax) will hit the "sweet spot" in 2014 when it expands to $8.3 billion, while experiencing margin expansion. The bank's rating is "Overweight" with a price target of $35.
Goldman Sachs maintained a "Buy" rating with a 12-month price target of $35 on P/E of 11X and forecasted 2013 EPS of $3.20 a share.
We believe over the mid-term, investors can expect upside potential to boost in earnings due to the new truck platform and cheap valuations relative to its historical stock prices.
Disclosure: I have no positions in any stocks mentioned, but may initiate a long position in GM over the next 72 hours.
Business relationship disclosure: Black Coral Research is a team of writers who provide unique perspective to help inspire investors. This article was written Hans Centena, one of our Senior Analysts. We did not receive compensation for this article (other than from Seeking Alpha), and we have no business relationship with any company whose stock is mentioned in this article.
Additional disclosure: Black Coral Research is not a registered investment advisor or broker/dealer. Readers are advised that the material contained herein should be used solely for informational purposes. Investing involves risk, including the loss of principal. Readers are solely responsible for their own investment decisions.