Despite the negative GDP surprise there was a silver lining; the velocity of money actually increased for the first time in over a year.
Click to enlarge: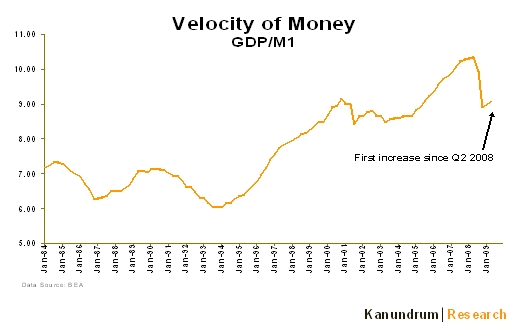 This is a very positive development since it indicates that the Federal Reserve has not lost complete control of monetary policy. While this uptick alone is not enough to sound the all clear signal, it is enough for the reflation trade to gain momentum.
That is not to say that inflation will return, but this slight move up in velocity should be enough to keep prices stable in the short term. As an anticipatory vehicle the market is betting on reflation as evidenced in the strength of base metals and oil.
Money Supply

The weekly money supply figures paint a different picture than the velocity of money. In the latest release not only did monetary base increase but reserves increased as well and at a higher rate.
Click to enlarge: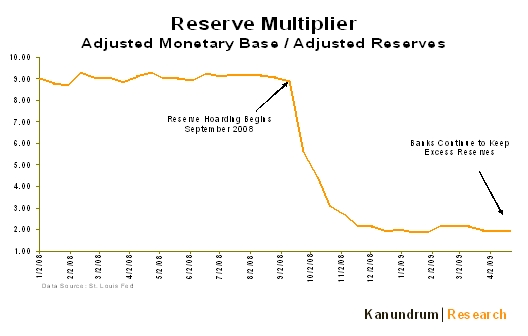 The reserve multiplier dropped to a historic low of 1.91, as banks continued to stockpile money. As well, the M1 multiplier dropped to a stunning 0.86.
Click to enlarge: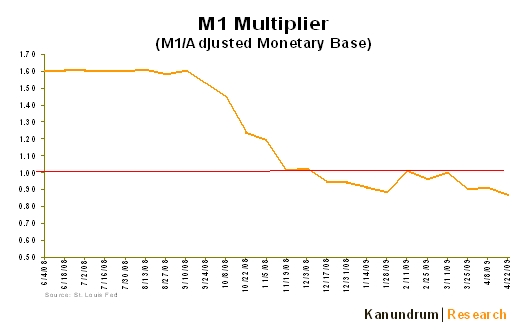 Another record low that indicates the money the Fed is printing is not making into the economy. As well, M2 continues to fall below its 4 week moving average.
Click to enlarge: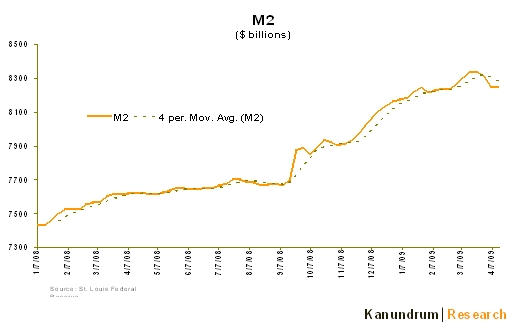 We are left with a very mixed picture indeed. The economy will continue to struggle until the money that has been printed by the Fed actually makes it into the economy, as measured by the M1 multiplier. In the mean time, stable prices should be enough to let the markets exhale.
Dislcosure: none