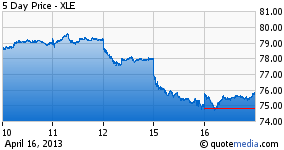 The energy sector has been in a solid turnaround trend since July 2012. In the last five trading days, however, the Energy Select Sector SPDR (NYSEARCA:XLE) has shed about 3.71%. Several big energy companies have in fact declined by more than 8% in this short period. This appears to be an overreaction by the market and is unwarranted.
Undeserving Performance
Phillips 66 (NYSE:PSX), Pioneer Natural Resources (NYSE:PXD) , EOG Resources Inc. (NYSE:EOG), Ensco Plc (NYSE:ESV) and Andarko Petroleum Corp (NYSE:APC) have been the worst five performers in the Energy sector in the last five days (as of close on April 16, 2013).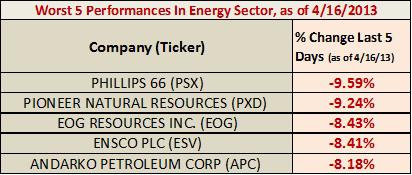 Why is this performance underserving? These stocks seem to be attractively valued based on their fundamental statistics and valuation metrics, as shown in the table below.

In addition, all these five companies have overall more buy or better analyst ratings, and they have an excellent return potential if you compare the analysts' target prices with the current prices.

The point I am trying to make here is that the overall meltdown in energy stocks seems to be creating an opportunity for long-term investors. Let us look at the key catalysts that are poised to benefit this sector.
Key Catalysts Behind The Energy Sector
Energy Demand:

The exploration & production industry in the Energy Sector looks promising for the next twelve months. According to the U.S. based Energy Information Administration, global demand for oil increased in 2012 and the trend is continuing into 2013 as well.

Energy Equipment Demand:

The demand for equipment used for drilling and exploration, especially in deepwater and ultra-deepwater operations is increasing, primarily because of two reasons.

Firstly, government regulations regarding safety in the North American region is requiring energy companies to upgrade their rig fleets. In addition, the rig fleets in the entire industry have been aging for quite some time, and most energy companies deferred their fleet upgrades due to bad macro-economic environment and tighter credit markets in the past few years. In the next couple of years, many energy companies will have to retool their fleets. Energy equipment companies like National Oilwell Varco (NYSE:NOV) will benefit from this demand.

Another reason for increase in energy equipment demand is that capital expenditure by energy companies in deepwater and ultra-deepwater exploration is bound to increase by more than 80% in the next five years, according to Quest Offshore's research.

North American Shale Renaissance:

The refining sub-industry of the Energy sector is giving positive vibes with increasing crude oil production in the North American region, especially in the shale deposits.

The January Barometer's Corollary:

Most of us know about the January Barometer theory. I have an extension to this theory. During the past 30 years, in the years when the January barometer worked and the month's performance correctly predicted the year's performance, the sectors that outperformed best in January ended up as the best performers in that year, while the lagging laggards in January underperformed on a relative and annual basis. If this theory proves accurate for 2013, the Energy sector will rebound once again like last year sometime in the second quarter. The sector has registered the best January gain in 2013.
Conclusion
To an extent, it is understandable why many investors are taking profits in the Energy sector. The markets have recorded all-time highs, there is panic of a huge sell-off because of a decline in the gold prices, and there is lack of a true leader (like Apple during the last year's rally).
That said, the Energy sector will rebound in my opinion with a stronger force once this pullback stabilizes. My recommendation is to create a watchlist of Energy stocks that have overall positive analyst ratings, have good growth stories to back them and have declined the most. The stocks discussed in this article are a good start, but instead of buying these stocks hand over fist while the major indices are still close to all-time highs, see if you can wait, watch and nibble.
Disclosure: I have no positions in any stocks mentioned, and no plans to initiate any positions within the next 72 hours. I wrote this article myself, and it expresses my own opinions. I am not receiving compensation for it (other than from Seeking Alpha). I have no business relationship with any company whose stock is mentioned in this article.