CYS Investments (NYSE:CYS) has to be one of the more undervalued pure-play agency mortgage real estate investment trusts, or mREITs, out there. As of Q1 2013, it continues to trade at a large discount to its net asset value, or NAV. CYS's last declared quarterly dividend was for $0.32 per share. At current prices, the stock yields about 10.8%.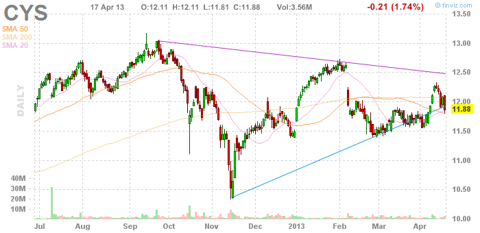 On April 17, CYS announced its Q1 2013 results. During the quarter, CYS reported a net loss of about $17.7M, or $0.10 per share. Core earnings came in at $0.17 per share while drop income came in at $0.15 per share. Combined, core earnings plus drop income, which is the most relevant metric for determining the dividend, came in at $56.4M, or $0.32 per share. During the prior quarter, CYS's core earnings were $0.21 per share while drop income was $0.18 per share, for a total of $0.39 per share.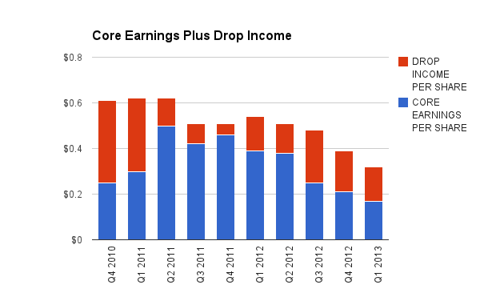 For the quarter, CYS's net interest rate spread net of hedges, including drop income, was 1.16%, a decline of 0.15% from the 1.31% for Q4 2012. The average yield on total Agency MBS, including drop income, dropped from 2.06% to 1.97%. The primary driver of the decrease has been the U.S. Federal Reserve's quantitative easing program to purchase Agency RMBS.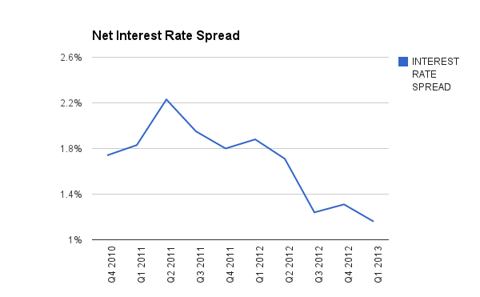 CYS's portfolio asset mix is heavily tilted towards 15 year fixed rate mortgages, which have seen their yields decline this year. As of March 31, 2013, CYS's $20.1 billion portfolio of Agency RMBS portfolio is made up of 0.2% 2009 production; 2.9% 2010 production; 10.2% 2011 production; 50.8% 2012 production; and 35.9% 2013 production.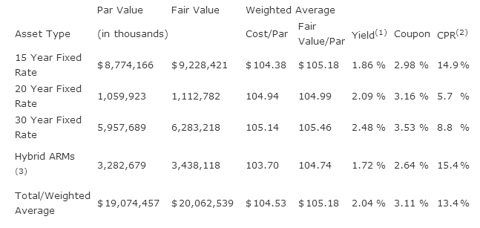 As of Q1 2013, CYS's net asset value per share was $12.87, a decline of 3.4% compared with Q4 2012 NAV of $13.31. The decrease was mostly the result of lower asset values due to a steepening yield curve. This occurred after the February jobs report was released. During April, asset values have recovered, and the yield curve has flattened again after the disappointing March jobs report. Note that the chart below is not adjusted for the special dividend of $0.52 per share during Q4 2012. During the quarter, CYS repurchased 640,791 shares with a weighted average purchase price of $11.81 or approximately $7.6 million.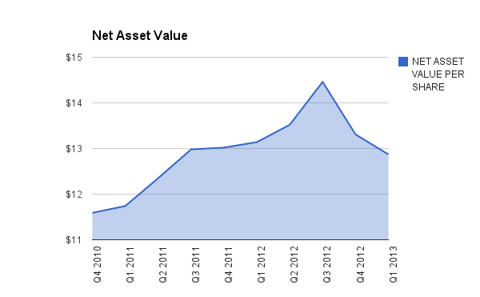 Conclusion
I cannot say that CYS had a good quarter. However, I also cannot say that they had a terrible one. CYS's quarter was rather mediocre. The company saw its NAV and core earnings decline slightly. The saving grace for CYS continues to be its drop income, which now is almost equal to the core earnings. CYS's CPR has also been dropping, and during April has only been 12.1%.
One should remember that CYS holds only Agency MBS. In addition, it holds a large chunk of shorter term mortgages. CYS has probably felt an outsized negative effect from the Federal Reserve's quantitative easing program. This also means that it should rebound once the easing stops.
At current prices, CYS is trading at a 8.3% discount to its NAV. This discount is one of the largest amongst the Agency mREITs. CYS is not the best run mREIT, but it is hardly the worst managed. In my opinion, CYS represents the best value in the agency mREIT space.
Disclaimer: The opinions in this article are for informational purposes only and should not be construed as a recommendation to buy or sell the stocks mentioned. Please do your own due diligence before making any investment decision.
Disclosure: I am long CYS, AGNC, RSO, EFC. I wrote this article myself, and it expresses my own opinions. I am not receiving compensation for it (other than from Seeking Alpha). I have no business relationship with any company whose stock is mentioned in this article.