Some of you may recall a Seeking Alpha article that I wrote about a few weeks ago called 3 Healthcare REITs With Mispriced Risk. In that article I explained that several of the mid-cap health care REITs with lower quality asset portfolios (higher cap rates) have run-up to unhealthy levels - a concept that I refer to as mispriced risk. As I explained:
I am feeling somewhat nervous and the purpose for this article is to provide you with one important and increasingly dangerous risk: be careful when buying lower quality (health care) REITs that pay higher dividends. This is not say that I would immediately unload all of your shares in OHI, MPW, or AVIV. I simply want to make the case that in the long run, high quality always wins.
Mispriced risk is, in the words of the legendary Ben Graham, much like what constitutes a margin of safety or
a favorable difference between price on the one hand and indicated or appraised value on the other.
As Graham believed, the power of the margin of safety concept lies in its wide applicability as he taught (and wrote) that it's something of an "all purpose" risk minimization tool with which one can proceed with a fair degree of certainty that, regardless of day-to-day price fluctuations, one's principal is likely to be secure.
Graham believed that there MUST be a buffer - that is a margin of safety - to protect against Mr. Market's mood swings. In a nutshell, Graham believed that the margin of safety concept is the essence of value investing and that could involve considerable peril if securities are purchased at too high a price.
In another recent Seeking Alpha article I explained what happens when shares are purchased with very little margin of safety. I even predicted the potential that something could go wrong with Medical Properties Trust (NYSE:MPW), and they did:
MPW shares are off around 10% (from last week), but at an implied yield of 5.8% versus the 9%-12% yields that MPW acquires or builds hospital assets for remains considerably expensive. (The implied yield essentially values MPW hospital assets on par with and in some cases above assets at healthcare REITs). In addition, compared with MPW's implied yield and 10-year treasuries, MPW shares trade at a spread of 400bps, or about 260bps narrow of its historical spread. This signals that MPW shares are overpriced and are possibly the most overpriced small cap healthcare REIT today.
Hopefully investors were able to recognize the mispriced risk before shares tumbled by over 16%. Or perhaps, there may be a future buying opportunity? MPW shares closed at $15.19 today; however, I believe the best entry price for the pure play hospital REIT is $13.50.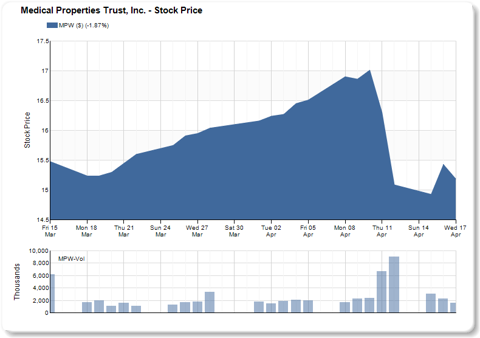 What About Mispriced Triple-Net REITs?
Earlier this week I wrote an article on The Street, Let's Fire Up the Nets, and I explained:
The Triple-Net REITs were once perceived as a niche REIT sub-sector made up of a few landlords wanting to securitize fast food stores, daycares, and smaller automotive service assets. However, the demand for low cost debt and equity has stimulated a whole new era for investing as property owners have begun to flood the market with just about every form of free-standing real estate that could be leased on a long term basis.

Take for example Penn National Gaming (PENN) and struggling retailer J.C. Penney (JCP). Both are non-traditional real estate companies that happen to own a sizeable amount of real estate. By transitioning into a REIT structure, these two companies could "spin-off" the "brick and mortar" properties into a REIT and tap into the highly attractive REIT arena.

But wait! Aren't REITs supposed to have diversified income streams? In addition, don't REITs have management teams dedicated to controlling portfolio risk and making sure that all of the individual rent checks are converted to dividend checks? (Remember REITs are forced to payout at least 90% of earnings).
Even though the Triple-Net REITs offer investors an alternative with very low volatility in the form of contractual long-term leases, they are not immune to mispriced risk. It's clear to see that the subsector has been on an enormous run. (the average total return for the following 10 Triple-Net REITs is 48.5%).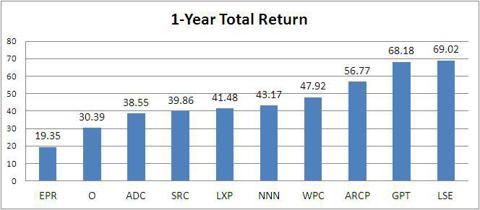 One of the more prolific Triple-Net REITs on the above list is American Realty Capital Properties (ARCP). The New York-based REIT has created a lot of noise lately by making a hostile takeover bid to acquire Cole Credit Property Trust III (CCPT3) in a $7.4 deal (in assets) that would've made ARCP the largest Triple-Net REIT in the nation.
CCPT3 later ignored ARCP's offer and the Phoenix-based REIT is now moving forward with its plan to become a publicly-listed REIT (under the ticker COLE) in June or July (of 2013).
Last week I wrote a Seeking Alpha article conveying my argument that ARCP was becoming less-aligned with shareholders in a move that has perpetuated my concern over ARCP's mispriced risk:
ARCP is no longer a slam dunk REIT. The management team is pursuing a disruptive investment strategy that is not investor-aligned and the "bullying" tactics are not advantageous to ARCP investors. I'm certain that the logic will prevail when the bully retreats from its conflictive agenda and Cole moves forward with the completion of its merger.
Over the last 30 days ARCP shares have climbed over 15% with a close price today of $16.23.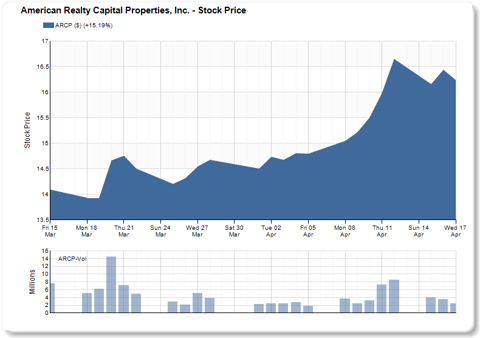 The mispriced risk for ARCP investors is not as much about the quality of the income stream but more to do with the insufficient dividend coverage. Even after ARCP's recent acquisition of American Realty Capital Trust III (ARCT3), the company has marginal coverage and ARCP Adjusted Funds from Operations (AFFO) payout is 105%.
In addition, ARCP's dividend yield (now at 5.55%) has compressed more than all of the other Triple-Net REITs or more than 30% year-over-year. At $16.23 per share, I am not confident that ARCP shares will be able to deliver much more juice. The lemon seems to be squeezed and most importantly, the "investment operation - upon thorough analysis - does not promise safety of principal and satisfactory return".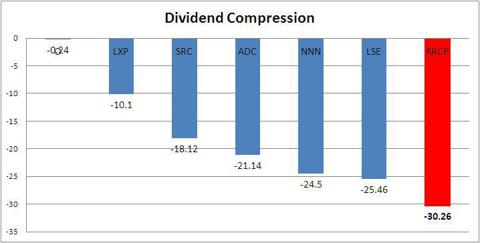 Why is The Monthly Dividend Company Different?
There is little doubt that Realty Income (NYSE:O) has also seen a run up in its share price. Even this week, the Escondido-based REIT hit an all-time high of $47.98.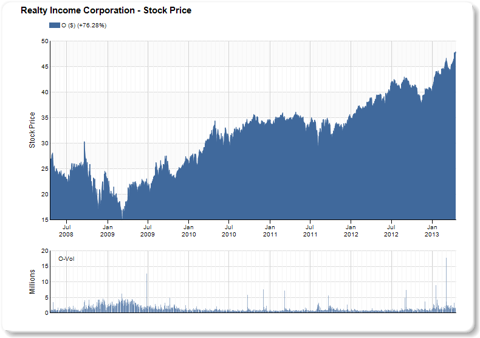 So why is the Intelligent REIT Investor (that's me) not calling Realty Income out as a mispriced REIT with risk?
Let's start with diversification...
With over 3,500 individual properties in 49 states, Realty Income has one of the most diversified income streams in REIT-dom. More importantly, Realty Income is expanding its focus into other areas outside of retail. As Tom Lewis, CEO of Realty Income, explains (in the 2012 Annual Report):
We believe an expanded investment focus is important because of both changes in the retail environment, and increased competition for net-leased retail properties. As noted in 2011, financially stressed middle and lower income retail consumers seem to be shifting away from discretionary spending, and more towards necessity-based spending…Additionally, interest rate changes were noted as an important factor for us to monitor since debt financing is widely used by retailers. Any increase in interest rates could have a negative impact on some of retailers' cash flows and affect their ability to meet lease obligations. Another important component of our widening the net strategy has been to review and rate all of our existing tenants to determine their long-term viability as a source of dependable lease revenue when interest rates begin to increase.
Here is a snapshot of Realty Income's Top 15 Tenants: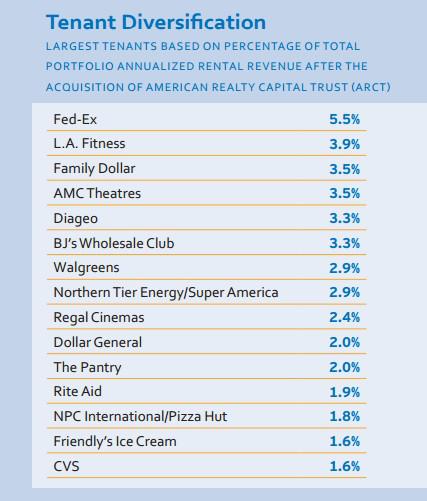 As part of the "widening the net" strategy, Realty Income has acquired over $2.8 billion in the past three years (not including the $3.1 billion ARCT deal). That has resulted in increased property type diversification where retail is now around 77% of overall portfolio composition.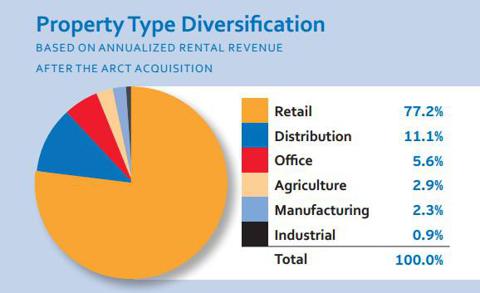 Realty Income has also begun to steadily improve the credit quality of its tenants. Subsequent to closing on the ARCT deal, 34% of the company's tenants have investment grade ratings. That is up from 19% at the end of 2012. Here is a snapshot of the property-level growth: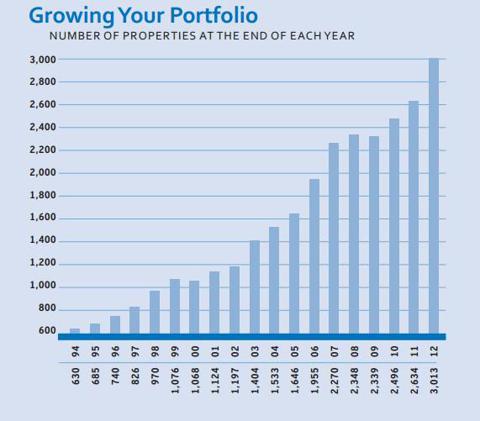 Unlike ARCP, Realty Income has been able to achieve consistent portfolio performance for over 44 years. As of Q4-12, Realty Income's occupancy rate was 97.2% with only 84 properties available for lease out of 3,013 properties. In addition, Realty Income's occupancy has NEVER dropped below 96%.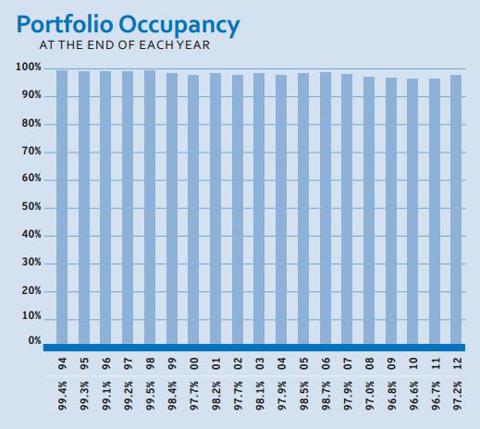 It's quite clear that Realty Income has generated a remarkable record of managing risk. For me, that is the most essential and critical characteristic - it's the reason that I consider Realty Income the best, above all of the rest. Unlike other REITs, Realty Income is pursuing a risk-averse strategy with more focus on consistency and much less focus on speculation. Here is a snapshot of the company's historical revenues: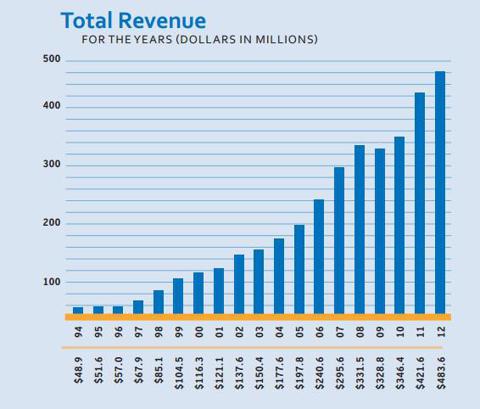 Realty Income's access to capital is exceptional. As of Q4-12 the company had $7.9 billion of common stock, $629 million in preferred stock, and $4.1 billion in long-term notes, binds, and mortgages. This translates into a healthy total capitalization of 32.4%.
As evidenced by the Funds from Operations (or FFO) per Common Share snapshot below, Realty Income continues its trend for steady and reliable earnings.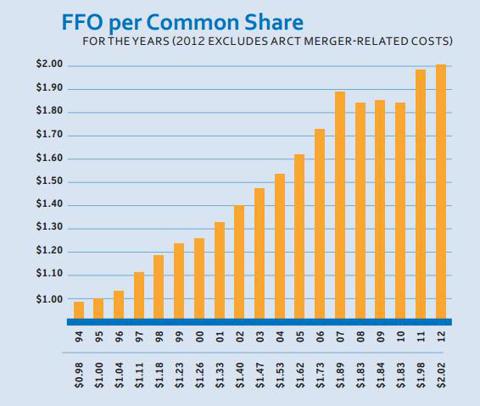 Should I Agree With FAST Graphs?
Since I started using FAST Graphs, I have really enjoyed the charts that have enabled me to filter out the winners from the losers. By a simple click of the button, I am able to become a true "margin of safety" investor by surfing hundreds (FAST Graphs has thousands) of potential value champions.
So I know your next question…doesn't Realty Income appear mispriced? First let's examine the FAST Graph below.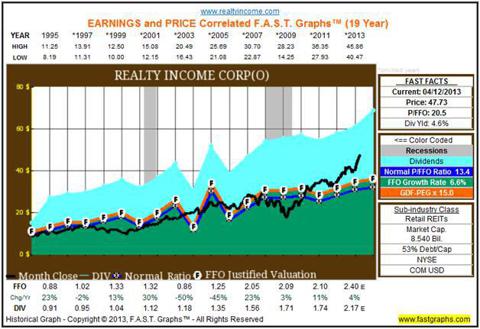 This is a 19-year chart (the same period the company has been public) and as you can see, Realty Income has been a paragon of operating efficiency. As most know, REITs are most appropriately valued based on the cash distributions they are capable of distributing to their stakeholders. In order to deliver an attractive level of cash distributions, a REIT must be capable of producing solid funds from operations (FFO). Realty Income has generated a highly predictable and consistent level of FFO growth, as clearly depicted in the FAST Graphs™ above (the orange line marked with an F).
Moreover, it is also clear from the price (the black line) and FFO (the orange line) correlated graph above that the price has closely tracked FFO. The blue shaded area represents Realty Income's dividends distributed to shareholders. This consistent level of growing income distributions is an important aspect of the investment merit for this Triple-Net REIT.
Now arguably Realty Income is not a cheaply priced REIT. Using FAST Graph data, Realty Income's P/FFO multiple is 20.5x. However, the difference between Realty Income's P/FFO multiple and ARCP's multiple (of 17x) is what I consider to be "insurance". No, not insurance against principal losses, but against dividend losses.
You see, Realty Income has a long track record for distributing cash flow in the form of dividends. ARCP doesn't. Tom Lewis, the company's CEO, has significant experience managing a public REIT. Nick Schorsch (ARCP's CEO) doesn't. Tom Lewis and Realty Income have successfully managed risk for decades and during periods of good and bad times. ARCP hasn't (remember, ARCP has never seen a recession "yet").
Therefore, based on the company's extraordinary track record for distributing dividends - including the safety of the dividend today - I consider Realty Income to be the most attractive Triple-Net REIT. The shares are clearly not a bargain, but the 4.57% current dividend, and growing yield, in today's low interest rate environment, should not be ignored.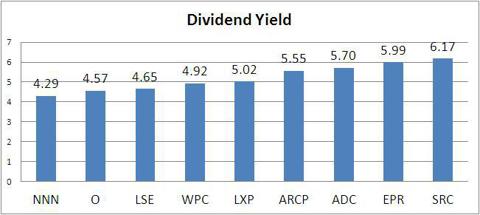 How do I define a sleep well at night REIT? 70 dividend increases (since going public), 61 consecutive quarterly dividend increases, and 511 consecutive monthly dividends declared.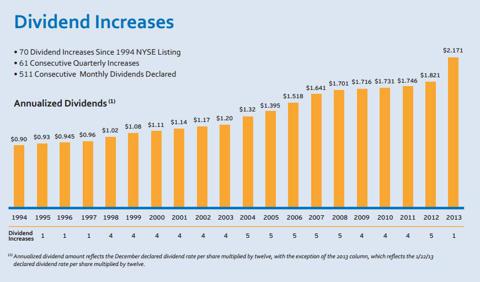 The final illustration is the reason Tom Lewis includes these words near the end of his company's 2012 Annual Report:
We are keenly aware that for many people, dividend income is what they live on and so dividends are a necessity, not a luxury. We remain dedicated to operating our business so that you can continue to rely on monthly dividends for Realty Income.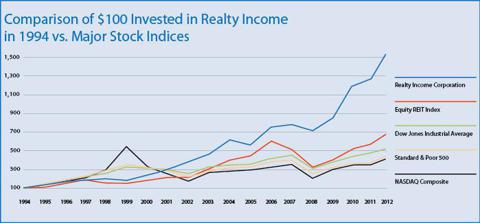 Earlier this week I interviewed Tom Lewis, CEO of Realty Income, at the Corporate Headquarters. You can see the video (source: The Street) interview HERE.
Source: Realty Income 2012 Annual Report, SNL Financial
REITs mentioned: (NYSE:SRC), (NYSE:LXP), (NYSE:LSE), (NYSE:NNN), (NYSE:ADC), (NYSE:EPR), (NYSE:WPC), (NYSE:GPT).
Disclosure: I have no positions in any stocks mentioned, and no plans to initiate any positions within the next 72 hours. I wrote this article myself, and it expresses my own opinions. I am not receiving compensation for it (other than from Seeking Alpha). I have no business relationship with any company whose stock is mentioned in this article.