According to a recent Wall Street Journal story, Google (NASDAQ:GOOG) plans on launching retail stores across America later this year. Google is attempting to take a page from Apple's (NASDAQ:AAPL) "playbook for building a consumer-electronics brand."
In years past Google has not produced its own hardware, relying on Samsung (OTC:SSNLF) to produce devices for its software. Despite this shortcoming, Google has numerous products it can sell in retail locations including Android phones, Chrome books, Nexus tablets, and possibly the much hyped Google Glass.
A recent acquisition of Motorola and the potential launch of retail stores point to the fact that Google will soon become a hardware producer.
Google's core competencies are comprised of search and software. It currently controls about 65% of the search engine market, and approximately 75% of all smart phones use its Android operating system.
For a company that should be focusing on its search engine and software development, does it make sense for Google to be producing hardware and selling its products in a physical store?
Let's take a look at three companies that have lost their focus in recent years:
1. Sony
Not long ago Sony (NYSE:SNE) was one of the premier electronics producers in the world. While some might argue that it still is, you can either take a look at its most recent income statement, or just look at the electronics around you. Either way you won't find anything positive.
Sony had a tremendous breakthrough with its Walkman line. It quickly became the standard for music listening. Before long Sony had a large market share and had accrued a hefty amount of cash. Instead of focusing on one industry, Sony diversified its product offerings. Computers, TV's, gaming systems, phones and a plethora of smaller products were soon being sold by the electronics giant. Its many new products required cash that could have been devoted to the already successful Walkman line.
In 2001 Apple released its iPod utilizing the mp3 format. It wasn't until 2004 that Sony updated its Walkman line to accommodate this technology. Late to the game, Sony lost close to its entire market share as the iPod became dominant among consumers. Sony did not focus and invest in its core product, and Apple was easily able to steal consumers with its own innovations.
Because of its failure to focus on core products, Sony now finds itself chasing market leaders in every one of its diverse product lines.
2. BlackBerry
BlackBerry (NASDAQ:BBRY) previously dominated the business world, owning close to 50% of market share in 2009. Today it controls a meager 5.9% of the market. This comes as result of BlackBerry not focusing on its core customers and product.
As subsequent iPhones were released, consumer preference began to change. Businessmen, specifically younger ones, desired a larger touch screen without a QWERTY keyboard. BlackBerry ignored its core customers' preferences and continued to produce what were viewed as "boring" and "uncool" phones.
Likewise, BlackBerry lost its focus with its Playbook tablet. As the market became caught up in the tablet frenzy, BlackBerry felt it needed to remain relevant. It released the Playbook. With its promotion, BlackBerry did not focus on one group as a target market. It was not advertised as a business tablet or a cool and trendy device. Instead of focusing on its core clientele, it became a middle of the road tablet which was soon crushed by its competitors.
BlackBerry has failed to focus on its core customers and core products, businessmen, and business devices/applications. Unless it is able to regain its focus, the viability of this company remains in doubt.
3. J.C. Penney
For years J.C. Penney (NYSE:JCP) was known for providing customers with good clothes at a great price. Its promotional strategy allowed consumers to take advantage of huge sales on certain days and to receive tremendous savings by using coupons found in their local circular. Customers felt as if they were acting as smart shoppers taking advantage of these deals. These "smart shoppers" comprised J.C. Penney's core customers.
In 2011 Ron Johnson was hired as CEO. Known for his work with Apple, Mr. Johnson was set to rejuvenate the J.C. Penney brand. Under Mr. Johnson, J.C. Penney changed its entire promotional strategy. The company would no longer offer customer coupons or have sale days. Instead it would offer reduced prices on its products store-wide.
With this strategy, J.C. Penney failed to attract the "smart shoppers" as they no longer felt they were getting a deal. Losing its focus on its core customers, J.C. Penney's sales fell about 25%.
The recent dismissal of Ron Johnson has created a rebound opportunity for J.C. Penney. Its loss of focus was blatant; it won't be long before you see another J.C. Penney coupon in your morning newspaper.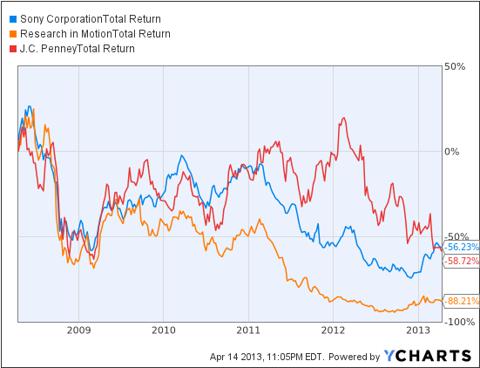 Losing focus of core products and customers leads to a corresponding drop in sales and share price.
Apple's Playbook
If Google truly wants to "take a page from Apple's playbook" it needs to heed the advice of the late Steve Jobs:
People think focus means saying yes to the thing you've got to focus on. But that's not what it means at all. It means saying no to the hundred other good ideas that there are. You have to pick carefully. I'm actually as proud of the things we haven't done as the things I have done.
Apple has prospered because of its focus on its products. Time and again it has released a device that enamors consumers. Its core competency is simply providing customers with the best user experience available. Continual focus upon this tenet has led to its recurring success.
What about Google?
It seems that almost every day Google comes out with a new project from its mysterious X Lab. Headed by co-founder Sergey Brin, the group is working on Google Glass, a self-driving car, and a smart watch. What do all these projects have in common? They are not Google's core competencies.
Hardware, retail stores, and the X lab all generate media buzz for Google, but have yet to generate profits. In fact, all of these projects are subsidized by profits from Google's main business, search and software. In order for Google to remain on top it needs to renew and continue to invest upon its core competencies. Not to shift its focus.
Disclosure: I have no positions in any stocks mentioned, and no plans to initiate any positions within the next 72 hours. I wrote this article myself, and it expresses my own opinions. I am not receiving compensation for it (other than from Seeking Alpha). I have no business relationship with any company whose stock is mentioned in this article.
Additional disclosure: By Joshua Sauer