On Wednesday, shares of semiconductor name Cirrus Logic (NASDAQ:CRUS) plunged after issuing below expected preliminary revenues for the current quarter and issued a warning for their next quarter. Cirrus gets a large share of its revenues from Apple (NASDAQ:AAPL), which heightened speculation that Apple's short-term future is in question. On the news, Apple and many other Apple suppliers took large hits. Today, I'll cover the warning from Cirrus and explain why for Apple, this is not a surprise, as well as what investors need to do in this space.
Cirrus warning:
On Tuesday evening, Cirrus issued preliminary fiscal Q4 revenues of $206.9 million, which was a bit below the $210.2 million expected. Cirrus also called for fiscal Q1 revenues of $150 million to $170 million, well below the $195.2 million analysts were expecting. Cirrus blamed the poor forecast on the following:
The company also announced that it will record a total net inventory reserve of $23.3 million of which approximately $20.7 million is due to a decreased forecast for a high volume product as the customer migrates to one of Cirrus Logics newer components. The $20.7 million inventory reserve is expected to result in a decrease in gross margin for the quarter of slightly more than 10 percent to approximately 40.4 percent, below the company's previous guidance range of 50 to 52 percent.
This sounds like Apple may be changing a component in its phone, as we all are looking towards new version(s) of the iPhone later this year. Cirrus was looking for huge growth in these two quarters, and obviously that will not be happening. The preliminary Q4 revenues of $206.9 million still shows impressive 87% growth, but that's a bit below the 90% that analysts were looking for. Additionally, the fiscal Q1 guidance is for revenue growth of 51.5% to 71.7%, well below the 97.2% analysts were looking for. When a company looking for tremendous growth like this does not deliver, shares are going to be hit, and that's what we saw on Wednesday.
Looking over to Apple:
The warning from Cirrus was not good for shareholders of that company. However, Cirrus has a market cap of just $1.2 billion. Its impact on the overall market is rather small. The bigger impact is on Apple, because Apple is either the largest or second largest market cap in the US, depending on where Exxon Mobil (NYSE:XOM) is at any given time.
Now anyone that reads my articles knows that I've been worried about Apple for some time now. When Apple was at $450 in late February, I started warning investors about Apple's fiscal Q2. At that point, I figured that shares could head to $425, and they certainly did that. My worry was that analysts would continue to hack away at their quarterly estimates, and they have. Apple's Q2 revenue estimates, which stood at more than $47 billion in early January, have come well down, now standing at $42.68 billion.
But the bigger worry is over Apple's fiscal Q3. A couple of weeks ago, I cautioned investors to watch out for Apple analysts cutting Q3 forecasts in the weeks leading up to Apple's report. That report is scheduled for next Tuesday. My concern was that Apple has not launched any new products, and we keep hearing about production delays. Apple analysts were looking for revenue growth of more than $5.4 billion (over last year's Q3) in mid-March, and that was just too high in my opinion.
The two main issues for Apple were that the iPhone 5 was launched a few weeks earlier in the calendar than the 4S, pushing up the sales timeline by a couple of weeks. Additionally, Apple sold more than 17 million iPads in fiscal Q3 last year after the third-generation model was released. Apple has not released any new iPad models since late 2012, meaning there is no refresh bump to be had. Additionally, even though sales of the mini will help unit sales, they will drag down the average selling price.
It was due to the above factors that I recently stated Apple could have a kitchen sink Q3 quarter. Apple could decide to just let the status quo continue, which means no iPhone or iPad launch during fiscal Q3. This would set Apple up for a ton of launches during the second half of calendar 2013. I cited numerous production delays for Apple's potential push back of launches. Given Cirrus' terrible Q1 forecast, it is definitely possible that Apple has pushed back the timeline, meaning a kitchen sink Q3 is possible. I have been worried that analysts would start taking down Q3 estimates as we approach Apple's report, and we're starting to see that.
Wednesday's carnage / investing in this space:
Obviously, the warning from Cirrus Logic sent shares lower on Wednesday. Shares fell by more than $3, a fall of 15.7%. During the day, shares hit a new 52-week low of $17.87, closing about a percent off that low at $18.05. Apple fell more than $23, closing below $403 and going under $400 for the first time in more than a year.
But this rout continued in several other chipmakers as well. Qualcomm (NASDAQ:QCOM) fell 2.4%, falling to $64 for the first time in a month. Broadcom (BRCM) declined by more than 4.25% as well, closing at its lowest point since early February.
But there is a more important point I want to make with these names. If investors are looking to get into the chip space, going into a name like Cirrus that is heavily dependent on Apple may not be your best strategy. Investing in a name like Qualcomm or Broadcom, where revenues are a bit more diversified, is probably a better idea. The table below shows some key comparisons in these names.

*CRUS revenues for just ended fiscal year, including preliminary Q4 results. All other names are current expectations for each company's current fiscal year.
Over the past 6-months and a year, Cirrus has gotten crushed along with Apple, while Qualcomm and Broadcom have held up a bit better. Qualcomm and Broadcom are also dividend payers, so they should be a little less risky than Cirrus, where you are 100% dependent on the growth. Cirrus' warning shows that when that growth is not there, the stock can easily get crushed. The chart below also shows Cirrus compared to Apple over the past two years, where you notice how closely these names moved. This might be great when Apple is soaring and everyone is bullish, but right now, it's sending you much lower.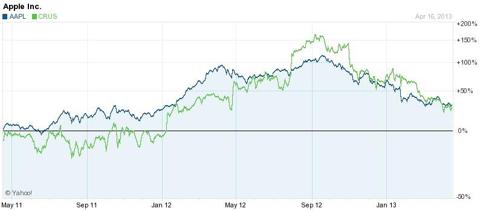 (Source: Yahoo! Finance - Chart doesn't include Wednesday declines)
Final Thoughts:
Cirrus' warning took down Apple and many other chip names on Wednesday. As Cirrus is heavily dependent on Apple for revenues, investors that are looking for Apple exposure should probably just stay in Apple. But if you want chip exposure, you might want to be in a name like Qualcomm or Broadcom, a dividend paying name that doesn't carry as much risk and is less dependent on one large customer.
The Cirrus news mostly confirmed what we believed would be the case with Apple. For the short-term, Apple shares will be pressured until product launches are definite. Apple broke $400 on Wednesday, and I've been telling you it would be headed this way for several weeks. Analysts are finally starting to catch on, and I wouldn't be surprised to see a number of fiscal Q3 estimate cuts by analysts as we approach earnings next week.
As for what to do with Cirrus going forward, I think there will be more short-term pressure on shares, especially if Apple goes lower from here on the "kitchen sink" theory. At the end of March, just under 8 million shares were short in Cirrus, against about 64 million shares outstanding. That makes Cirrus a short candidate, because if the number of shares short were to rise after this warning, Cirrus shares will go a bit lower. However, shorting a name right off a 15% plus drop may not be the best strategy, so if we see a pop over the next few days, that could be the opportunity. Again though, I'd only want to short Cirrus if I thought Apple was going lower.
Disclosure: I have no positions in any stocks mentioned, and no plans to initiate any positions within the next 72 hours. I wrote this article myself, and it expresses my own opinions. I am not receiving compensation for it (other than from Seeking Alpha). I have no business relationship with any company whose stock is mentioned in this article.
Additional disclosure: Investors are always reminded that before making any investment, you should do your own proper due diligence on any name directly or indirectly mentioned in this article. Investors should also consider seeking advice from a broker or financial adviser before making any investment decisions. Any material in this article should be considered general information, and not relied on as a formal investment recommendation.