In 2012, Facebook (NASDAQ:FB) was barely profitable despite making over $5 billion in revenue, which could largely be explained by its large research and development expenditure of $1.4 billion that year. But it looks like Facebook could be driving substantially more revenue in 2013 as it has been investigating ways to make additional advertising revenue. Most recently, Ad Age announced that Facebook has been trying to sell new video ads to agencies, and the cost isn't cheap.
Details on Facebook's New Video Ads
Video ads on Facebook will first start running in June or July of this year, according to executives that were briefed. Facebook is attempting to sell 4 advertising slots, each at a price of approximately $1 million per day. At that price, only serious advertisers could potentially sign on. And while regular advertising on Facebook (through simple text ads, similar to Google AdSense) allows advertisers to target potential customers via a wide range of demographics, it seems that Facebook's expensive new video ads will have more of a shotgun approach as advertisers can only target four very broad demographics: women over 30, women under 30, men over 30, and men under 30. Given the lack of targeting, and with a price of $1 million per day, potential advertisers will be expecting serious exposure.
If Facebook is able to sell all four advertising slots at a price of $1 million per day (which I expect will be a serious challenge), and if they were able to fill video ad slots every day of the year (an even greater challenge, and I'm not sure that's even part of their plan), this would represent a new revenue stream of $1 million x 4 x 365 = $1.46 billion. Perhaps the best comparison is to compare Facebook's new video ads to traditional television advertising, which has a wide reach but is relatively untargeted. We know that Facebook has the audience to justify its high asking price (they previously announced they had over 1 billion users, and that their logged-in audience is equivalent to 3 super bowls each day), and their video ads would be reaching a user who is guaranteed to be looking at their computer screen at the time the ad is being played.
What concerns me is that although the new video ads would reportedly only be shown a maximum of 3 times per day per user, they will be played automatically, which could cause significant user backlash. It would be especially intrusive if sound was automatically played. A decade ago, it used to be pop-ups that were a real nuisance, whereas now as the web has evolved and bandwidth has increased tremendously websites have been able to implement automatically-playing video ads to annoy visitors. Facebook's largest user backlash previously came over privacy concerns and I would expect that intrusive ads could have a similar effect. Moreover, I consider automatically playing video ads to go against Facebook's primary theme of being a simple, easy to use website with minimal clutter.
Taking A Leaf Out Of YouTube's Book
Beyond automatically playing video ads that reach users looking at their newsfeed, I wonder if Facebook is also considering monetizing the videos hosted on Facebook in the same way YouTube monetizes their videos. YouTube, previously acquired by Google (NASDAQ:GOOG), not only has regular advertisements on their pages but also video advertisements that play before the user's video is played (typically the user can skip the ad after 5 seconds). Videos on Facebook that people share amongst their friends had over 61 million total unique viewers in February 2013, according to data from comScore (NASDAQ:SCOR):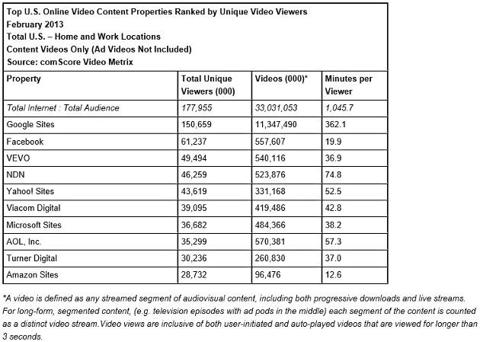 Click to enlarge
Obviously YouTube (part of "Google Sites") has far higher minutes per viewer, as users on YouTube will tend to waste time watching multiple videos, whereas Facebook is not a video directory and users will typically just watch one video at a time. Slapping advertising on videos shared amongst friends goes back to the issue about potential user backlash, but it works for YouTube. And advertising on videos is becoming more common as comScore shows: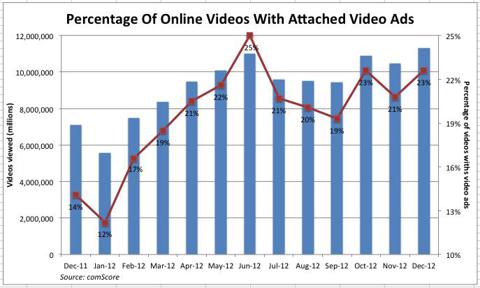 Click to enlarge
Significance For FB Stock
If Facebook is able to sign on advertisers for its new video ads at $1 million per day, this will certainly represent a significant additional revenue stream and improve their numbers in Q2 2013 and Q3 2013. But it's still a big "if."
Disclosure: I have no positions in any stocks mentioned, and no plans to initiate any positions within the next 72 hours. I wrote this article myself, and it expresses my own opinions. I am not receiving compensation for it (other than from Seeking Alpha). I have no business relationship with any company whose stock is mentioned in this article.