In the morning I tend to have the financial news on in the background and I'm often amazed at how quickly commentators will attempt to judge a quarter when the news is just released a few minutes ago, when it is obvious that they could have only read the first few paragraphs of the press release. It is this 24/7/365 news cycle where conventional business analysis is eschewed for a hot headline. Wednesday's news headlines regarding Bank of America's (NYSE:BAC) earnings revolved around the company struggling to find growth.
The reality is that all of the banks are seeing tepid loan demand, aside from mortgages, which has been predominantly refinancing, rather than originations. The economy is far weaker than has been the consensus opinion, with the biggest bright spot being a rebound in real estate prices, led by lower inventories and cheap interest rates. In addition, most banks have enhanced their underwriting standards dramatically, for many reasons, not the least being that the new regulatory and capital guidelines make it much more prohibitive to expand the balance sheet for weaker credits. Think of things like; Basel III, the CCAR and all of the litigation that has dramatically increased the cost of doing business, and in turn, tightened credit.
Bank of America intentionally got out of the correspondent mortgage channel to focus on retail originations, which service its customers, and are less risky, at the cost of weaker short-term profitability. The same analysts that were outraged at banks' horrible underwriting are the same ones that are clamoring for "loan growth." Bank of America will be the biggest bank earnings growth story over the next 3-5 years albeit off a lower base, and while the stock has certainly had a nice run, investors can still potentially double their money over that time period.
Bank of America combines one of the finest retail franchises in the United States, with one of the best investment banks in the world. If you don't believe me, think of the amount of capital it would take to replicate these franchises in terms of deposits, assets under management, brand etc. The most important thing to a bank is a strong deposit franchise, which can set the stage for strong net interest margins. Bank of America and Wells Fargo (NYSE:WFC) are in competition for the best deposit franchise in the USA but only one of these companies trades at a discount to tangible book value.
I personally am in the investment management business and I can't tell you how difficult it would be to replicate the Merrill Lynch franchise, even with almost unlimited resources. The business is a people business and it isn't easy to take shortcuts in meeting and building trust with affluent clients all over the world, and to build relationships with the significant debt and equity issuers in their capital markets business. This doesn't even get into Bank of America's other businesses such as U.S. Trust that produce very attractive returns on capital, and have large scale advantages in their own right.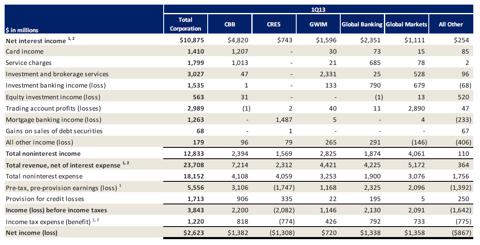 Source - BAC 1st Quarter 2013 Investor Presentation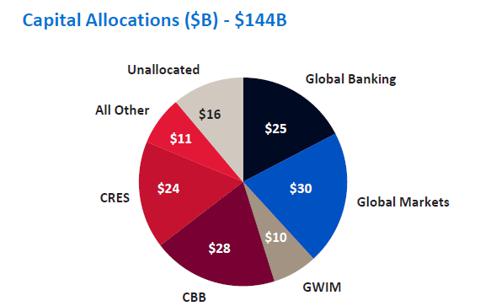 On April 17th, Bank of America reported 1st quarter 2013 net income of $2.6 billion, or $0.20 per diluted share, up from $653MM, or $0.03 per diluted share, in the 1st quarter of 2012. Revenue, net of interest expense, on a fully taxable-equivalent basis rose 5% to $23.7 billion from $22.5 billion a year ago. The first quarter always includes a big expense related to employee compensation expenses, and this year it was $900MM. The core business trends were quite positive for Bank of America, and I believe that this augurs extremely well for the future earnings power.
Global wealth and investment management reported record earnings post the Merrill Lynch merger. As can be seen in the table below, pretax margins in the 1st quarter of 2013 were an astounding 25%, which would have Morgan Stanley (NYSE:MS) panting if it could reach that level in its MSSB venture. Net income in global banking was $1.3 billion, down from $1.4 billion in the 4th quarter. Management believes that it is number two in investment banking fees, and with fewer competitors, BAC is well-positioned to pick up market share due to its scale advantages. The table above shows the amount of capital allocated to all of its businesses, and when the CRES business turns around, returns on equity are going to improve dramatically for the overall company. Merrill Lynch's wealth management business is exceptional, and I believe it has more potential than any of the other banks' wealth management divisions.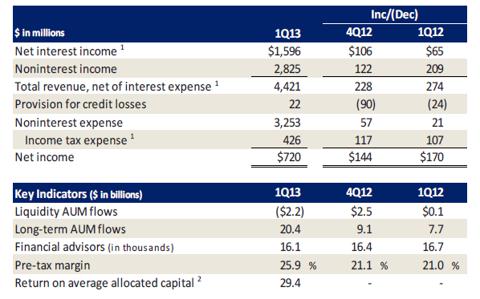 The global markets business had net income of $1.4 billion, up about $1 billion, excluding DVA, sequentially, due to increased sales and trading activity. Total revenue excluding DVA was up $1.9 billion, or 58% sequentially. The first quarter is often a pretty good one for the banks on trading so I'd certainly prepare for volatility. Bank of America isn't trying to be Goldman Sachs (NYSE:GS) or even Citigroup (NYSE:C) with its global markets business, so it should be measured by having less volatility in both good times and bad.
Commercial loans and leases were up 3% sequentially and 17% YoY. Deposit balances were up 5% from the 1st quarter of 2012, but down slightly sequentially, to $1.1 trillion. Net interest margins increased to 2.43% from 2.35 in the 4th quarter, and net interest income was $10.9 billion. Bank of America hedges interest rates so on an effective basis both income and margin were effectively flat. Combined credit and debit card purchase volumes had a seasonal decline of 6% from the 4th quarter, but were up 3% YoY. Brokerage assets increased $6.7 billion from the 4th quarter, or 9% due to market appreciation and increased customer flows. Average loans declined $1.6 billion sequentially, which is a negative, but because Bank of America has a large run-off portfolio there is a large hurdle to get total loan growth. I don't see any reasons that the bank can't ramp up lending when demand actually picks up.

Mortgage retail originations were around $24 billion, up 11% from the 4th quarter, and were up 57% a year ago. Like I mentioned before, most of the headlines have been that earnings were disappointing due to a lack of mortgage originations but it is important to keep in mind that Bank of America has exited various production lines, to focus extensively on serving its customers. This might cost the company when times are good but it also reduces the balance sheet risk the company is taking.
Bank of America ended the 1st quarter with a Basel I with Market Risk Final Rule Tier 1 Common Capital Ratio of 10.56%, up from a pro forma 10.38% at the end of the 4th quarter. The company estimates its Basel III Tier 1 Common Capital Ratio to be 9.42%, up from 9.25% in the prior quarter. The tangible common equity ratio improved 20 basis points since the 4th quarter to 6.94%. Tangible book value grew by $0.10 to $13.46 at the end of the 1st quarter. Bank of America has aggressively been reducing its long-term debt footprint, as part of a liability management program to combat the low interest rate environment.
Evidence of this program can be seen by the fact that long-term debt was down $75.3 billion YoY, driven by maturities and repurchases. Long-term debt was up very slightly in the quarter but is expected to decline over the full year. Liquidity is extremely strong with a time-to-required funding of 30 months. Time-to-required funding refers to the number of months that Bank of America can meet its financial commitments without issuing new debt, or accessing other sources of cash.

One of the real keys to understanding where Bank of America is going to see enhanced earnings power is from the realization that the company has billions of dollars a quarter in legacy-related expenses, which will not always be a part of the cost-structure. Bank of America has tens of thousands of employees working on its legacy asset servicing (LAS) business, which will either be reassigned or let go as these problems come off the table. LAS expenses, excluding litigation and the IFR acceleration agreement were down approximately $500MM from the 4th quarter to $2.6 billion. Imagine that just this division has $2.6 billion of expenses, which will be gone that will drastically improve earnings and capital accretion.
LAS headcount for March was down approximately 3,000 employees from December, while headcount excluding LAS was down approximately 1,000. Management believes that LAS expenses, excluding litigation, will be at $2.1 billion or lower in the 4th quarter of this year. That would be $500MM of savings and I believe this is a low-ball estimate. Excluding LAS expenses, litigation, and annual retirement eligible cost, expenses in the quarter were $1.8 billion, down 6% YoY.
Bank of America believes that it will be on track for $1.5 billion per quarter of savings by the 4th quarter of this year, which is 3/4ths of the 2015 target of $2 billion per quarter. As evidenced by Ron Johnson's historically abysmal reign as CEO of J.C. Penney (NYSE:JCP), expense reductions at the cost of a large percentage of revenues, profitability and financial strength are purely a Pyrrhic victory, but Bank of America should actually be able to divert more assets to growth as costs go down.

While much of the talk over the last several years from market pundits with very little experience looking at a bank balance sheet was that the companies were under-reserving, the reality is that credit has improved dramatically to normalized levels. Net chargeoffs declined 19% to $2.5 billion during the 1st quarter and the consumer loss rate dropped 34 basis points to 1.7%. The commercial loss rate declined 5 basis points to a paltry 25 basis points, the lowest since 2006. Provision expenses were $1.7 billion, including a reserve reduction of approximately $800MM.
The banks that fell further down the abyss such as Bank of America and Citigroup (C) have more reserve reduction potential, and Bank of America especially, should benefit from improved severities due to improved real estate prices. 28% of Bank of America's non-performing assets are current consumer loans that were modified are now current after a successful trial period, but are classified as non-performing due to the regulatory guidance that was issued in the 2nd half of 2012. In 1992, Bruce Berkowitz of Fairholme Funds was interviewed about his huge investment in the badly distressed Wells Fargo and he mentioned how the bank was still generating cash flow from loans that had been written off, and this is an excellent example of a similar circumstance occurring.
A note from the author here, but I'd encourage that investors read that excellent 21 year old interview, which I believe has more credibility than any bank research report I've ever read. In investing, history tends to rhyme to paraphrase Mark Twain, and I believe Bank of America has the most misunderstood financials in the banking industry, so the key is time elapsing, which will eventually dissipate the fog. After the early 1990s financial crisis, there was a great deal of consolidation that ultimately was a huge benefit for the surviving entities. I don't hear anybody talking about this because ROEs are down, but I believe several years from now this could very well be a hot topic, which actually pushes market participants into the large banks.
Bank of America has 10.82 billion shares outstanding so at a recent price of $11.70, the market capitalization is $126.6 billion. This is in contrast with a tangible book value per share of $13.46 and $20.30 in book value this valuation could only be justified if Bank of America isn't even likely to return 10% on equity again, and I believe that is non-sensical. Last year we were hearing how Goldman Sachs (GS) might not achieve a 10% ROE anymore, and now they are closer to 13% despite a very weak environment.
I'm betting heavily that Bank of America can earn a ROE of 10% at the very low end in a normalized environment, and when interest rates rise, I believe 13-15% is possible. The most similar banks to Bank of America in terms of its businesses are Wells Fargo and J.P. Morgan (NYSE:JPM), and unsurprisingly both have exceeded a 10% return on equity, and 15% return on tangible equity. Bank of America was just a little worse than Wells Fargo before the Financial Crisis, in terms of its operational acumen, but the picture was dramatically changed following Ken Lewis's Countrywide Financial acquisition. Analysts and market participants seem to have only an after-Countrywide memory of the company and it is my assertion that this will prove to be wrong.
Assuming a 15% return on current tangible book value, normalized earnings would be $2.019. A simple 10% return on book value would put normalized earnings at $2.30. If upside is a 13% return on book value, that would mean $2.64 of normalized earnings and this doesn't account for book value growth. Bank of America passed the CCAR stress tests with flying colors, and the company got approval to buy back $5 billion of stock. This would be highly accretive anywhere close to current prices, so the recent decline in the stock would be a great entry price when the company is able to begin the process. I believe that there is no reason the stock should trade between tangible book value and $15 a share in the short-term, and in a few short years I believe the stock will trade in the mid $20's, with a 4% plus yield at those prices.
Keep in mind that the banks are hoarding capital to meet the new capital requirements early but that won't last forever and there will be enormous stock buybacks, and dividend payouts. By the time those occur the stocks will be much higher and the risks much greater, so I'd encourage you not to wait for a cheery consensus before buying your Bank of America stock.
Disclosure: I am long BAC, WFC, JPM, C, MS. I wrote this article myself, and it expresses my own opinions. I am not receiving compensation for it (other than from Seeking Alpha). I have no business relationship with any company whose stock is mentioned in this article.