The explanation for the calculation for the below graphic can be found here:
This is the 04/17/2013 update of the Biodiesel/Renewable Diesel margin report.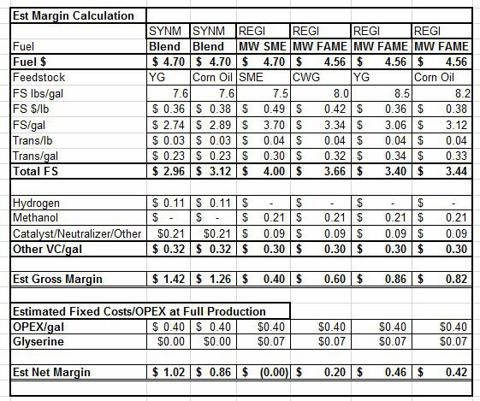 The above margin report are ESTIMATED margins for firms like:
Renewable Energy Group (NASDAQ:REGI) (Link)
Syntroleum (NASDAQ:SYNM) (Link)
Biox (BX.TO) (Link)
There is another firm in the alternative fuels category, Kior (NASDAQ:KIOR) (Link), but they do not use the feedstocks used in the above calculation. I include them only for completeness. The above margin calculation does not apply to them. If I can get feedstock and process data I may add them at a later date.
KiOR intends to use non-food sources of feedstock, such as wood and forestry residuals, while avoiding feedstocks such as corn or soy which are also used for food or are grown on land typically used for food production
From the above report SYNM continues to have superior margins with their renewable diesel, biodiesel firms like REGI and BX.TO show positive margins for most feedstock categories. Soybean oil biodiesel (SME) continues to show breakeven to negative margins.
In conclusion, renewable diesel and multi/flex feedstock biodiesel firms continue to show positive margins. The fact that SME continues to struggle bodes well for RIN prices and margins going forward (see "Info regarding RINs and EPA quota" below).
More Info:
Other info regarding RINs and EPA quota.
Website that offers a biodiesel e-mail update.
Data source for much of this report.
Disclaimer: This article is not an investment recommendation. Any analysis presented in this article is illustrative in nature, is based on an incomplete set of information and has limitations to its accuracy, and is not meant to be relied upon for investment decisions. Please consult a qualified investment advisor. The information upon which this material is based was obtained from sources believed to be reliable, but has not been independently verified. Therefore, the author cannot guarantee its accuracy. Any opinions or estimates constitute the author's best judgment as of the date of publication, and are subject to change without notice.
Disclosure: I am long SYNM. I wrote this article myself, and it expresses my own opinions. I am not receiving compensation for it (other than from Seeking Alpha). I have no business relationship with any company whose stock is mentioned in this article.