Today's market can be challenging for investors searching for value. As equities race higher, more and more pundits are forecasting a deep correction, and it's become almost contrarian to predict a continued market rally. And they may be right. But history has shown us that in situations like this, it's often better to invest cautiously than to not invest at all. That's where Apache (NYSE:APA) comes in.
As one of the world's largest independent exploration and production companies, Apache has had a rough couple of years. Shares have fallen nearly 50% since April 2010, and while the broader U.S. market enjoyed a booming start to 2013, Apache's stock has dropped around 10%. These are pretty dramatic declines, so let's call it what it is: Apache is not the safest stock you'll come across. It doesn't have that mouth-watering yield that so many investors now require. What it has is long-term value - and lots of it. Below I'll describe a stock that has been dragged through the mud despite a business that continues to hit record production levels, expand internationally, and demonstrate sustainable strategic initiatives.
Egypt Concerns Are Overblown
Concern over political unrest in Egypt has been one of the biggest roadblocks facing Apache's stock in recent years. Some of this is certainly justified. Egypt represents 20% of the company's production and 10% of estimated proved reserves, and regional instability would threaten those operations. Yet thus far, even through the worst of the Arab Spring, Apache has yet to experience significant production interruptions.
There are a few things to note here:
Apache's operations are located in the remote Western Desert, removed from the heart of the conflicts.
Regardless of who leads the country, it makes economic sense for Egypt to continue producing petroleum with Apache.
Apache has multi-year political risk insurance from multiple international insurers, which will provide Apache with over $1 billion in coverage for losses arising from confiscation, nationalization and expropriation risk.
Apache has maintained a large and stable presence in Egypt for many years and has not experienced sustained threats to its operations (see below).

Source: FactSet
Again, a prudent investor should always take these kinds of geopolitical risks seriously. But considering 82% of Apache's acreage in Egypt remains undeveloped, it would also be beneficial to note the potential return on investment that this region provides.
Long-Term Focus
Switching gears, I'd like to emphasize something important: Whether or not Apache is the right investment depends entirely on what kind of investor you are. To be more direct, I honestly do not expect Apache to have a stellar 2013 and blow its competitors out of the water. However, as a long-term investment bought near today's discounted price level, Apache could be one of the best investments in this sector.
Instead of chasing short-term profits, Apache has focused its capital-spending program firmly on long-term projects. Nearly half of its 2012 capital budget went to projects that weren't expected to add to total production during that year. In 2013, the company will dedicate 21% of its budget to developing long-term ventures that are expected to contribute more than 150mboed over the next five years. According to company estimates, if that $2.2 billion had been allocated to additional onshore drilling in the U.S. instead, 2013 production growth would likely be double the current estimates. Surely that would lift shares in the short term, but instead, Apache's management has chosen to pursue a sustainable, long-term growth strategy that doesn't appear to be factored into today's price.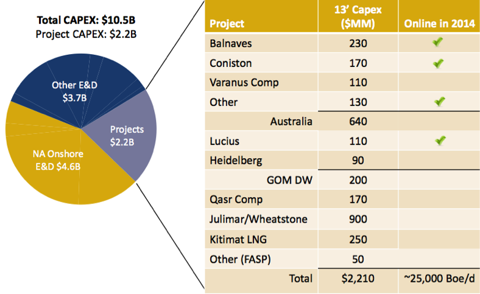 Source: Company Documents
Of course, a CAPEX commitment doesn't automatically translate into successful growth. Behind the focus on these long-term, high-reward ventures remains decades of operational expertise spread across nearly every continent. Apache's track record speaks for itself:
#1 North American E&P company in Argentina
#1 independent operator in the U.K. North Sea
#1 domestic gas supplier in Western Australia
Largest oil producer in Egypt
#1 driller in the Permian Basin
Industry-leading success rates in drilling activities both abroad and in the U.S.
Despite the recent performance of its shares, Apache's business has quietly been improving. The company registered record production and revenue levels in 2012, while marking its fourth consecutive year of production growth. Meanwhile, Apache has increased reserves 23 of the last 27 years and production 32 of the past 24 years.
Annual Oil & Gas Production, 1992-2012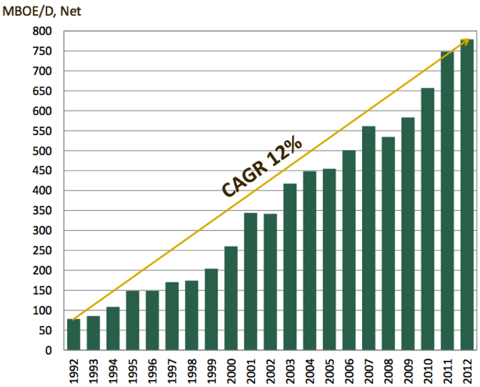 Source: Company Documents
Yet It's Still Undervalued
Make that very undervalued. Apache is trading at a 20% discount to its EV/EBITDA historical average. Frankly, I can't think of many other investments where the consensus has so consistently pointed to undervaluation.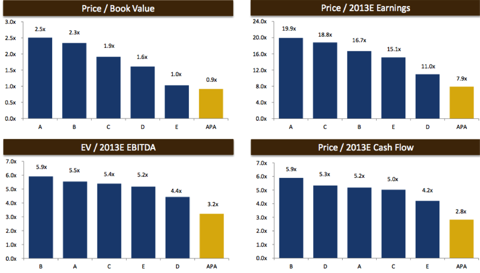 Source: Company Documents
Conclusion
Before getting ahead of myself, let me reiterate that I by no means consider Apache a perfect investment. Shares have fallen short in the past three years, and some big questions remain for the broader market in 2013. And while I side with Apache's historical stability, the geopolitical risks in Egypt are something to keep an eye on.
What I find compelling is that the market's expectations for Apache are incredibly low even though its business model has been effective. As Apache's share price has slid nearly 50% over the past three years, the company has:
Become the largest driller in the Permian Basin
Recorded a 20% increase in proved reserves
Doubled production revenue
Committed $18 billion to strategic acquisitions
When Apache's long-term capital spending commitments pay off in 2014-2015, I expect shares at today's price level will look remarkably cheap.
Disclosure: I have no positions in any stocks mentioned, but may initiate a long position in APA over the next 72 hours. I wrote this article myself, and it expresses my own opinions. I am not receiving compensation for it (other than from Seeking Alpha). I have no business relationship with any company whose stock is mentioned in this article.