In terms of future dividend growth, Kinder Morgan Inc (NYSE:KMI) is in a sweet spot. Kinder Morgan's growth is virtually guaranteed due to its ownership of the general partners ("GP") of both Kinder Morgan Energy Partners (NYSE:KMP) and El Paso Pipeline Partners (NYSE:EPB). Kinder Morgan intends to become a pure-play GP by 2014. Kinder Morgan just declared its 6th straight quarterly dividend increase, increasing its dividend 2.7%, from $0.37 per share to $0.38 per share. At current prices, Kinder Morgan yields about 4%.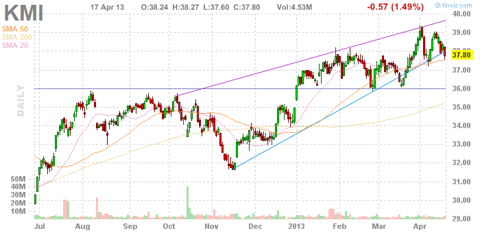 On April 17, Kinder Morgan reported its Q1 2013 results. During the quarter, Kinder Morgan saw its cash available to pay dividends increase 70% to $513M, from $303M for the same period last year. On a per share basis, cash available to pay dividends increased 14% to $0.49 per share, up from $0.43 for the same period last year.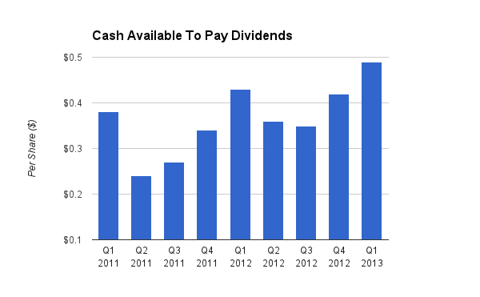 During the quarter, Kinder Morgan generated $573M in cash from its interests in KMP and EPB. The vast majority of this came from its GP interest in KMP, which generated $412M. Kinder Morgan's GP interest in EPB generated $49M. Kinder Morgan also owns LP interests in both MLPs. KMP units owned by Kinder Morgan generated $36M, Kinder Morgan Management (NYSE:KMR) shares generated $20M, and EPB units generated $56M.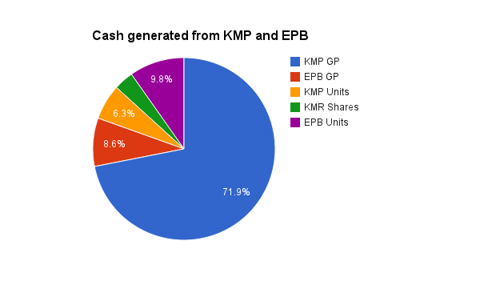 Since its IPO in 2011, Kinder Morgan has increased its quarterly dividend 170%, from $0.14 in Q1 2011, to $0.38 in Q1 2013. The current quarterly dividend represents an increase of 19% from the Q1 2012 dividend of $0.32. Kinder Morgan has previously announced that it expects to declare total dividends of $1.57 per share in 2013. This would represent a 12% increase from the $1.40 of dividends declared in 2012.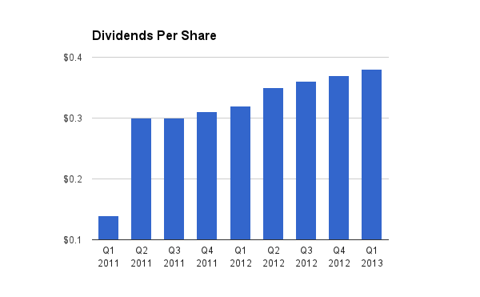 Kinder Morgan has a projected long-term growth rate of between 9% to 10%. Likewise, the MLPs KMP and EPB have projected growth rates of between 5% to 6% each. In addition, the combined companies have a potential $12B in expansion projects.
Kinder Morgan's CEO Richard D. Kinder has stated:
KMI had an excellent first quarter led by continued strong performance at Kinder Morgan Energy Partners, along with good results at El Paso Pipeline Partners and from the natural gas assets obtained in the acquisition of El Paso Corporation which closed in May 2012." KMI's growth will continue to be driven by its ownership of the general partners of KMP and EPB, which generate stable and increasing cash flow from their diversified assets. For 2013, KMP expects a 6 percent increase in declared cash distributions per unit versus 2012, and EPB expects a 13 percent increase in its declared cash distributions per unit compared to the previous year... Looking ahead, KMI is well positioned for future growth in North America... We currently have identified more than $12 billion in expansion and joint venture investments across the Kinder Morgan companies, and we are pursuing customer commitments for many more projects.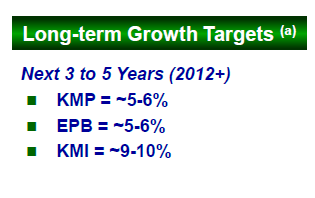 One concern with Kinder Morgan has to be its large debt load. However the company is in the process of disposing of its non-core assets (primarily legacy E&P) and "dropping down" other assets to either KMP or EPB. As an example, during the quarter, Kinder Morgan completed the sale of its remaining 50% stake in El Paso Natural Gas pipeline and certain midstream assets to KMP for $1.65B. Kinder Morgan used the proceeds primarily to pay down debt. The company also expects to sell its 50% interest in the Gulf LNG to EPB later this year.
Conclusion
It should come as no surprise that the CEO and other management and original stockholders own 29% of Kinder Morgan. Kinder Morgan has the potential to become a future dividend growth juggernaut. KMP and EPB's midstream assets are basically energy toll roads, which will allow then to slowly charge ever increasing fees. Since Kinder Morgan is the GP for both, it will receive IDRs from both. Combine this with its rather good Q1, and Kinder Morgan is a definitely a standout stock.
Disclaimer: The opinions in this article are for informational purposes only and should not be construed as a recommendation to buy or sell the stocks mentioned. Please do your own due diligence before making any investment decision.
Disclosure: I have no positions in any stocks mentioned, but may initiate a long position in KMI over the next 72 hours. I wrote this article myself, and it expresses my own opinions. I am not receiving compensation for it (other than from Seeking Alpha). I have no business relationship with any company whose stock is mentioned in this article.