Defensive and dividend stocks have been in vogue pretty much since early-2011 when 'risk-off' trades collapsed the yields available on intermediate and long-term bonds and bond funds. They were among the last safety net available to retail income investors, with money market funds and CDs having seen their yields collapse a few years earlier. One of the more popular sectors for investors to dip their toes into the stock market has been the Consumer Staples sector, which has the perception of being safe havens owing to their products and their business models. The theory behind purchasing Consumer Staples stocks is that their products are largely immune to recessions, financial dislocations, or global panics. People still need to brush their teeth, eat, and drink.
And smoke ! The tobacco sub-sector of the Consumer Staples group has been among the hottest stocks owing to their ample dividend yields and the willingness of consumers in the U.S. and globally to maintain their addiction to premium cigarettes. Folks may not eat out as much, they may downsize or put off a new car purchase, and they may delay little amenities for the home, but they don't want to give up their Marlboros or Newports or Camels for a cheaper, blander cigarette either for taste or status reasons.
The folks who run tobacco companies are some of the savviest marketing and business executives in Corporate America. You could say they are the 'Mad Men' of American business because of their ability to continue to deliver profits and sales for a product that has seen its market share decline by almost 50% in the U.S. and subject to heightened advertising restrictions, smoking restrictions, legal attacks, and now marketing attacks (more on that later). Check out the chart below; does that look like the chart of a product whose companies' stocks you'd want to buy?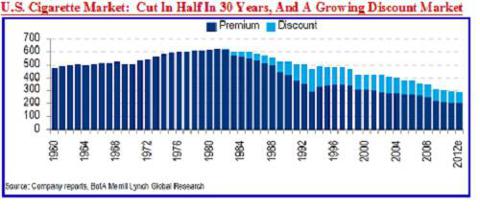 While there are new threats - Australia has passed 'plain packaging' legislation which reduces the value of trademarks and premium-priced cigarettes - and old ones (litigation, taxes, smoking restrictions), tobacco companies have multiple levers to grow profits. For domestic companies, it is the introduction of new products such as e-cigarettes, smokeless and snus, and future Next Generation Tobacco (NGT) reduced-risk products (under the watchful eye of the FDA). For international companies, it is growth markets in Asia; rising middle-class consumers in South America, Asia and Eastern Europe; and in the next decade, Africa.
What's the investment case for tobacco companies ? Well, you are talking about prodigious cash generating companies that do not need much CAPX or R&D and whose greatest competitive risks are a price war (worrying about technological obsolescence or someone inventing a better cigarette are pretty remote). Without having to worry about R&D, and with marketing largely restricted to all companies (thereby essentially locking in market shares), revenues and profits are largely stable year-to-year.
Market shares are largely frozen, with companies skirmishing over small changes in position not unlike the armies fighting trench warfare in World War I. Without any price wars like 1993's 'Marlboro Friday,' tobacco companies can count on plenty of free cash flow to plow into share buybacks and lush dividends. Tobacco companies are among the best in actually reducing share counts.
Check out the net debt/EBITA levels for the Consumer Staples stocks, keeping in mind the tobacco companies in this article average a 1.3x net debt/EBITDA figure. Even that is skewed by Philip Morris(NYSE:PM)'s 2.1x higher leverage; see below to understand why.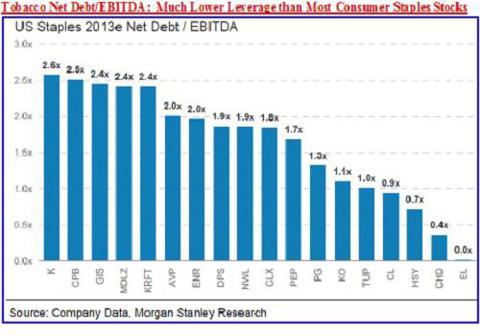 The tobacco companies tend to get the best margin growth among the Consumer Staples stocks, 80-170 bps. per year, even though they start from the highest margins. This is because tobacco grows its top-line through pricing, and price increases almost inevitably drive margin expansion. The key to tobacco company profits and stock returns (through dividends and buybacks) is their ability to maintain pricing power and a steady profit pool. The lack of year-to-year technological threats to cigarettes, steady marketing costs (you don't have to worry about large losses in market share), predictable if annoying litigation expenses - they all go to making the cost and expense side of the income statement fairly predictable.
Let's take a look at 5 tobacco companies which yield in excess of 4.5% in the aggregate, with both a domestic and international flavor, comprising both dominant companies looking to buy and some potential M&A takeover candidates:
British American Tobacco (NYSEMKT:BTI): British American Tobacco (referred to as BAT below) is one of the world's largest tobacco companies, selling cigarettes and other tobacco products in over 180 countries. The company sells over 300 cigarette brands, but its major brands are Dunhill, Kent, Lucky Strike and Pall Mall. BAT owns a 42% stake in Reynolds American, the U.S. tobacco company, and 32% of ITC, India's leading cigarette manufacturer. BAT is the #2 tobacco company globally behind Philip Morris.
BAT's top 4 brands account for one-third of volume. It is centralizing management, marketing and production, thereby cutting costs. Cost-cutting is important for tobacco companies because if you rely exclusively on price increases you risk losing market share if competitors do not follow your price lead. BAT is an innovator in direct store distribution, capsule products (which allow smokers to change the taste of their cigarettes as they smoke) and the trend to more modern packaging with slimmer cigarettes.
BAT is the most global of the major tobacco companies, due to its exposure to the U.S. and India (via its stakes in Reynolds American and India Tobacco) as well as to Africa. In many markets (e.g. Canada, Brazil, South Africa, Australia) it is the dominant company. BAT also has clear leadership positions in many emerging markets (73% share in Brazil) and most of sub-Saharan Africa, as well as Australia (46%) and Canada (50%) - two of the highest margin markets. More than half its profit comes from emerging markets. BAT's historical ties to the old British Empire have enabled it to hold onto its legacy positions in many far-flung regions.
BAT offers a highly predictable growth outlook even with Europe in recession (only 18% of BAT's profit is from Europe). In the 2nd half of 2012, BAT was able to generate 10% EBIT growth (8% for FY 2012), a fantastic performance given the headwinds. Growth markets in Africa, Latin/South America, and Asia are offsetting weakness in the competitive U.S. and European markets. Examples are Pakistan, Bangladesh, Taiwan, Venezuela, Romania and Saudi/UAE. In all these markets, BAT gained share. It all adds up to a high-single digit growing company with plenty of free cash flow.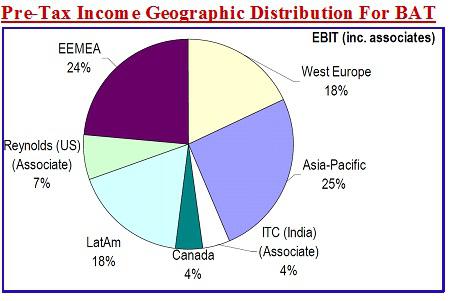 BAT's cash generation will be impacted by a near-term boost in CAPX to upgrade to more modern manufacturing equipment. BAT normally pays out about 60-65% of income via dividends. It is also buying back about $1.5 billion in stock, or about 2% of market cap per year. Like most of the tobacco companies, BAT is seeing its stock price re-rate upwards relative to the rest of the traditional Consumer Staples sector. BAT is a bit cheaper than Philip Morris (PM), her global peer. Leading positions in Brazil and Russia should continue to generate volume and profit growth. Only about 8% of BAT's profits come from Southern European countries, so recession-induced brand down-trading or volume declines are not a major concern. Because of its U.S. exposure, BAT has the greatest geographical diversification of any tobacco company.
Additional cost-savings can be driven by any consolidation involving the Reynolds or Indian Tobacco affiliates. Since BAT already owns significant stakes in them, it is already part of the way home on each if it decides to pursue an acquisition. The downside with BAT is that it has the biggest risk from litigation, via its exposure to Canada and Brazil as well as the U.S. Several Canadian provinces have passed legislation designed to help the provinces sue BAT.
BAT's relative valuation has risen in recent years, but that is partly a function of the search for safe dividend yields and also a re-rating of the entire Consumer Staples stocks as a result of P/E compression from the Technology sector, the mega-caps of the S&P 500, and the S&P 500 itself.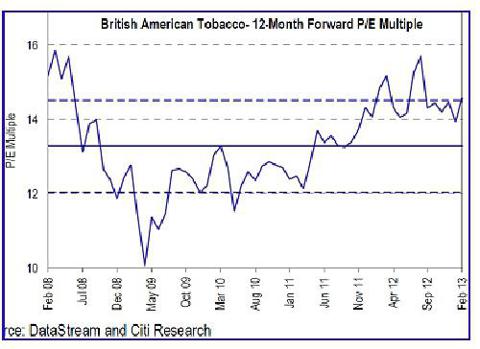 The ADRs have a semi-annual dividend (hopefully, BAT and other European companies will hop on the quarterly bandwagon) that yield 3.9% (European tobacco companies have lower yields than their American counterparts). BAT has balance sheet strength with net debt/EBITDA of only 1.3x, lower than Philip Morris and in the median range for the tobacco sector and lower than most of the Consumer Staples sector.
Lorillard (NYSE:LO): Lorillard is the smallest of the big 3 U.S. cigarette manufacturers, with a heavy emphasis on its menthol flagship, Newport. The LO cigarette line includes Newport, Kent, True, Maverick, Old Gold, and 34 other smaller niche brands and line extensions. Newport accounts for 88% of LO's annual sales and LO has about a 14% share of the U.S. domestic cigarette market.
While an outright FDA ban on menthol is unlikely, just the continued review and threat of prohibition of line extensions has depressed the valuation of LO relative to Altria and Reynolds. On the plus side, Lorillard alone-- among the major U.S. tobacco companies-- has made a meaningful entry into the e-cigarette category through its Blu eCig acquisition. Even this move is small, providing $39 million of revenue in Q4 2012, compared to about $1.2 billion of cigarette sales.
LO's per-pack cost structure advantage relative to its U.S. tobacco competitors has deteriorated in recent years. This is partly a result in a mix-shift to lower-priced brands (same production costs over a lower-priced product); legacy Engle (Florida) litigation developments resulting in higher legal costs even in cases where the smoker has not smoked Lorillard products; New York State Indian reservation developments (tax collection) which resulted in lost volumes; and higher regulatory/administrative/MSA (Master Settlement Agreement) costs which have all hit at the same time. The good news is these one time events will not recur and/or will reverse. As such, margin expansion in 2013-14 is likely.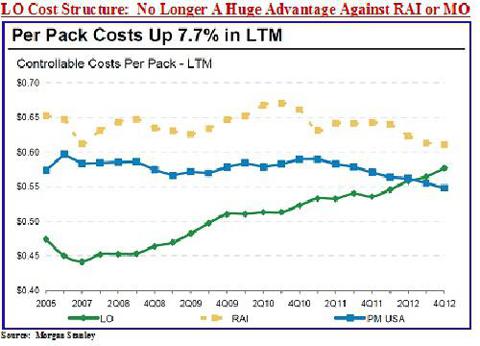 LO's share of the premium segment was 16.6% with Newport accounting for 16.4% of that total. Premium-priced cigarette shipments comprised 73.3% of all industry shipments with deep discount cigarettes at 13.6% market share. So Lorillard is heavily dependent on both price stability and menthol, a lethal combination should either be under attack. In Q4 2012, Newport's overall market share was 11.9% (down 20 basis points sequentially, up 20 basis points year-on-year), and the brand had a 35.1% Menthol share (down 130 basis points sequentially and down 50 basis points YoY).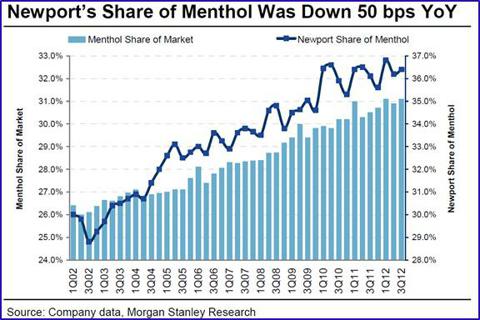 Competition increased in recent quarters and should abate going forward with reduced new product introductions (line extensions) from other tobacco companies. Stronger than expected results in Q4 benefited from higher than expected profitability in e-cigarettes, and greater than expected share repurchases ($304 million).
Newport's 130 basis point sequential menthol share reflects the increased assault on the menthol market by Altria and Reynolds but fundamentals remain best-in-class, and Newport provides exceptional pricing power and brand loyalty. Still, LO would be the mouse in the room if elephants Altria or Reynolds were to engage in any price cutting, which thankfully does not appear likely anytime soon (MO is winding down its promotional coupon initiative).
Lorillard is paying out about 70-75% of cash flow as dividends, using its under-utilized balance sheet -- net debt/EBITA is only 0.8x -- to take up leverage via annual $500 million share buybacks that should continue through 2015. Lorillard also increased its quarterly dividend by 6.5% last quarter and the shares now yield 5.3%.
While valuation is not cheap given the menthol overhang, the kicker could be if Lorillard were to be acquired by a buyer for its Newport brand. Reynolds American (NYSE:RAI) has long-rumored to be the most likely acquirer, but RAI itself could be acquired by its stakeholder (see below). An offer from Altria Group (NYSE:MO) would likely not withstand anti-trust scrutiny from the FTC and/or Justice Department. $50-$55 a share would not be unreasonable if someone makes a bid for Lorillard, especially if clarity comes from the FDA on menthol.
Reynolds American : The remnant of the old RJR Nabisco LBO from the 1980's that came to symbolize the era, Reynolds American is strictly a U.S. tobacco play. Reynolds is the 2nd-largest tobacco in the U.S. with a growing presence in smokeless tobacco, especially the discount segment. Brands include Camel, Kool, Winston, and Salem, with Grizzly and Kodiak leading the smokeless division. RAI has about 26% market share in the entire U.S. cigarette market.
RAI's cost structure has always been a disadvantage versus MO and LO (see chart above). MO's Marlboro and other premium brands and Lorillard's market share gains in recent years have both squeezed RAI. The good news in the bad news is that RAI has been benefiting from declining Master Settlement Agreement (MSA) payments, reflecting RAI's cigarette volumes falling faster than the industry as a whole. This 'benefit' is not the kind that investors will pay a premium for, even though it represents about $0.25/share available for shareholders or the company to reinvest in brands, marketing, promotions, etc.
Traditional moist smokeless tobacco (MST) is by far the most meaningful non-cigarette contributor to tobacco company profits, and RAI is no exception. RAI has been gaining market share and diversifying with the non-premium Kodiak and Grizzly brands. Health concerns will likely keep MST from becoming a meaningful game changer in the reduced risk effort. Expectations for snus have been high, and while there does seem to be traction for this spit-free alternative, growth is typically described as linear rather than exponential. Dissolvable tobacco products have also received a lukewarm acceptance by the public. If snus or dissolvables were to gain reduced risk status by the FDA - and could be marketed as such - RAI is positioned to benefit commercially.
RAI continues to make progress in these areas to offset its lackluster traditional cigarette business. RAI continues to invest in marketing and R&D expenditures to help with NGT products. RAI's first-mover advantage positions the company well for long-term gains in these areas. The Vuse e-cigarette is going to expand the company's test markets; it has been in Virginia and North Carolina since mid-2012. Vuse offers key competitive advantages in terms of the technology employed and higher-grade materials, which should make for a much improved product that can withstand regulatory and consumer scrutiny. RAI's lead with Vuse may allow the company to participate in the rapid growth of this category sooner than larger competitor Altria Group. Finally, the Eclipse heat-not-burn cigarette is awaiting FDA approval. If it is able to gain FDA 'approval' as a lower or modified-risk product, it could gain both domestically as well as internationally by licensing the technology.
The 80% dividend payout should provide support for the stock. Shares yield 5.1% and RAI has been keen to raise the dividend no less frequently than every 2 years. Net debt/EBITA at 1.1x gives RAI flexibility to use the balance sheet to augment returns for shareholders through dividend boosts and/or share buybacks. With British American Tobacco owning 42% of the shares, the potential for a buyout (subject to U.S. and British anti-trust scrutiny) could garner a premium price for the stock.
Altria Group : Altria Group is the U.S. domestic tobacco holdings of the former Philip Morris (Philips Morris is now all tobacco sales ex-U.S.). Altria Group is the leading cigarette seller in the United States and leading brands including Marlboro, Parliament, L&M, and Virginia Slims. Marlboro is the best-selling cigarette in the U.S. (and the world) and accounts for about 80% (42% market share) of Altria's 50% market share. While recent trends among younger smokers have been a bit weak relative to the entire smokers market (probably because of an increased preference for discount brands as young people are still hurting economically), it is nothing to worry about.
A bet on MO is a bet on a return to MO's 12-year winning streak of outperforming the S&P 500, which was broken in 2012. Long-term, if you look at the trend of cigarette sales in the U.S. since the 1980's, you would think that any stock in the sector would be one to avoid like the plague. Instead, Philip Morris/Altria was one of the best-performing stocks of the last 30 years.
With the purchase of U.S. Tobacco in 2008, Altria also became the leading smokeless provider with names like Copenhagen, Skoal, Red Seal, Husky, and Marlboro Snus. Leveraging the Altria distribution network, Altria got into cigars around the same time as smokeless, principally under the Black & Mild brand, and also manufacturers pipe tobacco.
As long as state and federal excise taxes are under control and the litigation environment remains under control, Altria should be able to navigate the annual 3% decline in cigarette consumption through a combination of price hikes, trade-ups, and cost-cutting. The ability of Altria and other companies to grow the e-cigarette business and add NGT products that offer 'safer' alternatives could expand the revenue pool significantly. The new FDA commissioner is giving a speech on how the FDA will look at the introduction of new products in coming days,
and this bears watching.
President Obama's recent budget included another sizeable hike in federal excise taxes on tobacco. But in a perverse way, it could actually help Altria Group and the U.S. cigarette manufacturers. Higher taxes - if not too large or too sudden - tend to narrow the price gaps with discount cigarettes, which have gone from 5% of the market 20 years ago to 30% today. Also, an inflation adjustment in the tax would tend to promote tax stability going forward, and should promote steady industry price increases (akin to the benefits touted by the international manufacturers when faced with similar tax policy).
MO yields 4.9% on her 75% payout of earnings. The company has been restrained in buying back shares as a result of increased debt from the U.S. Tobacco acquisition a few years back. But net debt/EBITDA is only 1.4x, so the company has the balance sheet strength to be opportunistic in buying back and retiring shares if they were to weaken too much.
Philip Morris : Philip Morris is the largest private cigarette company in the world, with a 16% share of the global cigarette market, 29% ex-U.S. and ex-China. Only the monopoly Chinese National Tobacco Company, with exclusive control of the 2.4 trillion stick Chinese market, is larger. Philip Morris' 930 billion sticks sold in 2012 enabled it to have 15% or higher market share in 98 countries globally.
A few headwinds that bear watching - also for BAT - include the Australian plain packaging law a few months ago which requires standardized packaging for all cigarettes. Also, a sizeable tax hike implemented in the Philippines earlier this year will decrease volumes in Asia and an anti-smoking bill in Russia starts taking effect in June. Indonesia, the Philippines, and Japan make up more than 78% of all cigarettes shipped by Philip Morris in Asia. The maintenance of pricing discipline remains key to the sector.
PM aims to deliver double-digit local currency EPS growth over time. The company's stable of premium cigarette brands - led by Marlboro, the world's best-selling cigarette brand - allows PM the ability to adapt rapidly to changing consumer tastes and economic conditions. Because Philip Morris sells products in so many countries, it has a built-in-hedging in so far as no single country dominates earnings. Of course, a rising dollar against the largest market currencies (the Euro or Yen) can still influence short-term fluctuations in currency. Besides a rising dollar, other risks that bear watching include rising excise taxes, the release of the European Community's draft of the Tobacco Products Directive (TDP), and the biggest threat (though of dubious legality) which is any attempt to expand the plain packaging initiative of Australia. For the most part, these are 1-time negative events that once 'lapped' on an annual comp basis do not materially interfere with Philip Morris' ability to deliver double-digit EPS growth.
The big enchilada remains entry into the Chinese market. With over twice PM's current global sales volume, the Chinese market is heavily controlled by the Chinese government/CNTC. With good reason: the state monopoly generated $40 billion in cash flow to the Chinese government to assist with other spending/projects. That cash flow is growing 15% or more annually. PM is the only company manufacturing a brand (Marlboro) with any sizeable market share, a rounding error of 0.1% (about 2 billion sticks annually).
China heavily restricts anybody but the CNTC from being allowed wider access to the Chinese consumer. If Philip Morris can establish scale in 5-10 years it will be an added volume grower to fast-growing Asian markets and possibly Africa. As these countries continue to grow faster than developed countries, their consumers have fast-growing incomes and trading-up to premium brands like Marlboro is increasingly fashionable. Smoking rates are also higher in these countries (in Vietnam and China, more than half of all adults smoke).
While PM has been very generous in boosting its dividend, the company has also been active in actually retiring shares outstanding. In June 2012, PM announced its Board had approved a new three-year, $18 billion repurchase program, which began in August 2012 (subsequent to the completion of the company's previous $12 billion repurchase program). PM has indicated that it intends to repurchase $6 billion worth of shares in 2013 under the program.
The company retains a sterling balance sheet, throws off prodigious amounts of free cash flow, and has entrenched local teams to promote and defend PM's brands and interests. Keep an eye on the U.S. dollar - a long-term upward trend in the dollar would be a prolonged headwind that is not currently in the consensus forecasts (Philip Morris has traditionally eschewed currency hedging). Q1 2013 results, released as this article goes to press, should show modest EPS growth.
Philip Morris has raised its dividend every year since being spun off from Altria Group in 2008. PM can borrow after-tax at far less than the dividend rate, which adds to cash flow and per-share cash flow (the company recently did a 6-year bond offering at under 1% !). The payout ratio is 62% of earnings and the shares yield 3.6%. Net debt/EBITDA is the highest in the group at 2.1x, but this has been skewed upward by some trade and inventory adjustments.
The tobacco stocks have risen alongside the Consumer Staples sector and the S&P 500. Reflecting my own cautiousness at these levels, I would not back-up-the-truck on any of the stocks at these levels, but would buy on weakness. PM and MO, in particular, seem to be used as 'sources of funds' during risk-off periods so keep that in mind. They are liquid stocks, so even though they have nice dividends, investors sell them during turbulent times because they can. My favorite stocks in order that I would purchase and by size would be: PM, MO, RAI, LO, and then BTI. If Lorillard gets past the FDA menthol review successfully, I would bump it past RAI and maybe to the top of the list, as I think a takeover is increasingly likely.
The entire tobacco sector's P/E and relative valuation have risen in recent years. Largely, they were oversold given their stable underlying fundamentals (smoking rates do not collapse in a credit crisis) and in the last year or two defensive, income-producing stocks have been in vogue. A recent Merrill Lynch study makes the argument that much of the relative catch-up in valuations for Tobacco and other Consumer Staples stocks is a result of the S&P 500 de-rating downward. Specifically, the mega-caps and technology stocks that accounted for the stratospheric rise in the stock market and the P/E valuations from 1995-2000 have spent the last decade correcting downward. So any historical metric using the last 10-20 years of data will show that other sectors appear 'expensive' relative to the S&P 500 or the Technology stocks. For most of the 1970's and 1980's, technology stocks sold at high-single digit or low-double digit P/E's, where many are trading close to today.
So while you should take any analysis that says that Consumer Staples or Tobacco stocks are suddenly 'too popular' and 'expensive' with a grain of salt, do realize that the stocks have had a nice run in recent quarters, nonetheless. Nibble at current levels, and be prepared to buy lower.
You may not smoke the competition, but with their ample dividend yields, you should get a decent total return. No ifs, ands, or butts about it !!
Disclosure: I am long PM, MO. I wrote this article myself, and it expresses my own opinions. I am not receiving compensation for it (other than from Seeking Alpha). I have no business relationship with any company whose stock is mentioned in this article.
Additional disclosure: The author may hold the above positions in online portfolios and/or discretionary investment portfolios under his control.