I bought Arch Coal (ACI) as I said I might do during the next cyclical scare. I did this because, once again, I expect the fundamental news to turn relatively positive over the short term. The main risk to this position will come from the overall market, which never had a decent-enough dip to give more confidence in this investment.
Two drivers for short-term fundamentals
There is little doubt that the environment is unfavorable. Arch Coal is still seeing downward revisions to its already low earnings estimates (reproduced below). But cyclical stocks are like that - you buy them when they look the bleakest, as long as there's some kind of hope that the cycle is already turning in their favor and the insolvency risk seems contained.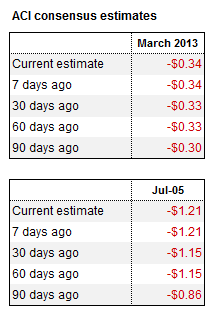 So what gives us hope here? Two things:
The first is natural gas prices. They've been heading unmistakably higher. There's still risk in that production remains too high and the coal to gas switching is now running in reverse, but at the present pricing, they no longer pressure coal prices downward. That's a positive;
And then there's coal pricing. After plunging endlessly, CAPP coal prices have recently turned upwards. And since natural gas now lets them breathe easier, there's reason to believe in further upside. The chart below shows how things look like right now (Source: CME, red ellipse is mine).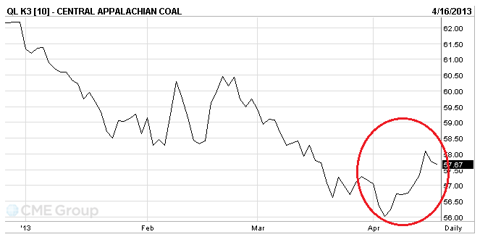 Cause for caution
Ordinarily, I'd be more aggressive about this long position. However, a large problem remains - the whole stock market has corrected little due to the monetary orgy taking place. Cyclical stocks are usually very sensitive to any market correction, so the risk of holding Arch Coal is much higher if we are in front of any such correction.
This means that while I took a long position in Arch Coal, I kept it smaller than it would otherwise have been, given the timing. This leaves me room to add to the position if the stock trades meaningfully lower along with the market.
Conclusion
We finally got enough of a cyclical scare, along with a turn up in coal pricing, to give me enough confidence to again go long Arch Coal. I sized my position smaller than usual due to overall market concerns. I thus left enough room to add if the market dips lower and takes Arch Coal with it.
Disclosure: I am long ACI. I wrote this article myself, and it expresses my own opinions. I am not receiving compensation for it (other than from Seeking Alpha). I have no business relationship with any company whose stock is mentioned in this article.