The volatility in the markets over the past year has been staggering to say the least. Even during these turbulent times, I was always of the belief that utilities were relatively safe. As a result, I wrote about a few stocks in the past seven months or so that I thought were pretty good plays in the current market situation.
For the most part, I was drawn to these stocks because of their potential for growth moving forward, their steady history, and their extremely strong dividends. Although "sure things" do not exist, I was fairly confident in the ability of these stocks to perform well. It has become quite evident that even with strong fundamentals such as those that these stocks possessed there is no guarantee that a stock is going to perform well.
I thought that the safe play would be a large cap that boasted a high dividend. This is initially what attracted me to Southern Company (SO) when I first wrote about the company here. On the other hand, I was unsure of how a mid-cap energy stock would perform in the current economy because of volatility. I wrote about one of these, EQT Corp (EQT), because I thought it looked very appealing, but I was unsure of whether or not it would perform during such a tough time. Looking back a few months later, these two stocks have had extremely different results that prove my previous beliefs to be wrong.
Southern Company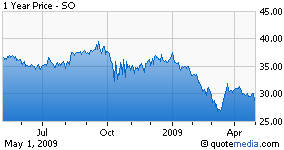 Southern Company is one of the largest electricity producers in the United States, distributing to approximately 4.3 million customers. When I first wrote about this company back in October, it appeared to be positioned extremely well for the turmoil that was occurring in the market. It boasted a Beta of just 0.39, ROE of 14.18%, and a dividend yield of 4.69%. On top of this, the company estimated positive EPS growth for both 2008 and 2009. All of these numbers were favorable and gave very little reason to expect anything but success from this company.
However, I think there are a few reasons why Southern has underperformed the Utilities SPDR (XLU) by around 9% since last October. The company remained relatively flat through the rest of the year, but has suffered significantly so far in 2009. Southern is down nearly 20% year-to-date, which can mainly be attributed to the decline in the housing market and the overall economy. Decline in the housing market directly affects this company, as it is a major distributor to residential areas.
The company reported first quarter earnings on April 29th and beat expectations by one cent. (Call Transcript) This may be a sign that the housing market is beginning to rebound, but I expect Southern Company to realize very little EPS growth this year. It is hard to say exactly why this company has suffered recently, and I expect them to rebound slowly because of their proven track record of constant returns.
EQT Corp

EQT Corporation, which was formerly known as Equitable Resources, operates in the Appalachian region and engages in natural gas production, distribution, gathering and processing, transmission, and storage. It holds extremely large positions in the Lower Huron, Cleveland, and Marcellus Shales.
I was initially drawn to this company for a number of reasons, the very attractive ROE of 18.46% and ROI of 8.14%, but more importantly, Equitable was positioned so well for success moving into the future. It had committed between $900 million and $1 billion to Capital Expenditures for 2009 while its Midstream segment realized tremendous growth in 2008. This has been rewarded by the market, as Equitable is up around 6% YTD, which is approximately 9% higher than the Energy SPDR (XLE).
EQT Corporation reported earnings on April 30th of $0.55 cents per share, which is down from $0.57 cents per share for that same period last year. (Call Transcript) This can be attributed to a decrease in revenue that came as a result of lower commodity prices. Although revenue will probably continue to fall throughout 2009, there is plenty of reason to believe that this company will rebound in 2010 and continue its success.
Tying It All Together
There is a lot that can be taken away from comparing the performance of these two stocks. I always would have considered an electric utility to be a lot more stable than a natural gas producer. However, the overall market recession and suffering housing market has greatly affected Southern Company.
It is impossible to predict what is going to happen in the future, but even after writing this, I am still attracted to high dividend utility stocks. EQT Corporation, on the other hand, is definitely a stock that should not be ignored. It is hard to say how it will perform throughout the rest of this year because of commodity prices, but it is positioned so well for the future that I still think it is a great long term play.
Mark Kinsella
Disclosure: None