Due to some requests, I sat down today and began writing an article about a bunch of my own estimations for Sirius XM's (NASDAQ:SIRI) Q1 conference call scheduled for April 30th. I quickly realized that this was a meaningless effort and really would not help investors prepare.
The fact of the matter is that I am no financial analyst. I don't do projections of numbers or try to razor in on whether or not Sirius XM will post 30 or 40 more gross subscriber additions based on how many cars have been sold. Other people such as Seeking Alpha's Spencer Osborne do an excellent job of that, so rather than step out of my 'zone,' I'm happy to be a reader of those numbers rather than a writer.
But the question still remains, what is it that investors want to look for in the Q1 conference call? Besides Sirius XM coming reasonably close to its projections for the quarter, I think investors should look for one thing; share buybacks.
I can't shake the idea that Sirius XM has been repurchasing shares at a rapid pace since early 2013, either through a forward purchase agreement with a third party or through direct purchases itself. And why wouldn't it? At current pricing near $3 per share, and with analyst projected year-end prices coming close to $4 on average, the sooner the better.
Readers who read some of my first articles here at Seeking Alpha might remember an article I penned in early 2012 suggesting Liberty Media (NASDAQ:LMCA) had made a deal with a third party. Wrong on the amount of shares, but right on the concept, it was disclosed by May that Liberty Media had entered into a forward contract for 302 million shares deliverable in July, securing approximately half of what it needed to gain a controlling stake of the satellite radio company. The fact of the matter is that there is more than one way to skin a cat, and Liberty Media took a route of subtlety in its purchases so as not to show its hand too soon, until it was absolutely necessary.
While it was necessary for Sirius XM to disclose that it had a buyback "plan" in place to repurchase up to $2 billion in shares, there are no rules or regulations dictating that Sirius XM must announce individual purchases or disclose that it is buying "now." The company will not disadvantage itself in disclosing its purchase strategy, and therefore investors are left to guess in the meantime.
But once share counts are disclosed in the Q1 call, it will be known whether or not Sirius XM has already repurchased any shares. Arguably, if the purchase prices are significant in size at or around current pricing, it should be looked at as a great benefit to the company vs. buying fewer shares at higher prices.
Look at it this way, Sirius XM, like an investor, buying shares at a price of $3 per share is preferable to Sirius XM buying shares at $3.50. Sirius XM is, for all intents and purposes, investing in itself, and investors should look favorably upon purchases at current pricing.
Because of this, this is the number one thing I will be paying attention to on the conference call. I do not like to set myself up for disappointment but it's safe to say I will be rather disappointed if Sirius XM announces that share buybacks have not yet started. But with cash flows to the positive and in the billions since the beginning of the year, and a share price that has arguably stagnated, I think I am on the right track.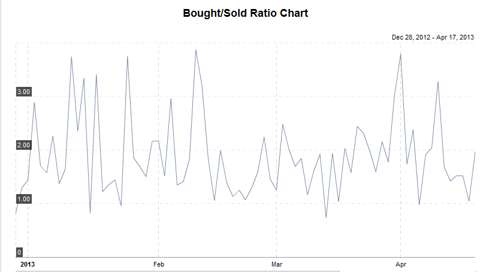 It remains to be seen how the street will take news or absence of news regarding share buybacks, but I know how I am thinking as a longer-term investor. As long as the company meets performance guidelines, I will view any news of buybacks as extremely favorable. The more shares purchased, and the lower the prices at which they are purchased, the better.
My investment in Sirius XM is investing in itself, and I want what is best for my investment, not what is best for me to flip out my shares in the short term. This is why I am pleased that the stock has not run ahead of itself lately. I'd hate to have the company haphazardly drive the share price sky high to its own detriment. While some may wish the share price would go up every day, I've welcomed the stagnation and subsequent investor frustration with open arms. Perhaps some of the impatient ones have contributed to the selling pressure, and given Sirius XM additional shares to fill its bag.
I believe patience rules the day here, and the best things should be coming to those who wait.
Disclosure: I am long SIRI. I wrote this article myself, and it expresses my own opinions. I am not receiving compensation for it (other than from Seeking Alpha). I have no business relationship with any company whose stock is mentioned in this article.
Additional disclosure: I am long SIRI January 2014 $2 and $2.50 calls.