I'm not a Toys "R" Us kid. In fact, I don't have any kids. That's a huge disadvantage as an investor, because I have no sense of what kids are begging their parents to buy them for Christmas or their birthdays. Retail toy sales in the U.S. totaled $16.5 billion in 2012. There's certainly money to be made in toys, and investors can get their hands on some of it.
Introducing JAKKS Pacific
JAKKS Pacific (NASDAQ:JAKK) is a small player in the toy space compared to giants like Hasbro (NASDAQ:HAS) and Mattel (NASDAQ:MAT). Like other toy makers, JAKKS creates homegrown toy designs, and also obtains licenses to incorporate characters from other media companies like Disney.
Net sales for JAKKS came in at $667 million in 2012, a 1.5% decline compared to $677 million in 2011. Revenues in the toy business are seasonal, with Q3 being the best quarter. Sales have been steady for JAKKS through a fairly difficult macro environment.

Unique And Revolutionary Products
Toy makers have the unique challenge of both keeping up with an ever-changing culture as well as the consumer behavior of children, which is not an easy market to pin down. While JAKKS has its share of classic toys based on popular television shows and movies, like Nickelodeon, Ultimate Fighting Championship, Hello Kitty, and Cabbage Patch Kids, they are beginning to recognize the greater use of mobile devices among children in their play.
In order to take advantage of the growing use of tablets for games, JAKKS will introduce a new technology called Dream Play in a joint venture with Disney (NYSE:DIS) which will allow children to download an App on a tablet and use the app to interact with physical toys simultaneously. This product will not add significant sales in 2013, but as the technology is adopted, will increase revenue in future years. Will this be the next "must have" for kids on their Christmas lists? There's no question it's a new and revolutionary concept, and the technology has tested well among children.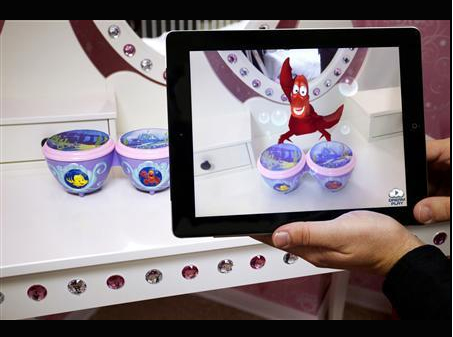 The Right Macro Outlook Is Key
JAKKS is a consumer discretionary stock, because toys are not considered essentials. These discretionary stocks in general have been hit hard since 2011. The year-over-year growth trend for retail sales has been in decline because the global economy has softened. The chart below shows the trend in the United States.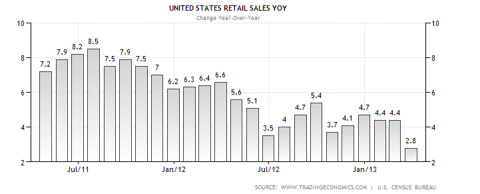 Another view which helps put this softness in perspective is this longer-term chart with the same retail sales data.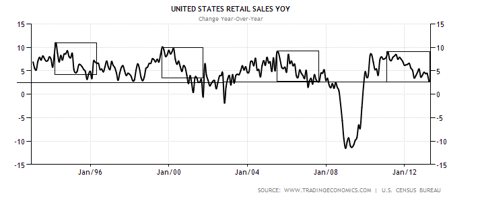 I put a horizontal line at the level of the current retail sales figure. Next, I created a rectangular box the size of the period over which retail sales recently peaked and began to decline. I then copied that box over previous periods when retail sales peaked and declined. This shows that: 1) Retail sales growth is at the low end of a 20 year range (if you exclude the worst periods of 2008), and 2) The length of this dip is very extended and is not likely to last much longer unless the U.S. heads into a deep recession. In order to make the case for buying an economically sensitive stock like JAKKS, you must believe the macro picture will improve. Based on the cycles above, I'm convinced retail sales will pick up soon, and toy makers like JAKKS will benefit.
Insider Buying
As with most of my picks, I start with stocks that have recent insider buying. Why would I consider a stock no executives within the company are willing to buy when I can buy a stock where the executives want to buy? Just last week, the 10% owner California Capital Z, LLC picked up shares in JAKKS.
Source: J3SG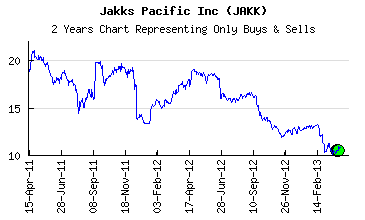 Long Term Support
JAKKS stock is sitting in a price zone which has been support looking back the last 10 years. In fact, the stock has bottomed 7 times previously in this price zone. There is additional support in the $8 range.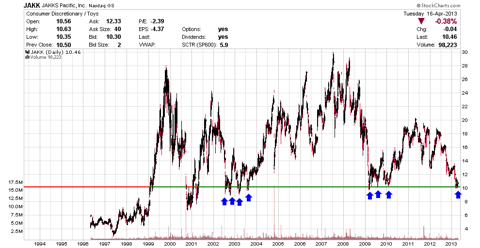 Conclusion
There are many things working for JAKKS as an investment idea, if an investor can handle some volatility in the short run as the macro picture attempts to stabilize. At about $10, JAKKS looks like a good buy. Retail sales are in a cyclical downturn and should turn up. The risk to this thesis would be a severe recession in the United States. The Dream Play technology shows an ability of the company to adapt and take advantage of changing consumer behavior. Insiders are showing confidence in the stock by picking it up around $10. The stock comes with a decent dividend of 2.7%, and it is sitting on long term support.
Disclosure: I am long JAKK. I wrote this article myself, and it expresses my own opinions. I am not receiving compensation for it (other than from Seeking Alpha). I have no business relationship with any company whose stock is mentioned in this article.
Additional disclosure: I have recently initiated a position around 10.50.