Financial earnings are disappointing with Wall Street banks reporting results that are underwhelming, either because of actual misses or due to how the profit was earned, however we do believe that there is money to be made in the sector for prudent buyers and those willing to buy blue chips. Many have had great runs, especially the poorer performing names (as it pertains to earnings and balance sheet clean-up over the past few years) and we think that the easy money there may have already been made. So today we have included a few names in the financial sector which we actually like and think could provide readers with some upside.
Chart of the Day:
As we have discussed numerous times, the downtrend is flattening here as one would expect, however this is not at all bearish based on historical patterns. What we do want to see is the reported figures move below the 350k level and settle between the 300-350k area with 300-330k being ideal.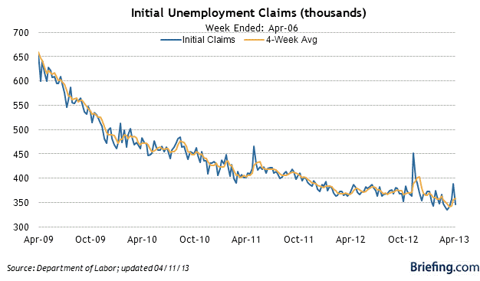 Chart courtesy of Briefing.com
We have economic news due out today, and it is as follows:
Initial Claims (8:30 a.m. ET): 355k
Continuing Claims (8:30 a.m. ET): 3068k
Philadelphia Fed (10:00 a.m. ET): 2.5
Leading Indicators (10:00 a.m. ET): 0.0%
Natural Gas Inventories (10:00 a.m. ET): N/A
Asian markets finished mostly lower today:
All Ordinaries -- down 1.65%
Shanghai Composite -- up 0.17%
Nikkei 225 -- down 1.22%
NZSE 50 -- down 0.81%
Seoul Composite -- down 1.24%
In Europe markets are rebounding this morning:
CAC 40 -- up 0.93%
DAX -- up 0.51%
FTSE 100 -- up 0.48%
OSE -- up 0.79%
Financials
This morning we want to focus on the financials in a bit more detail than we have recently because we think that although some of the larger banks have reported earnings which disappointed there is a good chance that certain franchises and regional players shall outperform moving forward.
First up is US Bancorp (NYSE:USB) which is a bank we have followed in some capacity for nearly two decades as it traces its roots back to the area of Wisconsin that my father's family is from, the Greater Milwaukee/Racine/Kenosha area. They have a solid core market in the Wisconsin/Illinois/Minnesota region and have done a great job in branching out via acquisition and organic growth. We are a fan of their growth strategy whereby they have expanded their national footprint for corporate lending to areas where they have either little or no banking presence in order to drive loan growth but at the same time diversify their risk across regions. We think that among the larger national/super regional banks that this is a must own name - a thought we have held for some time.
Another regional which we have mentioned here before, and fairly recently too, is BB&T (NYSE:BBT) which failed to reach our buy area on a pullback before moving higher and thus missed out on our recent buying program. Even with the embarrassment of the Fed shooting down their capital plans and forcing them to tone it down a bit, this continues to be one of the premier names among the regional players and one name which we suspect will be an acquirer moving forward. They have a history of doing calculated and very strategic takeovers without overpaying for the assets which has slowed their growth but also allowed them to build market leading positions in their core areas of operation. If one is bullish of the economic recovery and the housing market, then BB&T is a buy on any pullbacks in the 5-10% range.
The last name we are bullish on is American International Group (NYSE:AIG), which is not a bank at all, but rather an insurance company. They have come a long way since they required a bailout in order to keep from going under and potentially taking the entire financial sector with it, and even after this magnificent run we can envision further gains, although we would suspect that these will come at a much more measured pace from here on out. For those who have ridden the stock from our initial buy recommendation, taking money off the table at these levels is prudent but we believe that letting some of the winnings ride here is also a good play as the company's core insurance properties appear to be strong and in some areas picking up steam. With the market performing better and rates of return increasing that also adds liquidity to these names and enables further expenditures for stock buybacks and/or dividends...and the company has already indicated that they want to pay dividends and buy back stock as soon as possible and increase those levels at a healthy rate moving forward.
Technology
Yesterday we closed one of our bigger losing positions over the past half year or so, which many readers may remember is OCZ Technology Group (NASDAQ:OCZ). We were out at $1.58/share which is below what we could have gotten a few months ago but we had honestly been waiting for these audit results to be complete...a process which has literally been Chinese water torture. Selling on the rips and buying the dips has been the only way to make money here, so we decided that selling on this move higher was simply a way to minimize our already staggering losses. We had been correct all the way down on our bearish call, and we shall file this under the catching falling knives category and hopefully learn from it. Audit issues usually scare us away, but we figured an acquisition was imminent and/or the accounting issues were going to be easily fixed and we were wrong on both accounts. So thus far this is our biggest loser for the year, and our loss is booked.
BioPharma
Alkermes (NASDAQ:ALKS) had big news yesterday that pushed the shares up $4.12 (16.09%) to close at $29.72/share on volume of 7.3 million shares. They announced that a drug they have been developing for those who suffer from depression but have no response to current drugs on the market had positive results in a Phase 2 Trial. The drug, ALKS 5461, has also been designed not to be addictive like some others are and the company will now aggressively pursue this. The depression drug market is huge and we are reading more and more of patients not responding to the basic drugs used to treat the condition while many of the more potent drugs pose increased health risks and addictive tendencies. This will be one of those drugs to watch as it moves through further trials and more data is collected.
Disclosure: I have no positions in any stocks mentioned, and no plans to initiate any positions within the next 72 hours. I wrote this article myself, and it expresses my own opinions. I am not receiving compensation for it (other than from Seeking Alpha). I have no business relationship with any company whose stock is mentioned in this article.