It appears we are getting another bounce today in the commodities markets, however miners are not participating. Looking at the earnings today, we got what we expected with financials disappointing and consumer goods names continuing to show strength. It indicates to us better times ahead, but it also seems to be telling us that we need to be selective as it pertains to commodities as the next leg up might not be as soon as we would hope. As the economy picks up demand for the materials to build the economy will too, but we might be a year off before coal, iron ore, silver and others see prices rising healthily. We are keeping this in mind and shall center our picks around names which we think provide safety in this time and provide for upside in the near and long-term.
Commodity prices this morning are as follows:
Gold: $1394.20/ounce, up by $11.50/ounce
Silver: $23.455/ounce, up by $0.148/ounce
Oil: $87.69/barrel, up by $1.01/barrel
RBOB Gas: $2.7624/gallon, up by $0.0334/gallon
Natural Gas: $4.195/MMbtu, down by $0.019/MMbtu
Chart of the Day:
One has to go all the way back to late 2009 and early 2010 to see this level in gold prices. Is it the popping of a bubble or a shakeout? One thing is for certain, the uptrend has been broken and support has not held.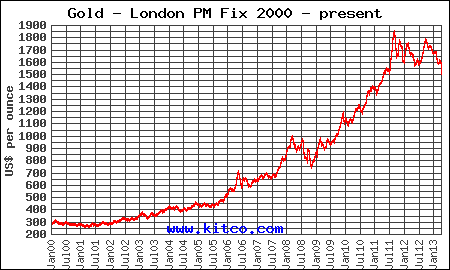 Chart courtesy of Kitco.com
Oil & Natural Gas
First we want to point out the issues taking place at Magnum Hunter Resources (MHR) and be clear that they are off of our watch list for buying right now. We missed including that in our other articles this week and after yesterday we feel the need to state that so no one is blindly rushing in and buying at this point. A blown up pipeline is one thing, but blown up financials are an entirely different beast and that is reason enough for the stock price to get blown up by the bears. In fact, we were actually surprised that it did not get hit harder yesterday, but the press release (the 8-k really, found here) was akin to Soviet/Chinese/North Korean propaganda. Yes the company did dismiss its auditor, PriceWaterhouseCooper or PWC, but it does appear to be over a disagreement as PWC wanted certain issues resolved and/or addressed and the company decided to cut them loose before these became reportable, in our opinion. The company's 8-K is worth the read.
The chart was already looking bad, but we broke below $3/share yesterday on the bad news regarding the dismissal of the auditors. A VERY bold move by the company indeed...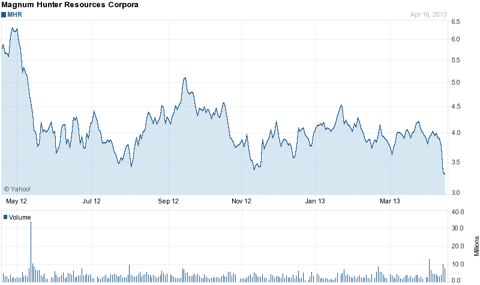 Chart courtesy of Yahoo Finance.
If one want to find value in the oil patch right now, look no further than Rosetta Resources (NASDAQ:ROSE) which has fallen into the lower range of our buy box and looks to offer a compelling risk/reward opportunity to our readers who are risk averse or simply those looking for a play with a bit less volatility than some of our other names. We have played this move before, numerous times in fact, and readers who have partaken in the trade have done fairly well based on the comments and emails we have received. The past is no indication of the future, but with the Eagle Ford assets serving as the base of their portfolio and the new assets in the Permian we see this becoming more oily and that is certainly something to be bullish about these days, even though natural gas has been the big winner over the past month or so.
This chart does not show yesterday's move lower, but we are right around the lows reached the past two times before we received a bounce higher.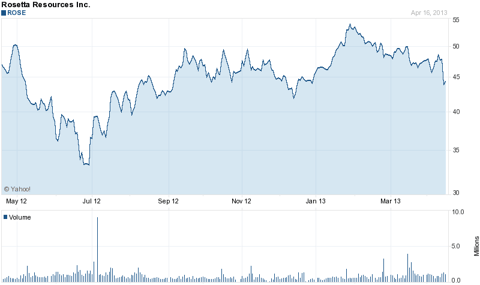 Chart courtesy of Yahoo Finance.
Rare Earths
It is still not time to purchase Molycorp (MCP) as the stock continues in its downtrend and continues to set new 52-week lows...lows which we must add are all-time lows as well. Hitting those simultaneously always raises red flags, but we do see some light at the end of the tunnel as many of the miners are facing headwinds related to world economic growth as it pertains to the actual building of "things" - requiring steel for buildings, materials for cement, wood for houses, etc, etc. Molycorp will be producing rare earths which will be geared towards the service industry and goods such as automobiles and the tech sector, so we think that they have a brighter future in an environment whereby growth is fueled by the consumer rather than developing nations upgrading their living standards. That is the one bullish thing we can say right now, but we still do not see any reason to rush in and buy here.
Copper/Gold
The pure-plays have been sure ways to lose money in this market and diversification appears to have been the saving grace for a few names. Investors hated the Freeport-McMoRan (NYSE:FCX) oil buy, but as we stated this week it sure looks like a masterful move now. The stock did move lower yesterday, closing at $28.00/share after falling $1.25 (4.27%) on volume of 37.9 million shares and hit a new 52-week low of $27.52/share during the session. Yes it is bearish, but due to the copper exposure and soon-to-be oil, the shares have outperformed the names focused entirely on precious metals. We are not ones to invest in something simply because it loses less money than something else in its industry, for we would rather be on the sideline losing no money at all and taking the pitiful interest payments while losing a bit of buying power (inflation related) but there are those out there who are required to be invested in the industry and with that being the case capital flows could be directed to names such as these moving forward.
Coal
Natural gas is moving higher but Chinese growth is becoming suspect and it is apparent that less iron ore is needed than initially thought due to the cooling of the Chinese real estate market. China has done an amazing job containing this bubble and we are surprised that they have been able to keep the various areas where the hot money has flowed towards from overheating and facing mass exoduses. It has been good for the world markets in providing stability, but it has also slowed the growth of demand for electricity and steel which has hurt names like Peabody Energy (BTU). Peabody is much healthier than many of their North American counterparts, partly explained by their great management team and Australian assets, but they are not immune to this downturn in the general coal market and their shares crossed below the $19/share level yesterday as they hit a new 52-week low. It is ugly out there and it has gotten uglier, so one should not be surprised when bankruptcy chatter begins to pick up in regards to the weaker players (something we have noticed is already beginning in earnest).
We were laughed at and ridiculed when we stated that Peabody would break the $20/share level and it has now happened three, count them three, times. This latest move lower however has seen the shares break below $19/share even and now the only ones laughing are the bears. It is a very serious situation...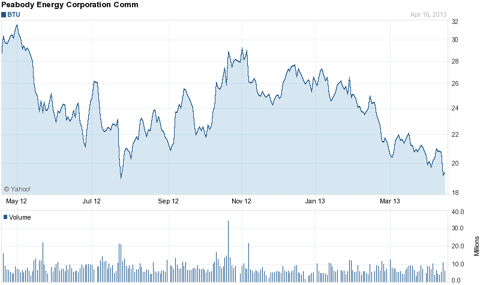 Chart courtesy of Yahoo Finance.
Disclosure: I have no positions in any stocks mentioned, but may initiate a long position in ROSE over the next 72 hours. I wrote this article myself, and it expresses my own opinions. I am not receiving compensation for it (other than from Seeking Alpha). I have no business relationship with any company whose stock is mentioned in this article.