The near-term production environment remains difficult for automakers, given the destocking of inventories in both Europe and North America. The market expects profit margins to be pressured for the rest of the first half of 2013. Most impacted were automakers with significant Europe light vehicle exposure, which declined 7%, and North America and Europe commercial vehicle sales, which were down 22% and 11%, respectively.
Analysts anticipate a volume-driven second half recovery, which is largely predicated on a stabilization of demand in Europe. Much will depend on continued strength in the export market (which has been the case lately).
While the longer-term trend for consumers' choice towards smaller cars remains intact, the demand for large pickups has been surprisingly strong. In the fourth quarter of 2012, large pickups were 24.5% of overall light trucks sold (60 basis points rise over 4Q11). The growth driver in this segment has been the improvement in housing activity. Indeed pickups have an econometric correlation with housing starts, and a higher correlation than with the gross domestic product (GDP).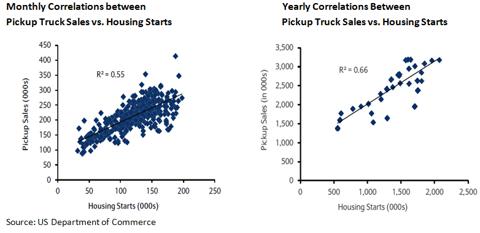 Among the Big 3 manufacturers (Ford (NYSE:F), General Motors (NYSE:GM) and Chrysler), the domestics (Ford and GM) are benefiting from a much stronger product portfolio in the car category, which is helping them gain strong customer traction. The U.S. manufacturers have a year-to-date market share of 33% in the car category, the highest level seen since 2008. It is too early to conclude anything meaningful but the strong start is a positive for this category where they have lagged historically.
Conservative Earnings Guidance
Investors still perceive Ford as best-of-breed volume OEM (original equipment manufacturer), with a strong management team, solid execution and great product.
Ford provided the following earnings expectations for 2013:
Total EBIT (Earnings before Income Tax) "about equal" to the $8.0 billion gained in 2012;
Adjusted 2013 automotive operating margin of "about equal to or lower than" 2012's margin of 5.3%; and
Automotive operating-related cash flow "higher" than the $3.4 billion generated in 2012.
Ford's guidance appears conservative, already reflecting continued challenges in the European market. Ford expects to lose approximately $2 billion in Europe due to lower industry volumes and pension headwinds.
According to Bloomberg, consensus analysts' estimate $8.35 billion in total company EBIT in 2013, or approximately $350 million below Ford's earnings guidance.
Much of the weakness in Ford's future fundamentals stem from transitional costs like the expected devaluation of the Venezuelan foreign exchange currency (with its Latin American depot). Accelerated depreciation and other plant closure costs in Europe will likewise add cost pressures.
However, earnings are forecast to recover in 2014 and 2015. Healthy double-digit EBITDA growths are expected, driven by the following core drivers:
Impact of recent capacity additions in North America and product mix/volume benefits from a housing-related pickup truck opportunity.
Loss mitigation in Europe from the most aggressive turnaround plan among the OEMs.
Ford plans to spend approximately $7 billion on capex in 2013, which is up from $5.5 billion in 2012. Ford's 2013 automotive free cash flow after capex is forecast to reach $7 billion. Discretionary pension contributions will increase by $3.4 billion and shareholder dividends will be up by $1.5 billion.
Ford expects working capital to improve in 2013 versus the $2.3 billion in 2012. From a credit perspective, Ford's pension has a debt-like accounting treatment from the external rating agencies. This could be a good source of huge cash liquidity. This should eventually help lower the pension deficit and reduce Ford's leverage.
Ford also reiterated its goal of reducing automotive debt to $10 billion by the middle of the current decade, versus total debt of $15.7 billion in 4Q12. Liquidity at its automotive business is consistently very strong with total cash of $24.3 billion.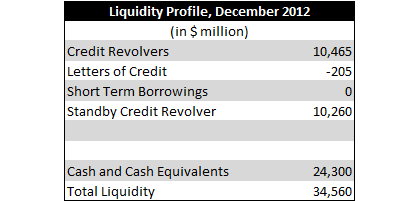 Source: Company Reports
Analyst Downgrade; Price Target Maintained
Ford's shares have posted a considerable rally, appreciating 32% since the middle of November last year, versus the 10% index increase in the S&P and 22% average increase among other U.S. automakers. The chart below shows the three distinct factors that triggered the stock price rally.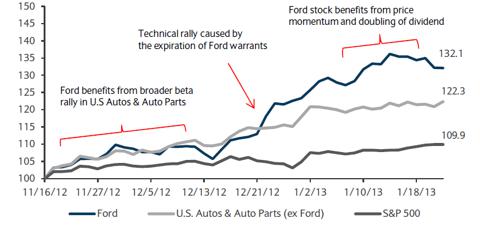 Source: Company Reports
The stock peaked and traded near its 19-month highs.
Ford's 19-Month Highs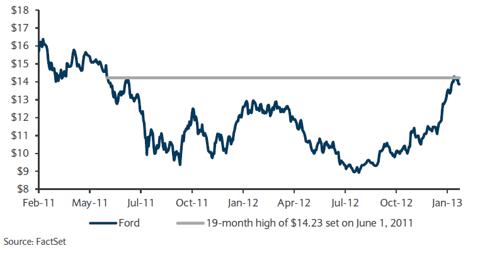 The stock appears to have a fair valuation, offering only 8% of upside to the Goldman Sachs price target of $15.
Accordingly, Goldman Sachs downgraded Ford to "Equal Weight" from "Overweight." However, Goldman Sachs maintained its 2013 EPS forecast of $1.52.
Analysts perceive Ford's shares as fairly valued for the following reasons:
Excess optimism exists around U.S. market assumptions and Ford's prospects for North America margin expansion, with a significant disconnect between investor expectations and management guidance
Ford has benefited from the widely accepted investment thesis that housing starts boom will drive strength in large pickup sales; while pickups could grow modestly faster than overall sales, this statistical relationship is already overblown. Furthermore, industry challenges in the pickup truck segment are anticipated, as gas prices resume seasonal increases, which consequently dampen demand.
The near-term international automotive outlook, particularly for Europe and South America, is rather challenged. FY14 analysts' consensus estimates might be overly aggressive. European production of 18.4 million units versus industry forecast of 19.4 million.
Relative to historical levels, valuation is currently rich (on an EV/EBITDA basis) and Ford is currently trading at 3.9X, which is solidly above its 10-year average of 3.1X, and is also above the five-year average of 3.7X. The next bull run will likely need to come from expansions across business segments. A limited near-term upside prospect will loom with the existing overhang around Europe.
Disclosure: I have no positions in any stocks mentioned, and no plans to initiate any positions within the next 72 hours.
Business relationship disclosure: Black Coral Research is a team of writers who provide unique perspective to help inspire investors. This article was written Hans Centena, one of our Senior Analysts. We did not receive compensation for this article (other than from Seeking Alpha), and we have no business relationship with any company whose stock is mentioned in this article.
Disclaimer: Black Coral Research is not a registered investment advisor or broker/dealer. Readers are advised that the material contained herein should be used solely for informational purposes. Investing involves risk, including the loss of principal. Readers are solely responsible for their own investment decisions.