The economy is turning down, anew, having never really recovered; the domestic and global banking systems remain deeply troubled; and the U.S. government's fiscal crisis and related longer-term, sovereign-solvency issues appear to remain well outside the realm of any potential political solution. - John Williams, Shadow Government Statistics, April 12, 2013
About a week ago I wrote an article in which I postulated that, based on some recent company and economic reports, the economy is in worse condition than is being reported by the mainstream media and Wall Street. One of my reference points was a report that showed PC sales globally plunged 14% in Q1 (-7% expected) and that this was evidence of an intense slowdown in consumer spending. You can read my commentary here: Economy May Be Tanking.
One of the arguments against using PC sales as an indicator that the consumer is slowing down was that tablet sales were "cannibalizing" PC sales. Well, just today it was reported that AAPL iPad mini sales were going to be down 20-30% in Q2: iPad mini sales plunge. For me, that invalidates the argument that tablet sales would be off-setting the big Q1 drop in PC sales.
Furthermore, with regard to AAPL, remember late in 2012 that several Wall Street analysts issued reports saying that the new iPhone 5 would add 1% to GDP growth in 2013 (a view I thought was absurd)? Well just a few hours ago, Cirrus Logic, which relies heavily on audio chip sales to AAPL for the iPhone and iPad for most of its revenues, reported that it had an inventory glut of chips: iPhone Chip Glut.
To be sure, AAPL is facing some sales loss to competitors, as companies like Samsung are pricing their products lower than AAPL. But it also is highly reflective of a massive slowdown in consumer spending, which is about 70% of U.S. GDP.
Goldman Sachs revised down its growth estimates for 2013 GDP today, but one specific chart in the report reinforces my contention that the consumer is struggling: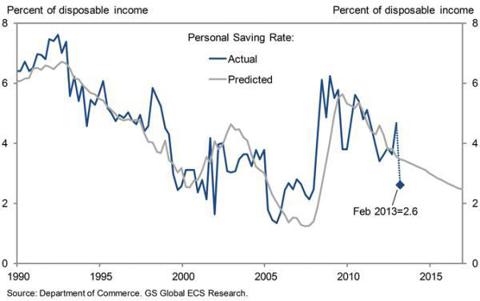 This chart explains the dramatic drop in PC, iPad and iPhone sales. I would even go so far to say, given the massive drop in unit sales for AAPL, that AAPL iPhone sales will not have any positive influence on GDP. To the extent that a consumer does buy a PC/table/smartphone, it will take away from spending in other retail segments that rely on disposable income (like restaurants and entertainment).
Finally, two more economic data points were released this week that confirm for me that the economic decline runs far deeper than just the consumer. Industrial production was released today and it was up more than expected in March but it was due to utilities output. In this report, manufacturing actually declined .1% overall and durables were down .2%. The higher utilities output is attributable to unusually cold weather across the country during March. And on Monday the Empire State Manufacturing Survey index came in at 3.05 - indicating slight growth - but it missed the consensus estimated 7.5 index level by a very wide margin. A decline in two key sub-index components of shipments and new orders drove the actual results lower than expected results.
What all this points to for me is that the U.S. economy is in far worse trouble than most analysts or investors realize. This will be compounded by the literal economic free fall going on in Europe, which will sharply reduce Europe's imports from the U.S. In addition, with Japan engaged in a full-fledged currency devaluation, Japanese imports from the U.S. will likely drop commensurately. In other words, expectations for the economy this year are way too high and this has manifested itself in stock market valuations that are way too high.
The SPX is down 2.3% this week and 2.8% from its recent record high. AAPL stock is down 7.4% this week and 43% from its all-time high. I would not short AAPL here, although I believe it still has a lot more downside. But given that AAPL was at one time - recently in fact - considered by Wall Street to be a "proxy" for the U.S. economy, I think that shorting the SPX here is easy money because it will follow the path of AAPL's stock price.
With the caveat that at some point the Fed will likely open its money-printing floodgates even more, which could drive stocks higher, I think that the SPX has an easy 10-15% downside from here before it gets a bounce in anticipation of more QE. The conservative play would be to short SPY outright. If you don't have the ability to borrow shares in SPY, you can buy near-money puts, which expire in May or June as a proxy to shorting the ETF security.
Disclosure: I am short SPY. I wrote this article myself, and it expresses my own opinions. I am not receiving compensation for it (other than from Seeking Alpha). I have no business relationship with any company whose stock is mentioned in this article.
Additional disclosure: I am short SPY via a couple different June strikes