As a dividend-growth investor, my main focus is always on increasing the quality and amount of income that my portfolio is producing. Capital appreciation, while nice to see, is usually detrimental to my goal of increasing income. If I could buy a stock yielding 3% just two months ago, the same exact stock does not look as appealing when it is only yielding 2.75% today. With the market at all-time highs, investing in solid dividends at a good value is becoming more difficult. Let's take a look at a few examples of great companies that have run up in price recently.
One company that I love is Walgreen Co. (WAG). WAG owns and operates a network of drugstores and has raised its dividend for the past 37 years. With divided increases averaging over 20% during the past 10 years, Walgreen has proved that it is one of the top dividend growth stocks on the market. Since the beginning of the year, WAG has run up from about $38 per share to close to $49, an increase of nearly 30%.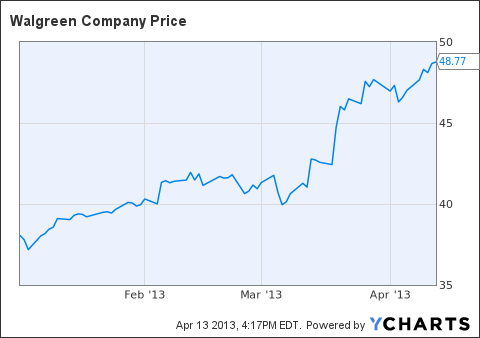 WAG data by YCharts
Let's take a look at how this price appreciation has affected the yield: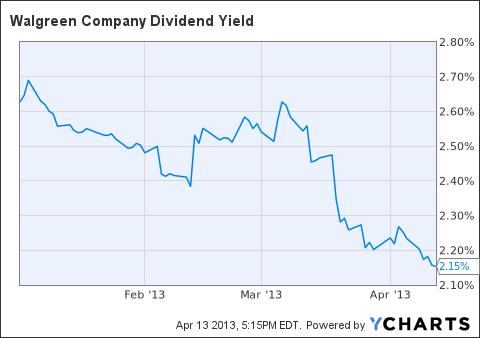 WAG Dividend Yield data by YCharts
As you can see, WAG's yield has dropped from the upper 2% range in January to about 2.2% currently. For dividend investors looking to initiate a position in this Dividend Champion, not only is the stock more fully valuated, but also it is paying fewer dividends relative to price; $10,000 invested in WAG back in January would have bought 263 shares for total dividends of $289. Currently, the same investment would purchase only 204 shares and receive $224 in dividends annually.
This issue is not exclusive to Walgreen as many blue-chip dividend companies have also had a good run up in price. Dividend stalwarts such as Johnson & Johnson (NYSE:JNJ) and McDonald's (NYSE:MCD) have also experienced the same price appreciation. At current prices, I would suggest seeking alternative companies with better entry points.
Here are a few solid dividend-paying companies that I feel are still offering investors an attractive valuation.
Caterpillar Inc. (NYSE:CAT) - This industrial goods company manufactures mining machinery along with engines and turbines for industrial use. Caterpillar has raised its dividend for 19 consecutive years, averaging 8.2% over the past five years. With a payout ratio of only about 25%, CAT has increased earnings from $2.7 billion in 2010 to $5.68 billion in 2012. Trading at a forward P/E of under 10, Caterpillar could offer good value to a long-term investor.
Coach, Inc. (NYSE:COH) - Coach has increased its dividend annually for the past four years. The stock has dropped over 35% during the past year, as concerns arise that it is losing market share to other firms. Coach currently pays out a dividend yield of 2.42%. Last year, the company raised its quarterly dividend from $0.225 to $0.30, an increase of 33%. Coach's forward P/E of about 12.5 implies that it is trading at a discount compared with its competitors.
Darden Restaurants, Inc. (NYSE:DRI) - Darden owns and operates 1,936 restaurant locations throughout North America, including chains like Olive Garden, LongHorn Steakhouse, Capital Grille and Red Lobster. The stock has been beaten down recently because of slow revenue growth and now trades at a P/E of about 15. The dividend yield is very attractive at about 4%, which creates a nice floor for the stock. I think there is good upside for the stock at these levels.
Intel Corporation (NASDAQ:INTC) - Intel is a $100 billion player in the semiconductor industry. Struggling recently due to a declining PC industry, Intel now offers a 4.3% current yield. The payout has increased from $0.56 per share in 2009 to the current dividend of$0.90. The industry is rapidly changing however, and Intel will have to adapt to maintain its dominant position. With a forward P/E of only about 10.5, Intel is priced at a deep discount historically.
Although these companies are currently at more attractive valuations than most other stocks in today's market, it is important to do your due diligence before making investing decisions. There is usually a good reason why companies trade below their historical P/E ratios, and these companies are no exception.
Disclosure: I am long COH, INTC, JNJ, MCD, WAG. I wrote this article myself, and it expresses my own opinions. I am not receiving compensation for it (other than from Seeking Alpha). I have no business relationship with any company whose stock is mentioned in this article.