Starbucks (NASDAQ:SBUX) has the fundamentals to support the recent attention directed toward it. It has a cache of positive sentiments around its brand to help sustain the appreciation of its stock price, but lacks the wow factor that creates bubbles. Retail is a thing of gradual and phased progression. Growth, adjustment, expansion, consolidation, and attempt at further growth -- all of these with a rather high risk profile, because a change in consumer preferences can quickly make a format antiquated. Starbucks went through different phases as well in its growth path. It brought back Howard Schultz in a decline phase to help turn the company around. The turnaround required a shakedown to reset the trajectory, and this shakedown included store closures, adoption of new technologies, new concepts, and acquisitions.
Starbucks committed to refocus around solidifying its core business of selling coffee, but also to diversify and become more resilient to any sector or consumer preference changes. It made very important internal adjustments, such as creating a Channel Development and Emerging Brands division to churn out consumer good products, and has stretched its reach into mass and grocery retail. Some of its recent and more important acquisitions include Evolution Fresh, Teavana, and La Boulange Bakery. Integration of acquired businesses is not always straightforward, but Starbucks seems to have done well in the past -- even though the jury might still be out on the more recent acquisitions. Its stock has rebounded well and is currently trading a shade below $60. It has acquired strategic businesses to support its growth, it is creating partnerships to facilitate global expansion, and looks as if it is poised to stay at the top and enter new market segments. In this article I will argue that a stock split of 3 or at least 2-for-1 should be in the cards, as per its history and the benefits the company would gain from it.
The Logic of a Split
Simplistically, it allows a company to make the most out of potential demand of its stock. It is a positive signal to investors of a stock's expected future performance even though it does not change the underlying fundamentals of a company. It is the next best tool for a company that lacks the wow factor to create buzz and invite attention for scrutiny if it believes that there is more to it than the market appreciates. Splits are unlike speculation, but they work like speculation because they pair affordability and expectation to attract bystanders to push the price of a stock up. If a buyer was not willing to pay $60 but believes that a company is solid enough, they might change their minds at $20 or $30.
Starbucks grows, sells, trades, buys, and roasts coffee. It also now bakes, juices, and licenses other products. It has the trifecta of innovations, technology, and a strong focus on employee welfare. A split makes sense because further appreciation of the stock changes expectations, and expectations once up never go down -- unless they crash, and that is never a good thing.
The Value Argument
I use the Kraft (KRFT)/Mondalez International (NASDAQ:MDLZ) split as context when thinking of what Starbucks could do with the number of parts it is starting to put under one roof. Starbucks in still in the very early stages of being in the position that Kraft was in, but it is fast approaching that territory as it continues to buy brands that align with the customer:
Teavana: Acquired for $630 million and competing in a global tea market of about $40 billion. Starbucks already owns Tazo, which it has successfully pushed into mass retail. It should be able to expand Teavana stores and share development costs between the two to become a competitive player in the tea space. With Unilever (NYSE:UL) and Tata as key competitors in the space, with brands like Lipton and Tetley, it is easy to speculate what Starbucks has in sight with the tea division.
La Boulange: This is a play targeted at Panera Bread (NASDAQ:PNRA), which currently trades at about $180 with 2012 revenue of $2.13 billion. With full integration of bakery products from La Boulange into currently available stores and the ability to expand sales of bakery items into other retailers, this division alone can conservatively generate $1 billion of sales if we assume half of Panera's sales are bakery items.
Evolution Fresh: These products slot in the premium cold pressed juice segment with a market size of about $3.4 billion. Evolution Fresh will replace Naked juices (A PepsiCo product) in Starbucks locations, with intent to expand to about 8,000 Starbucks and grocery locations by the end of 2013. Jamba (NASDAQ:JMBA) is currently the most recognized name focused in the premium juice segment. Its total revenue for 2012 was $228 million and it is currently trading in the $2.60 range.
The value argument above is a sum of parts argument. Notice that the business units listed above made little or no mention to coffee, coffee trading, and licensing agreements, which by themselves could be independent businesses. I highlighted these and the segment competitors to show how much value is locked under the Starbucks name and support why splitting the stock and attracting scrutiny should be more beneficial than harmful.
History of Splits
If Starbucks were to do a split, it would not be unfamiliar territory because it has done it before. It has had five 2-for-1 splits since 1993 at a frequency of two years, four years, two years, and four years again. That makes the gap from 2005 to 2013 a long overdue gap, especially considering that all the other splits occurred below $30 with four out of five occurring at below $10.
Click to enlarge images.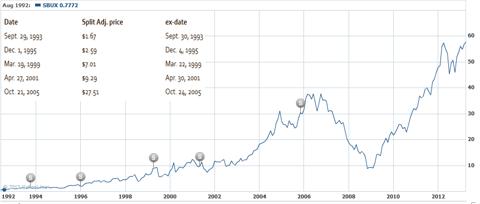 Source: Starbucks Investor Relations and Yahoo Finance.
Revenue
From the chart below, it appears as if revenue growth is finally catching up to the growth of the stock price. From 2010 the stock appreciation outpaced revenue growth, but the 2013 t revenue growth trajectory seems to be catching up and moving over the appreciation in the stock price. To me, this signals a level of inadequate appreciation of the fundamentals and the potential in the company.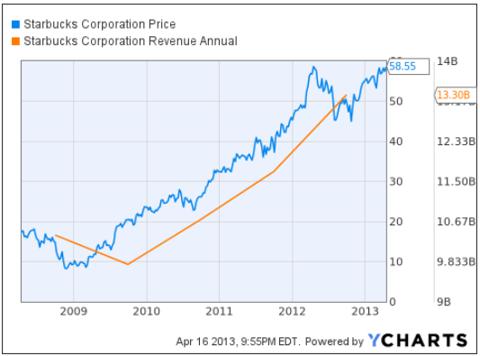 Earnings per share, quarterly revenue, and net income have mirrored the trend of annual revenue. The correlated movements of top and bottom numbers on the financial statements further indicate that the company's parts are moving in unison.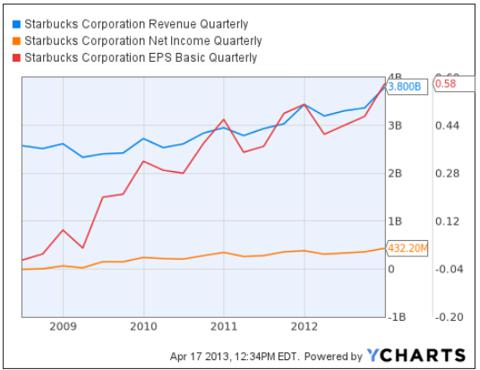 Conclusion
Starbucks currently has about 749.30 million in circulation with about 74.4% held by institutions. Wal-Mart (NYSE:WMT) has about 3.29 billion with 30.80% held by institutions. Wal-Mart trades at about $78.00 and Starbucks trades at about $58.00. These are not similar companies, so I don't want arguments about revenue, fundamentals, and multiples. The reference is to point out the gap in institutional ownership and shares outstanding. Starbucks is in 61 countries and expanding, it has about 33% of the U.S. market, about 1% of the global market, and has plans to expand to about 20,000 stores by 2015. If the company believes in its prospects and appreciates the goodwill it has built, it should benefit from it. A split could also be a strategic tool to increase loyalty, reduce customer acquisition costs, and inherently grow revenue by turning customers into owners -- or at least putting them in a position to become owners.
Disclosure: I am long SBUX. I wrote this article myself, and it expresses my own opinions. I am not receiving compensation for it (other than from Seeking Alpha). I have no business relationship with any company whose stock is mentioned in this article.