Typically the SWOT analysis provides us an understanding of a company's potential and challenges. However, in the case of J.C. Penney, (NYSE:JCP), I see only challenges and problems. Even the strength and opportunity sections of analysis bring out weaknesses and threats, making the whole exercise look like a "WT" analysis. After announcing its store renovation in 2011, J.C. Penney has lost most of it strengths and opportunities. I do not see this retailer ever recovering from it mistakes and becoming a good investment.
Strengths?
J.C. Penney formed at the turn of the last century and grew over time to become a well-established household name. As one of the market leaders in its industry, with Macy's Inc. (NYSE:M) and Kohl's Corp. (NYSE:KSS), J.C. Penney, has shown how strong its brand and logo are. However, over the last few years, this strength has begun to erode. Through its new logo and pricing strategy, this top competitor has actually pushed customers away. Net income has taken a nosedive since J.C. Penney renovated and changed its store
As J.C. Penney struggles to properly communicate its changes, consumers are left feeling confused. We don't just see this in headlines in reputable business papers, but hear it from once loyal customers on a regular basis. Those who shopped at J.C. Penney enjoyed getting "good deals" on products and wandering through stores looking for sales. But trying to apply the "Everyday low price approach" to this audience has proved disastrous.
The "Everyday low price approach" has been effective for Wal-Mart (NYSE:WMT), but J.C. Penney was a nice clothing retailer not a mass-produced superstore. J.C. Penney cannot expect Wal-Mart's marketing methods to correlate to its own space.
| | | | |
| --- | --- | --- | --- |
| Company | Average EPS 2011 | Average EPS 2012 | Average EPS 2013 |
| J. C. Penney | 1.44 | -1.82 | -4.49 |
| Macy's | 2.34 | 3.09 | 3.24 |
| Kohl's | 3.88 | 4.24 | 4.17 |
| Martha Stewart Living Omnimedia | -0.27 | -0.50 | -0.83 |
| Wal-Mart | 4.61 | 4.69 | 5.02 |
Weakness
Management shake-ups put J.C. Penney in a state of uncertainty. Previously headed up by CEO Ron Johnson, this retailer has replaced Johnson with the very man he originally replaced last year. Johnson came to J.C. Penney to help save the company. His actions as CEO have done nothing to save this failing giant. Johnson brought along great hope, but failed to deliver when he decided to rebrand the company and attempted to start selling a product line carried by a competitor (I'll come back to this in a moment). Now the company has brought back Ullman, who had been replaced by Johnson for his own inability to help J.C.Penney.
Failing top management's expectations should bring only doubt to the hearts of investors, as it brings to mine. Why should anyone believe that Ullman can save the company if he failed the first time? Additionally, why should we trust the board's choice of CEO when it has misfired in the past?
Opportunities?
J.C. Penney recently looked to Martha Stewart Living Omnimedia (NYSE:MSO) for a new opportunity. Selling such well known products with such a reputable name looked like a great way to attract customers. However, this too failed.
Macy's has been selling Martha Stewart Living products since 2007 and obviously does not want J.C. Penney to start carrying the same brand. Viewed as a contract dispute, Macy's sued J.C. Penney. The court ruled that J.C. Penney can temporarily sell Martha Stewart Living products until a final ruling is decided.
But instead of pursuing opportunities that would set it apart from the competition, J.C. Penney played "copy cat" and landed itself in court. After all the money and time spent over the lawsuit, J.C. Penney may not even win. This once strong retailer has lost sight of what opportunities look like and has failed to capitalize on any.
Threats
J.C. Penney has two major competitors, Macy's and Kohl's. Here again, we see how J.C. Penney is lagging behind its peers. Macy's continues to market its store around its celebrity name brands, while Kohl's focuses on providing excellent sales, "good deals," and perhaps most important, coupons. These techniques have helped these retail giants to continue to come out in the black over the last three years. However, since announcing its store renovations and later opening up these new stores, J.C. Penney is on a red downward spiral.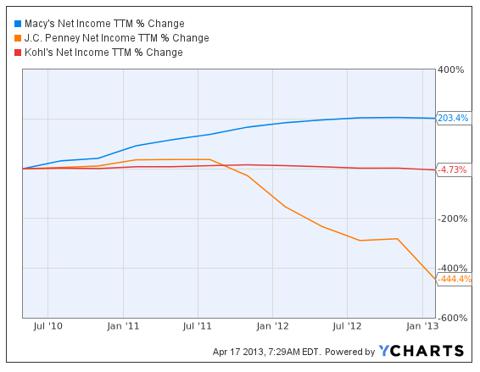 I do not put my trust in J. C. Penney's ability to leave the red and maintain market share. As it progressively loses more and more, I am awaiting the coming of a new competitor to take its place. This competitor may by Macy's, which has the same power of a well-established brand name, just as J.C. Penney once had. Macy's continues to market in the way it has found successful, focusing on this powerful celebrity brand names, and customers have responded well to that (proven by one of the most important indicators, net income).
Bottom Line
At first glance, the falling price of J. C. Penney stock may make it attractive to investors. However, this appears to be a time when we should all ignore the rule of thumb of buying low, because there could be more downside and J. C. Penney is burning through cash as its share price spirals downward.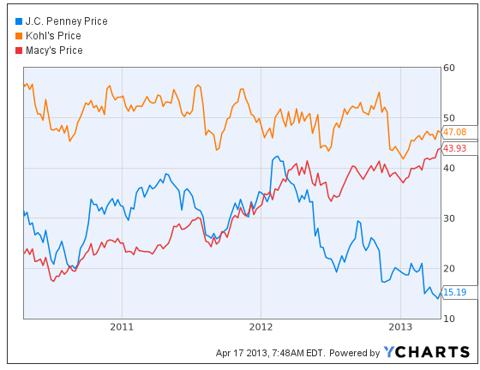 Faced with problems pertaining to marketing, management, and competition, just to name a few, this retail powerhouse may have finally lost all of its strength. Frankly, I see this as a time for investors to walk away from this hopeless cause and pursue other companies that have a better hope of recovering. It goes without saying that a successful company needs to have the entire "SWOT" and not simply "WT."
Disclosure: I have no positions in any stocks mentioned, and no plans to initiate any positions within the next 72 hours. I wrote this article myself, and it expresses my own opinions. I am not receiving compensation for it (other than from Seeking Alpha). I have no business relationship with any company whose stock is mentioned in this article.
Additional disclosure: By Michele Milheim