The S&P Dividend ETF (NYSEARCA:SDY) is trading at an all-time high. The ETF holds stock of 90 large dividend-paying companies.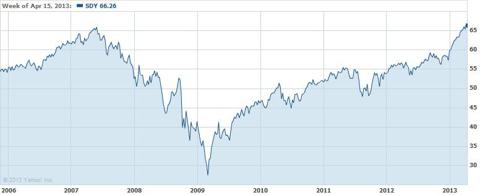 Income investors such as myself take pride in the fact that our investments have seen significant price appreciation. Although I probably won't plan on selling, the real issue is what do I do with all that dry powder I have?
Many investors are in the same position. They have investments returning significant dividends each quarter and the cash is piling up. For those who have DRIPs set up, you could continue to maintain the plan, but keep in mind, you will be reinvesting at a relatively higher price. If you are comfortable with this, then you should continue with it, but be warned that equity prices could fall from their current level.
The other option is to hope for a market pullback, but there are problems with this as well. If the market continues higher, then it's likely that you have seen a negative gain since you are holding cash in an inflationary environment. If the market falls, then you should be able to buy a nice basket of dividend stocks cheaper than current prices. However, there is no certainty of this happening.
So do you hold the cash and wait?
A better option is to use the cash and sell covered puts. This is a safe strategy that will allow you to essentially buy a stock at a price you want. Since you are holding cash, the puts will be covered and therefore have limited risk compared to being on margin. Selling puts is really no secret, but we should understand the importance of it in times such as this.
I picked a few popular dividend stocks to show readers how selling puts may be an optimal strategy for income investors. All of the stocks have a yield over 4%.
Intel (NASDAQ:INTC) pays a $.90 in dividends per share, which is about a 4.2% yield. If we take a look at the put option chain for Jan 2014, you will see a premium higher than the existing dividend payment. The Jan 2014 $20 put has a premium of a $1.19. This is 32% greater than the dividend yield and investors would have the opportunity to buy at a price that is 9% cheaper than the current price.
ConocoPhillips (NYSE:COP) pays $2.64 in dividends per share, which is a 4.4% yield. The Jan 2014 $52.50 put has a premium of $3.05. This is 15% greater than the dividend payment. It also allows put sellers to purchase shares at a price that is 7.5% cheaper than the market price.
Lockheed Martin (NYSE:LMT) pays a $4.60 in dividends per share, which is a 4.7% yield. The Jan 2014 $90 put has a premium of 4.90, which is slightly higher than the current dividend. However, given talks about defense cuts, its possible investors may want a larger margin of safety. The $85 put still has a premium of $3.30. Assuming shares get exercised, you are now able to purchase shares at a 11% discount.
This is a strategy I would advocate many income investors look into. Holding cash is never a good thing, so why not get paid to wait at a price you want?
The other thing I would like to point out is that these premiums are higher than dividend payments, but the expiration dates are not even a year out. So technically it is a nine-month holding period. If we end up annualizing this, then the yield would be much higher than the dividend payments.
My recommendation is that if you see a dividend stock that you like, then do a fair amount of due diligence to determine if you are okay with the valuation. If the valuation seems lofty, then look into the options chain to see if you could lock in a premium that could be higher than the dividend itself.
The best thing income investors can do in a scenario like this is to manage risk properly. This is a good strategy for managing risks by not having to buy in at highs.
Disclosure: I have no positions in any stocks mentioned, and no plans to initiate any positions within the next 72 hours. I wrote this article myself, and it expresses my own opinions. I am not receiving compensation for it (other than from Seeking Alpha). I have no business relationship with any company whose stock is mentioned in this article.
Additional disclosure: Short July $20 INTC puts