By Sumit Roy
One segment of the gold market is seeing huge buying. The plunge in gold prices this month (see "Two Phases Of Gold's Bull Run Offer Clues To How Low It And Silver Could Go") has fueled a record surge in physical gold demand, according to the latest data from the U.S. Mint. It is estimated that sales of American Eagle gold coins totaled 147,000 ounces thus far in April, with a whopping 63,500 ounces sold on Wednesday alone -- a single-day record.
With only half the month in the books, sales are likely to continue at a brisk pace. Already, the April sales total exceeds sales in the previous two months combined. The Mint sold 80,500 ounces and 62,000 ounces in February and March, respectively. The surge in demand for physical metal contrasts sharply with the intense selling in futures markets and by exchange-traded funds, aka the "paper market," which has led to a rise in premiums on coins relatively to spot prices.
According to the Wall Street Journal, premiums on gold coins are up to 5% from 3% at the start of the year, while premiums on silver coins have risen to 18% from 15%.
Spot Gold (Since 2012)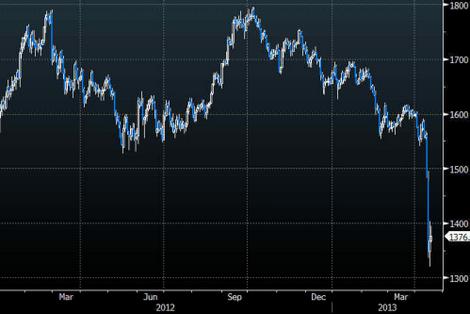 Incidentally, sales of American Eagle silver coins have totaled 2.39 million ounces thus far in April. That's a rapid clip, and sales for the month are likely to surpass those in February and March (3.37 million and 3.6 million, respectively). But they may fall short of January's record 7.5 million.
Turning back to the gold market, the contrast between physical demand and "paper" demand is an interesting one. In our view, differing investor bases are the explanation; long-term retail investors favor coins, while institutions and short-term traders favor futures and exchange-traded funds. It's worth pointing out that on a sheer volume basis, the outflows from exchange-traded funds have been much more significant than the surge in physical buying. For example, thus far in April, ETFs have shed 2.75 million ounces of gold -- 19 times larger than the purchases of American Eagle coins.
Since the start of the year, ETF holdings are down 8.6 million ounces, which essentially wipes out the 9 million ounce increase during 2012.
Gold ETF Holdings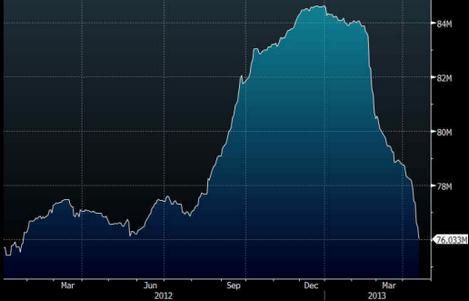 In conclusion, while physical gold purchases in the U.S. have been impressive this month, they are not enough to move the needle. However, one area where physical buying is likely to have a much stronger influence is Asia, where reports suggest that demand is also spiking. That is something to keep an eye on.