Netflix (NASDAQ:NFLX) is up almost 90% year-to-date, and most of this move came after the online video streaming company announced strong Q4 2012 earnings that surprised the street analysts. Although Netflix is expected to benefit from the growing secular demand for streaming video entertainment, many investors and analysts believe that the stock has gotten ahead of itself and is due a significant pullback. Could the company's upcoming earnings announcement trigger this pullback? In this article I look at this question and also discuss some of the key metrics that would be in focus when Netflix announces its Q1 2013 earnings results on Monday, 22nd April after market close.
The table below shows Q1 guidance from Netflix management for various business metrics: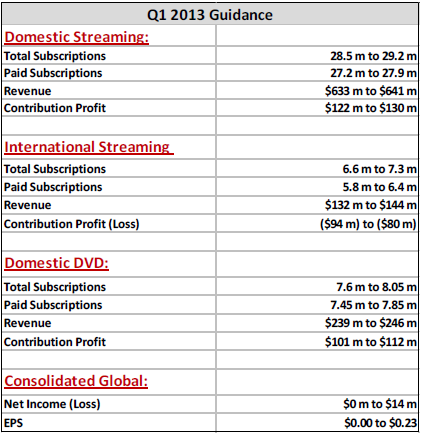 Source: Company Report
The table below shows the analysts estimates for Q1 revenue and EPS vs. the guidance from Netflix management:

Click to enlarge
Source: Yahoo Finance, Company Report
You can see in the table above that there is a very wide range of estimates for Netflix's EPS for quarter one. You can also see that the consensus estimate of $0.18 is closer to the higher end of the guidance, which indicates that the majority of analysts are expecting a solid performance in Q1. However, high expectations mean that even a small miss from the midpoint of the guidance could produce a negative shock.
Streaming Subscribers
Last week, Netflix CEO Reed Hastings announced on Facebook (NASDAQ:FB) that subscribers had streamed over four billion hours of video over the past three months. This was the second time Hastings took to the social media platform to boast about subscribers' viewing preferences; in July last year, Hastings had revealed that subscribers streamed 1 billion hours of video over the month. A recent article here on Seeking Alpha presented an analysis of how the latest figure of viewing hours is nothing special because the growth in hours streamed is in line with the expected increase in subscribers from Q2 2012 to Q1 2013, according to Netflix's Q1 guidance. The author was of the view that this announcement from Hastings' could simply mean an increase in hours streamed per subscriber rather than an increased number of subscribers. However, I think that the announcement is positive no matter how you look at it. If the increase in hours streamed is simply due to an increase in subscribers, it more or less confirms that Netflix would hit at least the mid-point of its guidance for increase in subscribers during Q1. On the other hand, if the increase is largely due to increasing hours streamed per subscriber, the implication is that the existing subscribers are extremely happy with the service. This would mean lower churn and satisfied existing customers which would also be a leading indicator of future additional subscribers in a secularly growing internet entertainment market. In my opinion, the 4 billion hours figure represents both increasing subscribers and increased engagement; therefore I believe that there is a very low chance of Netflix missing the mid-point of its guidance on the all-important subscribers metric.
DVD Subscribers
Netflix's guidance (midpoint) shows that the company expects DVD subscribers to decline by 0.4 million in Q1, whereas the contribution margin is also expected to decline to an estimated 43% in Q1 from 50% in Q4 2012. A larger than expected decline in this segment will raise concerns about the short term profitability and cash flows for Netflix because the DVD segment is still the most profitable business segment for the company and represents more than 20% of its revenues.
Q2 Guidance
There has been a lot of hype around House of Cards (Hoc), the critically acclaimed drama series that is exclusively available on Netflix. Although the general expectation is that original content like House of Cards will help the company attract new subscribers, it is far from certain if growth in subscribers from original programming would be sustainable. For example, it is possible that some of the new subscribers who only chose Netflix to watch HoC would not become paid subscribers after the free thirty day trial. Moreover, it is questionable if HoC would continue to attract subscribers in Q2 and beyond since the show is due to be available on DVD in June. Nevertheless, the management's Q2 guidance will be as important as the Q1 results, if not more. This is because although the second quarter is usually weak seasonally in terms of subscriber additions, the upcoming release of Arrested Development, which is arguably even more hyped up than HoC, should offset the weakness and attract more subscribers. However, don't be surprised by a conservative guidance for net subscriber additions for Q2, as the management has already stated in its Q4 2012 Investor Letter that the company expects fewer net additions in Q2 2013 than Q2 2012 due to the impact of a larger subscriber base with unchanged seasonality of gross subscriber additions.
Free Cash Flow
One of the bearish arguments that short sellers use to beat down Netflix is that the company's negative free cash flow represents spiraling payments to content producers as a result of increasing cost of content acquisition that is not sustainable. I don't believe this is true; the reason for negative free cash flows is the increased front loaded payments for acquiring rights to original programs, and Netflix management clarified this confusion in its Q4 2012 investment letter in which they stated that the bulk of their remaining cash payments for original programs would be paid in Q1, after which the cash flow situation is expected to improve substantially. So don't be surprised by a sequential decrease in the free cash flow figure from -$51 million in Q4 2012; however, do keep an eye for free cash flow guidance for the rest of the year as the management is expected to forecast much improved cash flows from the second quarter onwards.
Short Interest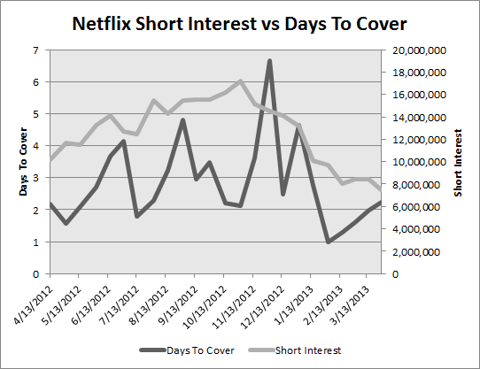 Click to enlarge
Data from Nasdaq.
One reason why Netflix surged so much after its Q1 earnings was that the stock was heavily shorted at the time, resulting in a huge short squeeze on the positive surprise. Since that time, the stock has not looked back and the sentiment has continued to improve regarding Netflix's long-term prospects as various analysts have upgraded the stock's target price over the past quarter. The improved sentiment can be seen in the chart above which shows that the short interest in Netflix stock is at its lowest point in a year, and the Days To Cover ratio is also very low. Therefore a big earnings miss could, especially on the domestic subscribers metric, could precipitate a sharp fall in the stock.
Conclusion
With a 1 year forward P/E multiple close to 60, it would be fair to say that Netflix stock is "richly" valued; in fact there are many investors who say that the stock is highly overvalued and hold a short position. However, smart traders would understand that currently, the stock is not trading based on P/E multiples, rather it is trading on investor sentiment which is driven by an increasing number of domestic streaming subscribers and a lower churn on. Although I'm not very bullish on the long term prospects of Netflix due to high uncertainty and extreme valuation, I doubt that Q1 earnings results can trigger a dive in the stock price that some shorts are expecting, especially after Hastings recently hinted to a strong quarter on Facebook. However, in case Netflix does miss the midpoint of its guidance for subscriber additions and gives a disappointing Q2 guidance, the conditions are ripe for a huge drop in the stock given that the stock is up almost 70% since its Q4 2012 earnings announcement, analysts' expectations are on the higher side, and short interest is relatively low.
Disclosure: I have no positions in any stocks mentioned, and no plans to initiate any positions within the next 72 hours.
Business relationship disclosure: This article was written by Dividend Pros' analyst covering technology.