In this article, we discuss two pharmaceutical companies that are deemed as solid buys by the analysts and have some strong catalysts to back them. These pharmaceutical companies are NPS Pharmaceuticals Inc. (NASDAQ:NPSP) and Neurocrine Biosciences Inc. (NASDAQ:NBIX).
(1) NPS Pharmaceuticals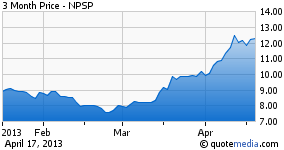 NPS Pharmaceuticals is a U.S. based pharmaceutical company that is focused on research and development of rare endocrine and gastrointestinal disorders that have very few therapeutic options.
Key Business/Market Drivers
In December 2012 when the stock was trading at around $9.00, I had provided a comprehensive analysis of NPS Pharmaceuticals. Since then, this stock has gained a solid 37%. I still hold this stock and plan to hold for the long term because of the following catalysts
The company has got global rights for its Gattex drug recently. Gattex is a drug that is used for a rare disease called the Short Bowel Syndrome (or SBS). The market size for this disease came out to be much lower than the company had anticipated (less than 5000 patients compared to the estimated 10000-15000), but note that NPS Pharmaceuticals now has global rights to market the product and that the drug is bound to be sold at a high premium price. Gattex is estimated to give the company about $350 million in additional sales.
The Natpara drug is bound to be reviewed for FDA approval in the latter part of the year. Natpara is a bioengineered replica of the PTH (Parathyroid) Hormone which can be used in hormone replacement therapies for a rare disorder called Hypoparathyroidism. As of today, there is no FDA approved drug for this rare disorder and Natpara is hence considered as "orphan drug status" by the FDA.

The regulatory environment for NPS is favorable. NPS's strategy of focusing on the niche market of orphan drugs (drugs applicable to rare disorders) has a benefit when it comes to FDA approvals - even the FDA is looking for drugs that provide therapeutic cure for these rare disorders.
(2) Neurocrine Biosciences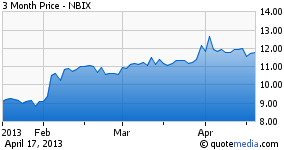 As its name suggests, Neurocrine Biosciences is involved in developing new drugs to treat neurological disorders and metabolic system-related diseases.
Key Business/Market Drivers
Earlier in January, FDA gave fast track status to its VMAT2 inhibitor drug (NBI-98854). The VMAT2 inhibitor product provides the company a solid $500 million opportunity and FDA's fast track designation is a big deal for the company.
Neurocrine has recently shown a strong quarterly revenue growth, improving profit margins, increasing net income, an astounding earnings growth (600%). Its gross profit margin for Q4 2012 increased significantly compared to the same quarter in the previous year: 44.3% compared to Q4 2011's 5.2%.
The company is financially very strong with a Quick Ratio of 11.96 and very little debt (its Total Debt-Total Capital ratio is merely 0.38), indicating that it has lot of liquidity. Cash is king when it comes to pharmaceutical companies, because their R&D process is usually very capital intensive.
Analyst Ratings and Return Potential
Both NPS Pharmaceuticals and Neurocrine Biosciences have excellent analyst ratings and based on the First Call Consensus mean targets, a terrific return potential (see below).
Conclusion
Before buying stocks of pharmaceutical companies, investors must consider the company's current product portfolio and future product pipeline (and its time-to-market) as well as the potential market size of drugs. Another factor to consider is also the premium at which the company will be able to sell its drugs after they have launched - this mitigates profit and revenue risks related to the market size.
Considering these factors, both NPS Pharmaceuticals and Neurocrine Biosciences appear to be good risk-reward bets. Since both these companies are near their 52-week highs, I would add these stocks to the summer shopping list to accumulate upon pullbacks rather than buy them at their current prices, unless of course pullbacks occur because of bad news coming from the FDA or are pertaining to their product pipelines.
Disclosure: I am long NPSP. I wrote this article myself, and it expresses my own opinions. I am not receiving compensation for it (other than from Seeking Alpha). I have no business relationship with any company whose stock is mentioned in this article.