D.R. Horton (DHI) reported earnings today that fell short of analysts expectations, even as shares had rallied nearly 10% on better than expected pending home sales data. The increase in pending home sales is attributable to many factors including enhanced affordability because of historically low mortgage rates and tax incentives. However, it appears that buyers are still working through the inventory of existing homes, which means trouble for homebuilders.
Analysts had anticipated a loss of 31 cents per share on revenue of $812.9 million, but the company in fact lost 34 cents per share with revenue of only $775 million. The company also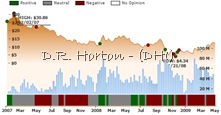 took a $48.1 million write down on land, which compares to the $843 million the company wrote down in the second quarter of 2008. However, as tough as the results were, they do show an improvement in sales from the December quarter.
"We saw a seasonal increase in sales activity in the March quarter, with our net sales increasing 50% from our December quarter. However, market conditions in the homebuilding industry are still challenging, characterized by rising foreclosures, high inventory levels of both new and existing homes, increasing unemployment, tight credit for homebuyers and eroding consumer confidence." Donald Horton, DHI Chairman of the Board
Clearly, D.R. Horton and other homebuilders are dealing with the overbuilding that occurred when the housing market was booming. Now, with unemployment and foreclosures a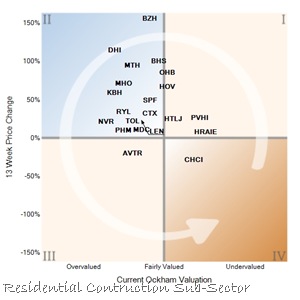 persistent problem, there is an abundance of inventory for home buyers to choose from. Given the deterioration in fundamentals for DHI over the past year or more, we are currently valuing D.R. Horton as Overvalued.
The company has slowed down construction significantly, so even when the market does fully turn around, it will take at least two quarters for earnings to rebound. We have an Overvalued rating on many of the stocks within the Residential Construction sub-sector (chart to the right). Furthermore, in over the past 3 months DHI has been one of the top performers in its sector up by more than 100%. So, even though there has been a stabilization in the real estate market and the broader economy, the recent performance seems a little bit too much, too fast. The extremely tough market for new homes has forced this company into a tight spot, and we cannot recommend any stock that has this sort of trend of shrinking revenue and negative earnings.