By Morgan Harting
Companies in emerging markets are more profitable and less debt burdened than their developed-market peers, and their shares trade at a deep discount. So when will emerging-market stocks close the gap with global equity markets?
This year, the MSCI Emerging Market Index has fallen 4.7% in U.S. dollar terms, while the MSCI World Index for developed-country stocks returned 6.8%. Investors still haven't forgiven the largest emerging-market economies for failing to live up to expectations.
China, India, and Brazil tumbled on fears that policy responses to reverse the decelerating trends in their economies may not be as large or as effective as they were after the global financial crisis. Emerging-Europe stocks retreated on concern that the crisis in Cyprus might have systemic risk implications for other regional economies. Korean stocks fell on concerns about competitiveness vs. Japan in the face of a weaker yen. And downward revisions to global demand expectations weighed on commodity prices, buffeting equities in materials-exporting countries such as South Africa, Peru, and Russia.
It didn't help that emerging markets are more heavily concentrated than developed markets in the economically sensitive sectors that performed worst globally, such as industrial commodities and technology. At the same time, they're far less exposed to the more defensive sectors that did best, such as medical and consumer staples (see image below). Low-priced stocks did especially poorly in emerging markets, as they have since Europe's credit crisis erupted.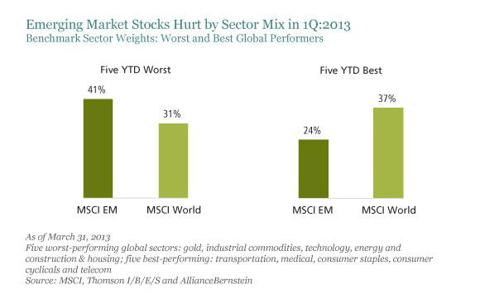 But with profit margins now stabilizing across emerging companies after two years of downward pressure, and their stock markets trading at a 20% discount to developed markets based on forward earnings estimates -- among the biggest discounts in five years -- we think the market has overreacted. Here's why. Emerging-market companies are more profitable and less debt burdened than their developed-market peers, and their economies are poised for a modest acceleration in GDP growth this year, following two years of deceleration. The consensus now expects a 12% rebound in emerging-market profits in 2013, as operating leverage accentuates the benefits of incremental revenue gains. If companies deliver on these bullish expectations, we think equity returns should be very strong.
What's more, investors' obsession with safety and predictability has created massive market distortions -- and ideal stock-picking conditions. For example, there's an enormous gap between valuations of defensive, less volatile stocks and those of more cyclical, volatile stocks -- even bigger than during the Asian currency crisis. As shown in the image below, less-volatile defensive stocks (low beta) trade at a 48% premium to the market, while volatile and more cyclical stocks (high beta) sell near their biggest discount in 20 years.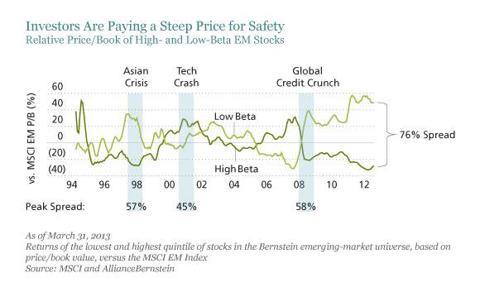 Yet these expensive low-beta sectors have had their fair share of earnings disappointments. In fact, cuts to their 2012 and 2013 estimates have roughly matched those of the market as a whole. Moreover, high-beta stocks are expected to tally earnings growth of 17% this year, three percentage points stronger than that of the low-beta stocks.
Valuation gaps like today's are common in times of extreme anxiety, but they have typically heralded robust outperformance for riskier stocks. In past periods when spreads were this wide, the cheapest quintile of stocks beat the most expensive quintile by an average of 27% one year later -- two and a half times the 10-year average outperformance. The potential payoff for taking risk has rarely been this provocative.
So although emerging-markets equities got off to a rough start this year, we think there's great potential for investors to generate strong returns from exposure to their growing earnings and to provocatively low relative valuations. At the very least, it appears to us to be a good time to take advantage of recent underperformance and to rebalance to emerging-market equities.

Morgan Harting leads the Emerging Markets Multi-Asset portfolio team at AllianceBernstein.
Disclaimer: The views expressed herein do not constitute research, investment advice or trade recommendations and do not necessarily represent the views of all AllianceBernstein portfolio-management teams.