The Coca-Cola Company (NYSE:KO), with a market cap of $189.26B, is the world's largest non-alcoholic beverage company. The Coca-Cola Company has one of the widest moats in the consumer beverage industry with its diversified brands and extensive distribution network. KO had reached a new 52 week high of $42.70 in the last trading day after reporting a better than expected Q1, 2013 profit on April 16, 2013.
Q1, 2013 Earnings
KO reported net income of $1.75B, or 39 cents per share, down from $2.05B, or 45 cents per share, a year earlier. Excluding one-time items, earnings were 46 cents per share, beating analysts' average estimate of 45 cents.
Volume Growth
Worldwide sales volume grew 4 percent, but revenue slipped 1 percent to $11.04B, which was negatively impacted by currency exchange rate and the sales lost through the refranchising of some other bottler assets. KO's global sparkling portfolio grew 3%, led by brand Coca-Cola (3% growth), Fanta (6% growth), and Sprite (5% growth). Two-thirds of global volume growth was contributed by sparkling brands. As for the still beverage, the global volume increased by 6% for the quarter with growth across most still beverage categories.
Regional Breakdown
| | | | |
| --- | --- | --- | --- |
| Regions | Q1, 2013 Volume Change | Q4, 2012 Revenue | Highlights |
| Eurasia & Africa | Double-digit volume growth, growing 15% while maintaining share | $697M | Brand Coca-Cola, Fanta, Sprite and Coke Zero all grew double digits; In Russia, emotional connection with the consumers was deepened by leveraging the 2014 Winter Olympic Games in Sochi |
| Latin America | Solid 4% volume growth in the quarter | $1.27B | Still beverages across Latin America delivered double-digit growth |
| North America | 1% volume growth in the first quarter | $5.29B | Focused on driving sustainable growth |
| Pacific | 3% overall volume growth | $1.35B | Led by high single digit growth in brand Coca-Cola; volume in China grew by 1%; Strong performance in Thailand and South Korea |
| Europe | Volume was flat, but improved from Q4, 2012 | $1.14B | The economic environment remains uncertain, where Nielson's latest global survey of consumer confidence and spending intentions indicate the consumer confidence fell in 20 of the 29 European markets in Q4, 2012. |
Source: Seeking Alpha
Management Strategy
The management continues to set the five core strategic priorities as follows:
To grow sustainably and provide meaningful solutions that enhance the health and well-being of the communities we proudly serve
To win with Coca-Cola while actively promoting the brand and the category
To keep winning and executing with excellence at the point-of-sale
To keep maximizing the value of our global beverage portfolio
To encourage and inspire our system and associates to deliver on our mission
Share Repurchase
For Q1, 2013, the company had repurchased about $1.1B of shares. The company is on track to achieve the $3B-$3.5B range for 2013 as communicated in the last earnings call.
Analysts' Estimates and Calls
For the full 2013, analysts are projecting an EPS of $2.14 with revenue of $48.96B, which is 1.90% higher than 2012. For 2014, analysts are predicting an EPS of $2.33 with revenue of $51.45B, which is 5.10% higher than 2013.
On April 17, 2013, UBS reiterated its neutral rating for KO with a target price of $45 (increased from $41). Analysts currently have a mean target price of $42.93 for KO.
Fundamentally, KO's key stats will be compared to its peers in the industry of soft drinks and beverages, including PepsiCo Inc. (NYSE:PEP) and Dr. Pepper Snapple (NYSE:DPS).
| | | | | |
| --- | --- | --- | --- | --- |
| | Coca-Cola | PepsiCo | Dr. Pepper Snapple | Industry Average |
| Market Cap | $189.26B | $121.65B | $9.56B | N/A |
| Revenue Growth (3 Year Average) | 15.7 | 14.8 | 2.7 | 6.2 |
| Operating Margin, %, ttm | 22.4% | 13.9% | 18.2% | 17.4% |
| Net Margin, %, ttm | 18.8% | 9.4% | 10.5% | 12.0% |
| ROE, ttm | 28.0 | 28.8 | 27.7 | 26.5 |
| Debt/Equity | 0.4 | 1.1 | 1.1 | 0.6 |
| P/E | 21.5 | 20.1 | 16.1 | 22.5 |
| 5 Year Average P/E | 17.6 | 16.8 | 9.1 | N/A |
| Forward P/E | 17.6 | 16.2 | 13.8 | 14.3 (S&P 500's average) |
Source: Morningstar
Comparing to PEP and DPS, as well as the industry average, KO continues to enjoy higher margins, higher revenue growth, with a healthier balance sheet. While KO continues to generate strong cash flow with an operating cash flow of $10.64B and a levered free cash flow of $4.49B, its free cash flow is getting expensive (P/FCF of 57.99). From a valuation perspective, KO's Forward P/E of 17.6 is higher than S&P 500's average, and its current P/E of 21.5 is also higher than 5 year average P/E of 17.6.
Competitions
PepsiCo continues to increase its operating cash flow and enhance its productivity. The management of PepsiCo is expecting 7% core EPS growth for the year. Analysts are estimating an EPS of $0.71 with revenue of $12.61B for the current quarter ending in March, 2013 for PEP. For full 2013, analysts are projecting an EPS of $4.39 with revenue of $68.00B, which is 3.80% higher than 2012. On the other hand, Dr. Pepper Snapple is expected to host its Q1, 2013 earnings conference call on April 24, 2013. Analysts are projecting an EPS of $0.47 with revenue of $1.39B for the current quarter ending in March, 2013. Analysts are expecting 2.80% revenue growth for 2013.
Technically, the MACD (12, 26, 9) is turning bullish. The momentum indicator, RSI (14), is showing a strong buying momentum at 68.62. KO is currently trading above its 50-day MA of $39.18 and 200-day MA of $37.84, as seen from the chart below.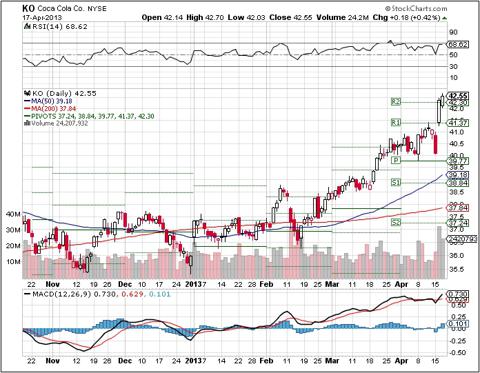 Source: StockCharts.com
How to Invest
KO continues to be fundamentally solid with strong cash flow, high margins, and steady ROE, supported by a healthy balance sheet. However, after the recent run-up, valuation becomes a concern. In the near-term, conservative investors may want to wait for further pullback to establish a long-term position. Upon pull back, a credit put option spread of June 22, 2013 $38/$40 puts can be reviewed to gain some upside credit premium or to acquire KO shares at a price below $40 upon options expiration. Investors can review the following ETFs to gain exposures to KO:
Consumer Staples Select Sector SPDR (NYSEARCA:XLP), 10.02% weighting
Dow Jones U.S. Consumer Goods Index Fund (NYSEARCA:IYK), 8.62% weighting
S&P Global Consumer Staples Sector Index Fund (NYSEARCA:KXI), 5.04% weighting
Note: Investors and traders are recommended to do their own due diligence and research before making any trading/investing decisions.
Disclosure: I have no positions in any stocks mentioned, and no plans to initiate any positions within the next 72 hours. I wrote this article myself, and it expresses my own opinions. I am not receiving compensation for it (other than from Seeking Alpha). I have no business relationship with any company whose stock is mentioned in this article.