While Alcoa's (NYSE:AA) better-than-expected Q1 earnings report last week improved investors' attitudes toward the market at large, the company's results spotlighted an aluminum market troubled by stubbornly low prices.
An Overstocked Market
In recent years, the global aluminum market has witnessed a significant annual surplus, with new supplies exceeding demand for eight straight years. The main culprits for the overabundance of supply are Chinese mining companies which comprise 40% of the global alumina market and are continuing to expand their production into 2013. The results of this oversupply are all too evident: after a post-recession peak of nearly $2800 per metric ton in 2011, the price of aluminum has declined over the last three years to reach the mid-$1800 range in April 2013. The following chart tracks the changes in aluminum price (shown in USD/metric ton) over the last five years.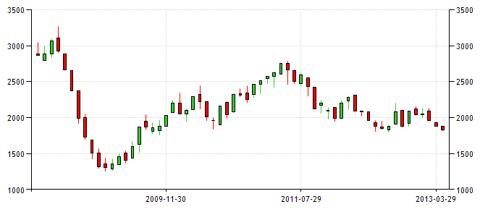 Intuitively, global stockpiles of aluminum have continued to climb-over five million metric tons of aluminum currently sit unused in warehouses around the world. Large international metals firms buy up excess inventory and charge companies a premium for quick access to aluminum. But the physical oversupply of aluminum tells only a partial story. At least one-third of this enormous aluminum stock is already scheduled to leave warehouses but is tied up with regional delays.
On the demand side of the equation, some promising trends have emerged. Though responsible for increased global production of aluminum, China is also forecast to increase demand for the metal by eight percent this year. In turn, this will help to raise global demand a total of six percent over the year.
Investor responses to all of these factors are mixed. Some investors foresee the price of aluminum falling as low as $1400 per metric ton while others anticipate the beginnings of a rally. I believe that due to a continued oversupply, the price will continue to fall for at least another month but will finish the year above $2000 per metric ton. A complete resurgence in the price of aluminum will take several years as developing industries in China begin to sop up aluminum stockpiles worldwide. Before then, what does a low-priced aluminum market mean for today's major manufacturing firms?
Alcoa vs. Chalco: the Water's Better Downstream
As a world leader in all things aluminum, Alcoa naturally stands to lose significantly from falling aluminum prices. The table below briefly summarizes the recent financial difficulties faced by Alcoa and one of its largest competitors in the aluminum mining industry, the Aluminum Corporation of China Ltd. (NYSE:ACH), often referred to as Chalco. Numbers are expressed as a percent change in revenues and earnings from year-end 2011 to year-end 2012.
| | | |
| --- | --- | --- |
|   | Revenues | Earnings |
| Alcoa | -5.01% | -68.74% |
| Chalco | 2.47% | -3559.94% |
Given these figures, the prior low expectations for Alcoa's recent earnings statement make a lot of sense. It is important to note that while both companies posted a decrease in earnings from 2011 to 2012, Alcoa still reported positive net profits in 2012, in contrast to Chalco's losses of $1.33 billion.
Chalco's strategy was to lower production electric costs by acquiring ownership stake in an electric power company. Chalco also attempted to purchase coal mining resources in Mongolia, but the deals fell through, leaving the company stranded in a market with excess aluminum and no profitable processes or industries on which to fall back. If Chalco is to survive this rough patch, I believe the management absolutely must find ways to diversify. If the company does not begin new revenue-driving processes this year, it will only lag farther behind Alcoa over the next one to three years.
We already know from this quarter's earnings report that Alcoa is bouncing back from a tough two years. Contrary to low popular earnings expectations, Alcoa instead recorded earnings of 13 cents per share, a healthy 15% increase over profits one year ago, excluding extra items. Alcoa's secret? CEO Klaus Kleinfeld has decreased primary metals production capacity, directing Alcoa toward manufacturing of downstream aluminum products with higher profit margins. I think that the continued pattern of shaky aluminum prices calls for further scaling-back of raw aluminum production. Alcoa has begun well but needs to follow through on increasing downstream aluminum products in order to guarantee strong net profits in the next three quarters.
Caterpillar: Hurt by Association
Falling commodity prices aren't just hitting mining companies. Caterpillar (NYSE:CAT) recently decided to lay off 460 supplemental workers at an Illinois plant specializing in the production of giant mining trucks. As global aluminum demand wanes and companies scale back mining operations, the need for heavy mining equipment will naturally follow a similar decline. Caterpillar warned of more permanent cuts in the near future as well.
Coca-Cola: Aluminum Isn't Getting Any Cheaper
Coca-Cola (NYSE:KO) is one of the world's largest users of aluminum. In spite of the global supply increase, Coca-Cola has actually complained of increased raw material costs. These additional expenses have appeared as higher cost of goods sold for Coca-Cola's Bottling Investments Group. As I mentioned earlier, this is due to the difficulty and expense of accessing the stockpiles held by major metals companies.
What can Coca-Cola do to improve its stance in the inconvenient overabundance of the aluminum market? I believe a reasonable course of action is to increase concentrate sales. Coca-Cola already has contracts which involve sale of beverage concentrates to outside companies which bottle the soda themselves. If aluminum remains expensive for Coca-Cola to acquire, outsourcing the bottling process may become lucrative.
Boeing: Keeping Demand in Flight
In its annual report, Alcoa predicted a strong demand for aluminum proceeding from the aerospace industry. Boeing (NYSE:BA) continues to hold a strong place in the global airliner market, and with most of its planes composed of over 50% aluminum, it is difficult to foresee any sudden major decline in aluminum demand from the aerospace industry. To be sure, the new Boeing 787 Dreamliner is remarkable precisely because it is composed primarily of composite materials instead of aluminum. But as Boeing continues to produce other aluminum-bodied plane models alongside the 787, it appears that Dreamliner sales will not result in a drastic decrease in Boeing aluminum purchases in the near future.
Low Prices Here to Stay
For now, don't look to domestic sources to quickly revive aluminum doldrums. Until global demand begins to chip away at the oversupply of aluminum, American manufacturers need to seriously reevaluate their current processes and boldly cut material costs.
Disclosure: I have no positions in any stocks mentioned, and no plans to initiate any positions within the next 72 hours. I wrote this article myself, and it expresses my own opinions. I am not receiving compensation for it (other than from Seeking Alpha). I have no business relationship with any company whose stock is mentioned in this article.
Additional disclosure: By Nathan Adamo