Ever since BlackBerry (NASDAQ:BBRY) reported during its Q4 earnings release that it had sold one million of its new Z10 devices (through March 1), investors have been anxiously awaiting updated sales figures. Any new information is especially important considering that the Z10 has since launched in the United States, the world's biggest smartphone market. Additionally, the million devices sold in Q4 represent sales to carriers (or other middlemen), not end users, but ultimately, sales to the consumer are what matters. In this void of official information, I think that it is possible to gleam information sales to consumers from publicly-available information, and sales seem to be going pretty well. As of April 11th, I believe that sales of BlackBerry Z10s to North American (US and Canadian) consumers have totaled approximately 1 million units.
I've estimated this sales figure based on BlackBerry's subscriber base and a recent analysis published by Chitika, which tracks mobile ad impressions on mobile operating systems. Multiple interesting (and positive) conclusions can be drawn from the survey; beyond being the basis for a sales estimate, the survey compares Z10 adoption to iPhone 5 adoption, and it also sheds light on the differences in Canadian and US adoption (as the launches did not occur simultaneously).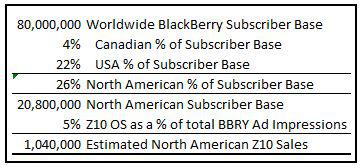 Based on subscriber data published by The Globe and Mail (which appears to be recent enough, as it was published in late January 2013), Canadian and US subscribers combine to 26% of BlackBerry's total subscriber base, which is approximately 80 million users. The Chitika survey identified that 5.3% of ad impressions came from Z10 devices on April 11, which I rounded down to an even 5% (as 5.3% was the highest data point, and Z10 users may use their much-improved browser more than Bold and Curve users do). Estimating sales in this manner demonstrates that there appear to be about 1.0 million Z10s in circulation in the US and Canada. Sensitivities in the above information (i.e. if percentage of impressions are significantly greater than percentage of devices) could reduce this estimate to some degree, but I think that the 1 million estimate is reasonable.
And I think that a million devices sold to the end user through April 11th is something that BlackBerry investors should be very pleased with. BlackBerry is not Apple (NASDAQ:AAPL), and tens of millions of devices sold is not an appropriate benchmark. At the above rate, BlackBerry will sell enough (of its likely-to-be-less-popular Z10) to handily beat analyst expectations, especially when factoring in international markets, the remaining half of its Q1, and the likelihood of continued uptake rate (as people encounter devices in the wild and become organically interested in the still relatively-unknown Z10). Add in the forthcoming Q10, and BlackBerry looks poised for a blowout Q1.
As previously mentioned, the Chitika survey also shows its observations following the release of the iPhone 5, and I believe that the results are positive for the young Z10 for two primary reasons. As of day 65 following launch (which was April 11th for the Z10), the Z10's penetration into BlackBerry's subscriber base (5.3%) was about 44% of the level of the iPhone 5's penetration into Apple's customer base (12.1%). Considering that many of BlackBerry's consumers are keyboard loyalists or are waiting for upgrades from corporate purchasing, and how Apple's fanbase is known to be line up or pre-order devices, the Z10's 44% looks pretty good. More importantly, only about 20 days of US sales are reflected in the Z10's penetration rate; if the increase in the last 20 days (an approximate double to from 2.6%) was stacked on top of the actual first 20 days of data, the Z10's penetration at day 20 would have been approximately 4.5% versus the iPhone 5's 6% - a shortfall of only 25%. Translation: The Z10, on a relative basis, is almost as popular as the iPhone 5 was (at least when compared to the existing OS base) following launch.
Not only are old and new BlackBerry subscribers purchasing Z10s, but it is worth repeating that the average BlackBerry user is waiting for the Q10, the BB10 device with the physical keyboard. Here in New York City, one sees hundreds of BlackBerries on a daily basis; many people are mandated to use a BlackBerry as a (second) work phone, and there are even some people that keep a BlackBerry as a primary phone. Almost everyone that I've asked is anxiously waiting to upgrade to a Q10 as soon as their contract or employer allows it (or, in one case, "even sooner, if possible.") I hope that Chitika re-runs this survey after the launch of the Q10, as that is when I would expect for a real deluge of purchasing to occur.
But until then, it appears that the Z10 launch is meeting or exceeding expectations (which is exactly how BlackBerry's CEO has described it). Based on the above estimates, sell through to end users appears to be robust, and BlackBerry (and Verizon) refuted a rumor of high rates of return. It's often painful to be long such a volatile stock that the market doesn't seem to appreciate, but I think that BlackBerry shareholders will be rewarded as the Q10 launches and sales estimates become actual reported totals. Until then, buckle up for the wild ride between now and June 28th (the Q1 earnings release).
Disclosure: I am long BBRY. I wrote this article myself, and it expresses my own opinions. I am not receiving compensation for it (other than from Seeking Alpha). I have no business relationship with any company whose stock is mentioned in this article.