On
April 29, 2009
, I recommend buying shares of Carlisle Companies Inc. (NYSE:
CSL
) when the stock was trading around $22.30. Since then, the stock has risen substantially given the time period of the purchase. If you are nervous about the recent rally, I urge you to take profit in this name, as I did on Monday at $24.00.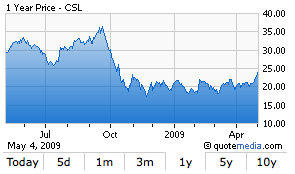 The rally can easily take the Dow to 9,000 but I am not banking on it. Even if the market continues higher, I currently have other positions that will benefit from such a move. The risk/reward for Carlisle has changed for me. It would be ok if you are compelled to hold the stock, but be prepared mentally for some pull-back.
Carlisle closed Monday at $24.13. A modest gain of 8.2% in just a few days is not so bad. This is 3x of the dividend rate you would receive as of Monday closing at a 2.6% yield.
Although I closed my position, I will continue to monitor Carlisle closely and would like to re-purchase the stock near $22 or a 2.8% yield (previous resistance).

A stock can't go up in a straight line. Same goes for the market. I am getting defensive as we speak.

Disclosure: None