Kinder Morgan Energy Partners LP (NYSE:KMP) is a pipeline transportation and energy storage company in North America and one of the largest master limited partnerships. KMP continues to deliver solid results. KMP reported surging profit for Q1, 2013 and had increased its distribution.
Q1, 2013 Results
KMP's distribution is increased to $1.30 ($5.20 annualized), which is up 8% from Q1, 2012. The earnings before DD&A was $1.276B, up 24% from Q1, 2012. The distributable cash flow per unit (DCF) was $1.46 versus $1.37 for Q1, 2013, with an increase of 7% year-over-year. Below is the segment breakdown:
Natural Gas Segment
While Natural Gas is the fossil fuel of the future, the challenge is to overcome the obstacles in midstream infrastructure to ensure that there is adequate capacity to connect the supply to demand. The management believes KMP is ideally situated to help meet this challenge providing the needed infrastructure in North America. The management is expecting to add about 7,000 miles of gas pipelines.
CO2 Segment
The management expects CO2 segment to be slightly above plan for the full-year 2013 despite wide Midland-Cushing spread on oil prices in January and February, which is now corrected, and lower NGL prices for the quarter compared to a year ago.
Products Pipeline Segment
This segment had a solid first quarter led by higher volumes and revenues on the Cochin Pipeline system. The NGL volume increased by 32% while biodiesel volume was also up by 20% compared to a year ago.
Terminals Segment
Despite the continuous lowering of domestic coal volumes, the company has benefited from increased demand for export coal.
Kinder Morgan Canada
The demand continues to be strong for Trans Mountain to move oilsands production at the lower Mainland of British Columbia and to Washington State, as well as across the dock in Vancouver. In this quarter, the sale of one-third interest in Express-Platte pipeline was completed, and KMP received approximately $400 million gross proceeds to enhance the company cash flow.
Analysts' Calls
On April 15, 2013, Deutsche Bank reiterated the buy rating for KMP with a target price of $102 (up from $98). Analysts currently have a mean target price of $90.27 for KMP, suggesting 1.13% upside potential. For 2013, analysts are projecting an EPS of $2.58 with revenue of $10.11B, which is 16.90% higher than 2012. For 2014, analysts are predicting an EPS of $2.87 with revenue of $11.10B, which is 9.90% higher than 2013.
Fundamentally, KMP's key stats will be compared with its peers in the industry of oil & gas midstream, including Enterprise Products Partners LP (NYSE:EPD) and Williams Partners LP (NYSE:WPZ) to see where it stands.
| | | | | |
| --- | --- | --- | --- | --- |
| | Kinder Morgan Energy | Enterprise Products Partners | Williams Partners | Industry Average |
| Cap Size | $33.31B | $54.67B | $20.78B | N/A |
| Closing Price (April 17, 2013) | $89.26 | $60.26 | $52.22 | N/A |
| Revenue Growth (3 Year Average) | 7.3 | 18.6 | 16.7 | 7.1 |
| Operating Margin, %, ttm | 27.1% | 7.2% | 20.7% | 11.2% |
| Debt/Equity | 1.4 | 1.1 | 0.9 | 1.4 |
| Forward P/E | 26.9 | 20.5 | 21.0 | 14.3 (S&P 500's average) |
| Cash Distribution | $1.30 per unit, payable on May 15, 2013 | $0.67 per unit, payable on May 7, 2013 | Last distribution was $0.8275 per unit, paid on February 8, 2013. | N/A |
Source: Morningstar
Although the revenue growth is lower for KMP, comparing to EPD and WPZ, KMP has the highest operating margin among the three. However, from the valuation perspective, KMP's Forward P/E is higher than EPD and WPZ despite the slower revenue growth.
Technically, the MACD (12, 26, 9) is showing a slightly bearish trend. The momentum indicator, RSI (14), is declining but still indicating a slightly bullish lean at 53.33. KMP is currently trading above its 50-day MA of $87.80 and 200-day MA of $82.58, as seen from the chart below.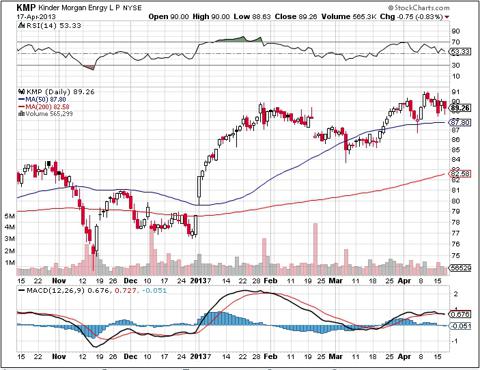 Source: StockCharts.com
How to Invest
With its wide economic moat, KMP is expected to ride the natural gas trend and continue to deliver for shareholders. KMP remains a great long-term holding as its distribution continues to increase. In the near term, the technical is weakening, and it is important to see if KMP can hold above its 50-day MA to determine its near-term direction. For bullish investors, a credit put option spread of June 22, 2013 $82.5/$85 put can be reviewed to gain some upside credit premium or to acquire KMP shares at a price below $85 upon options expiration. Investors can also review the following ETFs to gain exposures to KMP:
Note: Investors and traders are recommended to do their own due diligence and research before making any trading/investing decisions.
Disclosure: I have no positions in any stocks mentioned, but may initiate a long position in KMP over the next 72 hours. I wrote this article myself, and it expresses my own opinions. I am not receiving compensation for it (other than from Seeking Alpha). I have no business relationship with any company whose stock is mentioned in this article.