ConocoPhillips (NYSE:COP) has 227,000 acres in the sweet spot of the Eagle Ford shale. The company was an early mover in the Eagle Ford and acquired its acreage at an average price of $300 per acre. That's right, not $30,000/acre, or even $3,000/acre, but yes, $300/acre.
Last December, in the article ConocoPhillips: Exploiting the Eagle Ford Shale, I explained what a prominent role the Eagle Ford shale would play as a near-term catalyst for COP. Another quarter has passed by, and it's time to take another look at COP's Eagle Ford operations. All the slides shown in this article were all taken from the IPAA Oil and Gas Symposia presentation given in New York on April 17, 2013.
Let's start with an overview of Conoco's position in the Eagle Ford shale: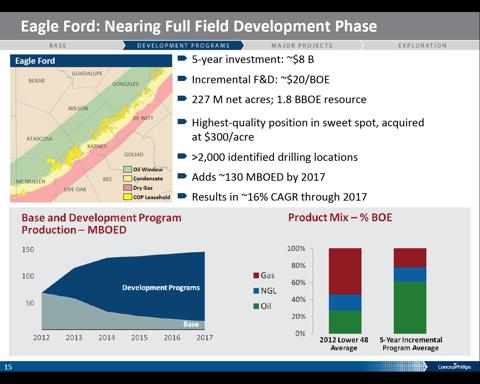 Click to enlarge
As shown in the slide, the Eagle Ford represents a 1.8 billion barrel resource for COP. The company has identified over 2,000 drilling locations and expects its development program will raise production from a 2012 year-end exit rate of 100,000 boe/day to over 130,000 barrels/day by 2017. As can be seen by the production profile, the majority of production growth took place in 2012 and will continue in 2013 before leveling to the company's sustained production target.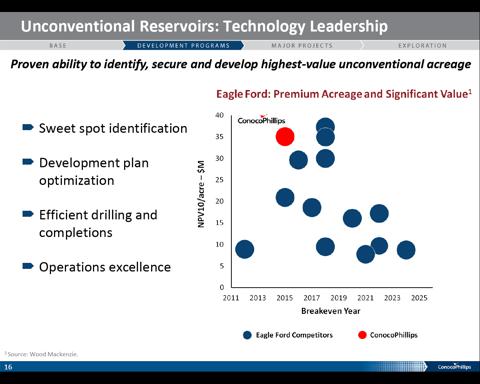 Click to enlarge
From the chart above, we can see that the NPV10/acre value of COP's Eagle Ford holdings are in the neighborhood of $35,000/acre. Not bad for a $300 investment. Note these valuations were prepared by a third party (Wood MacKenzie).
The next slide should bring joy to the hearts of all COP shareholders. It shows how well COP is spinning the drill bit in comparison to the average Eagle Ford driller. According to IHS Enerdeq, the average Eagle Ford well has an initial production rate in the neighborhood of 475 boe/day while ConocoPhillips' wells come in at close to 700 boe/day, or roughly 45% higher than average. Even better, COP's wells continue to outperform for the entire first year of production, and substantially so over the first 6 months.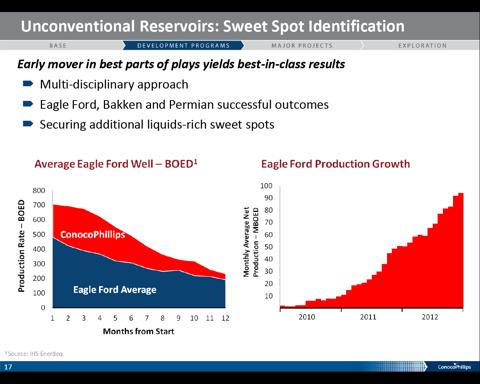 Click to enlarge
The right side of the slide above shows the dramatic increase in Eagle Ford productions -- from barely a trickle in the beginning of 2010 to near 100,000 boe/day by 2012 year-end.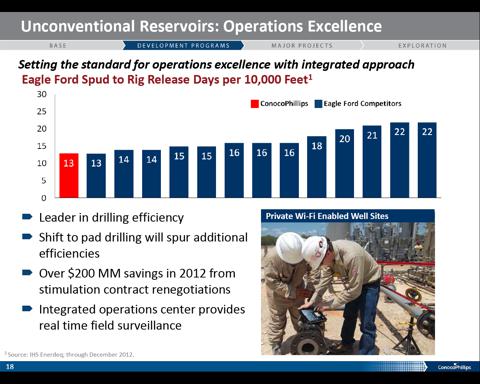 Click to enlarge
COP has not sacrificed efficiency while growing production in the Eagle Ford. As the slide above shows, COP is leading the pack in terms of the "spud to rig release" time (13 days). As mentioned during the presentation, these results do not even take into account pad drilling, which the company has not yet introduced in a big way. Once all leasehold drilling is completed, the company does plan to shift over to pad drilling.
COP has also opened a regional operations center for the Eagle Ford to better manage the day to day activity. As can be seen above, the company is employing Apple (NASDAQ:AAPL) iPads in the field to facilitate quick and accurate communications between its employees. The company is also building its own pipeline transportation system in the region (the "spine," as the presenter described it). COP is clearly in the Eagle Ford for the long haul.
In Q1 of 2012, Conoco produced 130,000 boe/day from the Permian, Bakken, and Eagle Ford shale plays combined. The company is scheduled to release Q1 2013 earnings next week (April 25th). I would not be surprised to see COP come fairly close to that 130,000 boe/day exit production total solely from its operations in the Eagle Ford shale alone.
If there was any doubt about the company's ability to execute on its lower-48 unconventional shale strategy, Q1's earnings release combined with its operations update will likely put an end to the unbelievers.
Don't Forget COP's Gulf Of Mexico Acreage
Before I wrap up, I'd just like to point out another positive catalyst for COP going forward. I have written before on two big discoveries in the Gulf of Mexico in which COP has significant working interests -- the Shenandoah and Coronado wells. In particular, Shenandoah was an absolute monster, coming in at over 1000 feet of net pay. COP has a 30% interest in that well.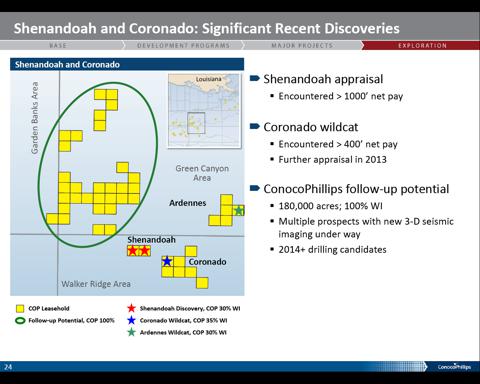 Click to enlarge
What I haven't mentioned before is that Conoco is the 5th largest leaseholder in the Gulf of Mexico. As the slide above shows, the company has over 180,000 acres (with a complete 100% working interest) in close proximity to the Shenandoah and Coronado discoveries. Like the company's Eagle Ford acreage, I imagine the value of COP's 180,000 acres here have gone up dramatically as a result of the Shenandoah strike.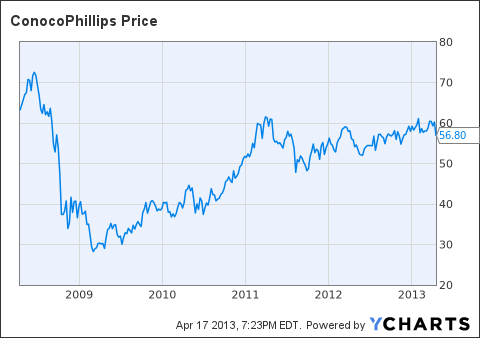 Like most energy stocks, COP has been hit by the recent commodity and market sell-off. Its shares have dropped from around $60 to $56.80 as of this writing. All that did was raise the yield to 4.4% ($2.64/share). Here's my advice: with COP's superior acreage positions, its above average drilling results, and its tasty dividend -- don't try to time the market. Just buy some COP shares, put them in your IRA so the dividend income is tax deferred, and forget about them. In 5 years, you will thank me.
Disclosure: I am long COP. I wrote this article myself, and it expresses my own opinions. I am not receiving compensation for it (other than from Seeking Alpha). I have no business relationship with any company whose stock is mentioned in this article.
Additional disclosure: I am an engineer, not a CFA. Please do your own research and contact your investment adviser. I am not responsible for investment decisions you make. Thanks for reading and good luck!