IncrediMail (MAIL) reported earnings Monday morning (see conference call transcript). In addition to quarterly revenue growth in what is typically a seasonally slow quarter, company CEO Ofer Adler raised annual profit guidance for the year to $7MM. Here is a quote from their earnings press release.
Total revenue for the first quarter of 2009 rose $1.6 million, or 34%, to $6.4 million, from $4.8 million in the same quarter in 2008. Net income for the first quarter of 2009 was $1.4 million, or $0.15 per diluted share, compared to a net loss of $0.7 million, or ($0.07) per diluted share from the same period last year. Non-GAAP net income in the first quarter of 2009 increased more than three-fold, reaching $1.6 million, or $0.18 per diluted share, compared to $0.5 million, or $0.05 per diluted share, from the same period last year.
I expect some further interest in the stock this week as MAIL is presenting at the AeA microcap conference. On a personal note, I think CEO Ofer Adler is one of the sharpest internet product minds in Israel and I look for him to keep innovating. The IM smiley plug in HiYo that the company launched is a perfect complement to the email add-on business and I am aware of number of companies in Israel and Europe that generate meaningful profits from IM add-ons.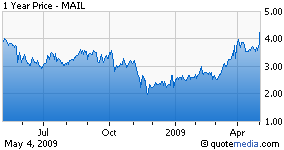 My previous posts on IncrediMail are here and here. Also, see my Stocktalk comment from yesterday.
The company has also previously announced a dividend of what looks like it will amount to almost $1.50 per share when it finally gets approved by the Israeli courts. This is based on 50% of this year's profit plus 50% of the cash. As of today, IncrediMail has almost $3 of cash on hand and a stock price around $4.80 (as of the big ~25% pop in the stock Monday morning).
With $0.15 of Q1 earnings, it is not inconceivable that the company could do $0.80 - $1 of earnings for the year which would mean that the price/EV is 1.8. It will be interesting to see how much, if any, the stock gaps down on the dividend.
Full Disclosure: Still long MAIL