The latest Weekly Weather and Crop Bulletin (April 16) from the U.S. Department of Agriculture indicates that most states report planting for nearly all crops is behind last year's pace but only slightly behind the 5-year average. Not surprisingly, the difference between this year and last is that this year is much cooler and wetter than 2012.
The chilly temperatures east of the Rockies will continue all of next week, moderating somewhat heading into May.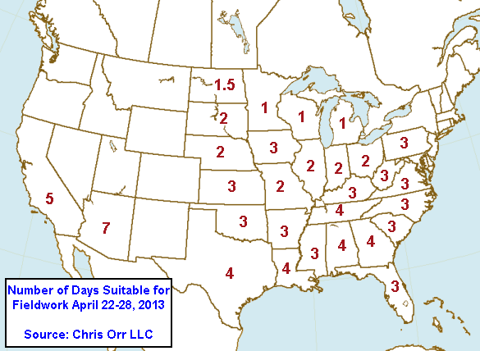 Wet weather will slow field work next week as a series of storm systems sweep west to east. The wettest areas of the country will be found in the Great Lakes and Northern Plains. The driest weather will be across the Gulf Coast states.
The weather pattern will hold through mid-May and then the trend will be for slightly drier conditions across the Ohio, and Tennessee River Valleys. The drier conditions will allow for more fieldwork without compromising soil moisture.
Wet weather will slash into fieldwork across Minnesota, Wisconsin, and Michigan, during May, while in North Dakota, South Dakota, Nebraska, and Iowa, fieldwork days hug the 5-year average for the time of year. Minnesota, and eastern North Dakota, will continue to lag behind in the planting of oats, sugar beets and spring wheat due to soggy soil.
Planting of corn (NYSEARCA:CORN) and soybeans will lag from Nebraska to Indiana, north into South Dakota, Minnesota, Wisconsin, and Michigan, but gradually approach the 5-year average as the available days for fieldwork should allow most grain (NYSEARCA:JJG) planting to stay close to the 5-year average.
Conditions will dry out along the Gulf Coast, across the Southeast and the Tennessee Valley as cotton (NYSEARCA:BAL) planting accelerates.
Disclosure: I have no positions in any stocks mentioned, and no plans to initiate any positions within the next 72 hours. I wrote this article myself, and it expresses my own opinions. I am not receiving compensation for it (other than from Seeking Alpha). I have no business relationship with any company whose stock is mentioned in this article.