Newcastle Investment (NCT) is a diversified REIT currently yielding 8.8%, whose share price has more than doubled in the last year. Despite these tremendous gains, there is still opportunity here for significant profits in the short- to mid-term.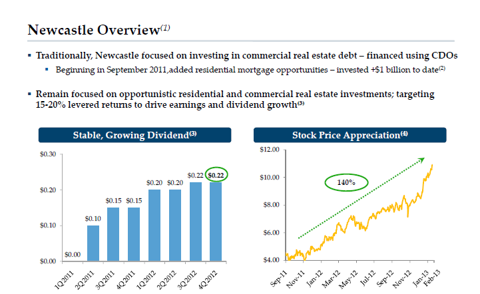 Newcastle has traditionally invested in commercial real estate debt and senior housing. Just over a year ago the company began investing in residential real estate debt, excess MSR's, and other non-performing loans. Since then the stock has more than doubled. Newcastle's investments in these new areas are now roughly equal in value to its traditional investments.
Newcastle announced early this year that it would be spinning off a second company with its significant residential real estate holdings. This new entity is to be called New Residential under the ticker symbol NRZ. One share of NRZ will be distributed for each current share of NCT. The spinoff was originally planned to take place in Q1 and was said to be on schedule at the company's most recent earnings call on February 28th. There has been no news of any delay and the split has not yet occurred. This leads me to believe that this split is imminent and could easily occur in the next few weeks, but will more likely be made official around the next earnings announcement in late May.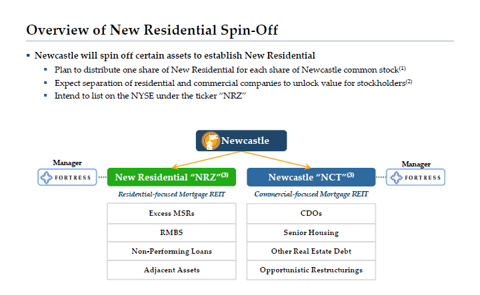 The company outlined the split in these company slides. As you can see, managements expects the new companies combined dividend to be $1.06, a 20% increase from the current $0.88 dividend. This should mean significant income for shareholders.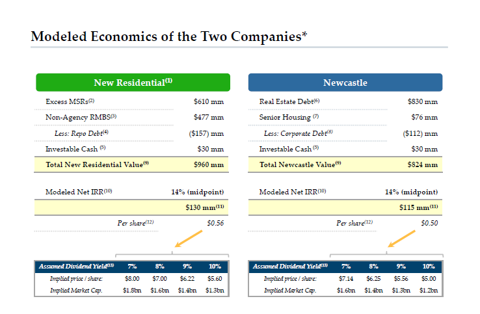 Also listed in this slide are expectations for the share price of each stock. If the combined price stays near current levels (they list $5.60 and $5.00 for a total of $10.60) this new dividend will result in a yield of 10%. A yield this high will attract more buyers and drive the price up and the yield down. Assuming the yield settles in around recent levels, let's say 8%, the combined share price will be $13.25. This represents an approximately 33% gain over the current price ($9.94 as of writing).
Whether you are a more conservative or a more risk-oriented investor this split will present an opportunity for you. NRZ will invest exclusively in these high risk/ high reward residential mortgages and at-risk loans, leaving Newcastle's more traditional and stable business of commercial real estate and senior living at NCT. Getting in the stock now should give both sides an opportunity for short-terms gains as the split unlocks value for shareholders. Following the split, investors will have the option to stay with one company or the other depending on their investing goals and strategies.
There has also been significant insider buying. Two officers in the company have purchased ~$1 million each in the last few months, most recently at a price of $10.48. The recent pullback from the $11 range to $9.94 at time of writing represents a significant buying opportunity at levels well below those where even insiders have been buying. There is only one reason for insiders to buy stock at market prices, they believe it is going up.
Disclosure: I am long NCT. I wrote this article myself, and it expresses my own opinions. I am not receiving compensation for it (other than from Seeking Alpha). I have no business relationship with any company whose stock is mentioned in this article.