Natural gas was one of the best short trades over the past five years. Robust exploration and production by operators such as Chesapeake Energy (NYSE:CHK) in Haynesville, and Range Resources (NYSE:RRC) in Marcellus, drove natural gas spot prices from $10.07 per million BTU in 2005 to an average $2.62 in 2012.
But, the natural gas free lunch may have ended with spot prices recovering to $4.23 per million BTUs, up from $3.30 at the end of 2012.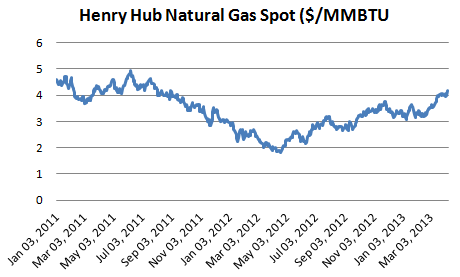 The price increase supports projections from the Energy Information Administration ("EIA") that natural gas (NYSEARCA:UNG) will average $3.25 this year before rising to as much as $4.05 by the end of the decade. This will come as welcome news to the largest natural gas producers, including Anadarko Petroleum (NYSE:APC), Devon Energy (NYSE:DVN) and Encana (NYSE:ECA).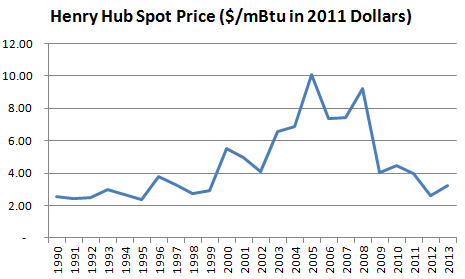 Evidence suggests the EIA's 2013 price assumptions may be light.
The main drivers of natural gas consumption are construction spending and industrial production. As more homes and buildings are built and widgets produced, demand for natural gas increases.
In February, U.S. construction spending increased 7.9% from the prior year, despite significant headwinds from falling public construction activity, which fell -1.5%.
Residential activity led, with private spending on new single family homes up 34.1% from last year. But, commercial activity picked up too as spending on office space, manufacturing and power increased by 10.5%, 9.5% and 6%, respectively.
And, U.S. industrial production climbed 3.5% from a year ago in March, with production climbing at an annualized rate of 5% in the first quarter. Important for natural gas investors, March industrial production at utilities rose 10.5% from a year ago.
The demand appears to have finally balanced the march higher in supply tied to spending in formations including Haynesville and Marcellus.
Natural gas inventories have normalized thanks to ramping consumption and anemic drilling
After years of lackluster dry gas drilling activity, the tide may be set to turn as prices firm ahead of summer utility demand. In March, the Baker Hughes (NYSE:BHI) international rig count climbed to 1268, up 76 from March 2012.
North American counts remained lower year-over-year. However, in the most recent week Gulf of Mexico drilling is up four rigs from last year and the number of North American rigs drilling for natural gas hit 375 on April 5, the lowest reading since February 1995.
The trough in natural gas activity is likely tied the level of natural gas in storage, which has fallen below its five-year average for the first time since 2011.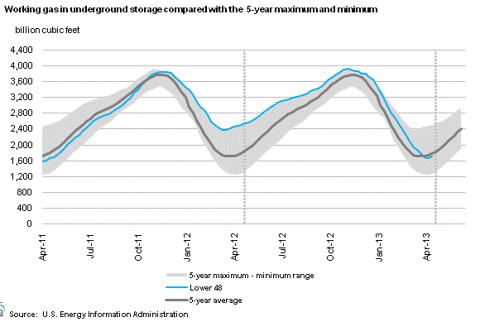 Eventually, higher natural gas prices will prompt a return of natural gas drilling activity. In the meantime, current rig levels offer independents lots of running room to leverage existing wells and cost cutting for margin growth.
If so, independents with heavy natural gas exposure may reward shareholders most over the coming year.
Disclosure: I have no positions in any stocks mentioned, but may initiate a long position in CHK, RRC over the next 72 hours. I wrote this article myself, and it expresses my own opinions. I am not receiving compensation for it (other than from Seeking Alpha). I have no business relationship with any company whose stock is mentioned in this article.