Stocks that have dropped significantly in price and are trading at all time lows provide investors attractive entry points, but some of those stocks could be deceptively "cheap". Being able to discriminate between the two is a valuable skill for every portfolio manager and stock picker.
In order to identify a good investment opportunity, AFG starts with assessing corporate performance by evaluating the ability of firms to generate Economic Margins above their sector median. Companies with expected improvement in their EMs tend to outperform companies with deteriorating EMs. In addition to corporate performance, AFG evaluates the valuation attractiveness and embedded expectations priced into the market through the Value Expectations interface.
The table below shows the 30 companies within the Russell 2000 Index with the greatest decline from their 52-week high trading price (as of April 30, 2009), and their attractiveness based on the ranked score of the expected change in economic profitability. In addition, we have pulled AFG's Value Score, a measure of valuation attractiveness, and VE Sales Growth numbers, which show embedded market expectations. The companies within the Financial sector have moved for reasons other than valuation, and will not be evaluated from a valuation perspective here.
click to enlarge
Russell 2000 - 30 Companies With The Biggest Drop From 52 Week High (ex. Financials)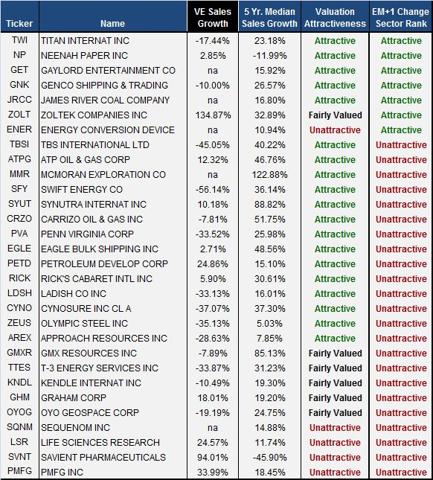 *AFG's Value Expectations allows us to understand the Sales Growth, EBITDA Margin, and Asset Turnover a company has to deliver in the future to justify its current trading price. In theory and in normal circumstances, if the imbedded future performance is very conservative relative to the company's historical performance, the stock is regarded as undervalued. The table displays the implied future Sales Growth of the list of companies assuming their EBITDA Margins and Asset Turnovers stay at the 5 year median levels.