By Sumit Roy
Natural gas rose to near $4.40/mmbtu today after the Energy Information Administration reported that operators injected 31 billion cubic feet into storage last week, below the 33 to 38 bcf build most analysts were expecting.
The injection was above last year's build of 23 bcf, but below the five-year average build of 41 bcf.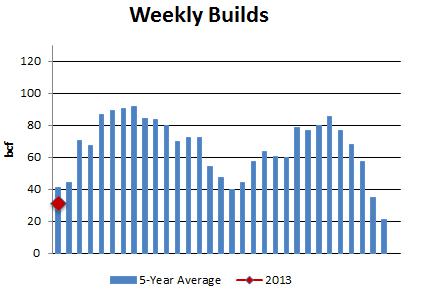 In turn, inventories now stand at 1,704 bcf, which is 797 bcf below the year-ago level and 69 bcf below the five-year average (calculated using a slightly different methodology than the EIA).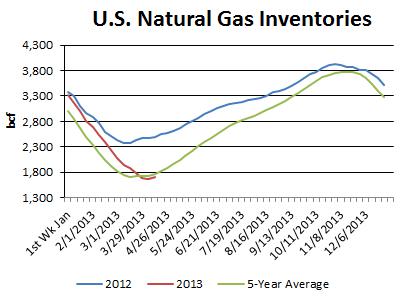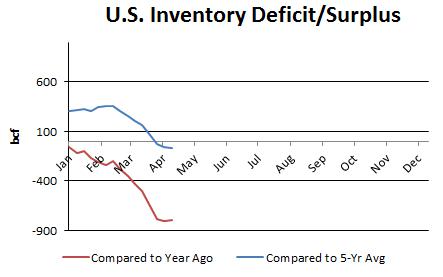 The weather last week was warmer than normal and warmer than last year at this time. Looking ahead, the NOAA's six- to 10-day outlook calls for colder-than-normal temperatures across the Midwest. That is still considered bullish, as lows in the 30s should boost heating demand.
However, as we move into May colder-than-normal temperatures become bearish, and warmer-than-normal temperatures become bullish for their ability to boost cooling demand.
NOAA Six- to 10-Day Outlook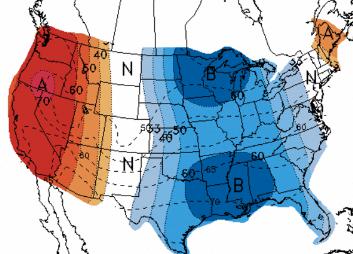 Meanwhile, the number of rigs drilling for natural gas in the U.S. rose by two last week to 377, still close to 14-year lows, according to Baker Hughes.
Natural Gas Rig Count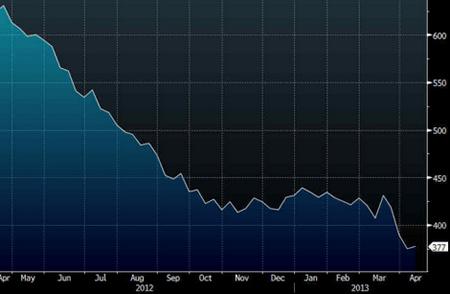 Natural Gas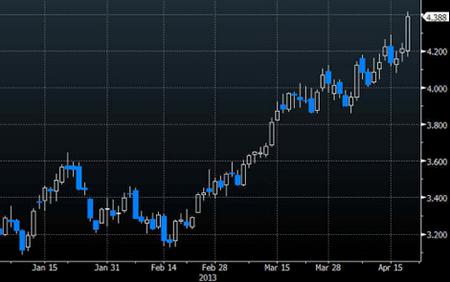 The latest inventory report from the EIA was bullish, as the deficit over the five-year average grew from 59 bcf to 69 bcf. Cold weather across the Midwest should keep injections muted for the rest of April; thus, inventories will likely remain in deficit territory for the time being.
Prices should continue to rally amid a high level of uncertainty regarding the injection season. Expectations are that the supply-and-demand balance will be much looser than last year given the doubling in prices, which is likely to translate into a sharp reduction in coal-to-gas switching. But if that loosening in the market does not materialize, supplies will fall short for next winter. These are two scenarios we envision:
1. The market does not loosen compared to 2012. Last year, 1,410 bcf were injected from mid-April through early November. That was an extraordinarily low amount and reflected the immense coal-to-gas switching at the time (due to decade-low prices). If a mere 1,410 bcf is injected through the remainder of the injection season this year, inventories would peak at 3,114 bcf -- considered a critically low level for the start of winter and may lead to a spike to $8/mmbtu or higher.
2. A more likely scenario is that injections match the five-year average through the rest of the injection season. That would add roughly 2,003 bcf to inventories, leading to a peak of 3,707 bcf. While that's a less-bullish scenario, in our view it would still be supportive of prices between $4.50 and $5.50.
Bottom Line: Prices look set to rally further as traders await more clarity on the natural gas supply and demand balance. A material loosening of the market vs. last year is expected, but that won't necessarily derail the bullish thesis.