The stock market is on a tear because the US Treasury and Federal Reserve will do whatever is necessary to prop up banks and automakers. Very reassuring. Wonderful.
How much of it will trickle down to mom-and-pop small business is an open question. Most big firms have cut their consultants and all other nonessential expenses like entertainment, interior design, advertising, travel, free food (at Google (GOOG)) and, of course, construction -- all of which were supplied by mom-and-pop small business.
The SBA says small firms:
Represent 99.7 percent of all employer firms.
Employ about half of all private sector employees.
Pay nearly 45 percent of total U.S. private payroll.
Have generated 60 to 80 percent of net new jobs annually over the last decade.
Create more than half of nonfarm private gross domestic product (GDP).
Hire 40 percent of high tech workers (scientists, engineers, and computer workers).
Made up 97.3 percent of all identified exporters
Sectors that have small business shares greater than 80 percent: construction, professional and technical services, health and social services, arts and entertainment, accommodation and food services. Holding companies are equally split between large and small businesses. Half of all trade (wholesale and retail), administrative, and waste management services are mom-and-pop firms.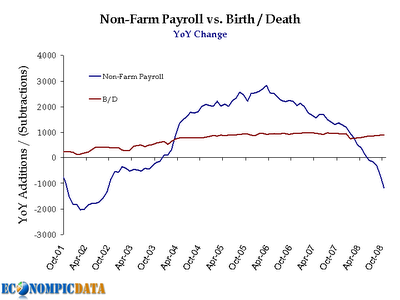 Job losses on Main Street are invisible, thanks to the backward-looking BLS "birth/death" model that ignores the current reality of zero start-ups, zero venture capital, a flood of small business closures, and a rising tide of loan defaults and bankruptcy.
There's no mystery what's happening on Main Street. Here are the latest charts from NFIB. Sales, earnings, and optimism fell off a cliff. Papering over Citi (C) and Merrill is irrelevant.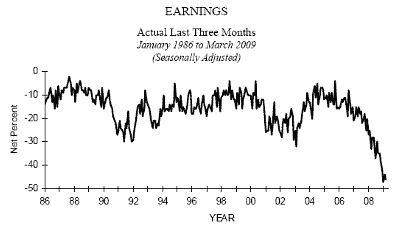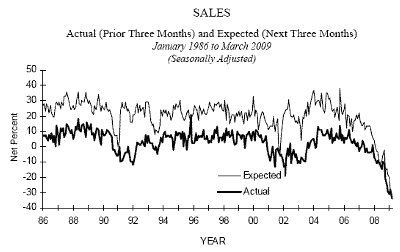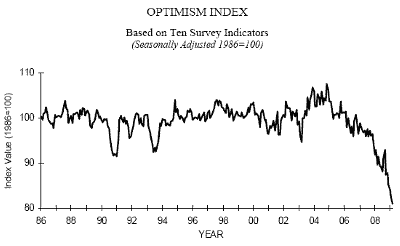 Disclosure: Author owns a small business