On Thursday, cigarette giant Philip Morris (NYSE:PM) reported its fiscal first quarter results. Overall, the report was mixed, as the company was hit by currency fluctuations, causing the full year forecast to be lowered. Additionally, the company's pile of debt increased quite a bit, an item I've been worrying about in recent quarters. On the news, Philip Morris pulled back. Today, I'll break down the news, and discuss whether this is the entry point that investors should be looking at.
First Quarter Results:
For the quarter, revenues came in at $7.58 billion, nicely ahead of the $7.52 billion that analysts were looking for. On an earnings per share front, the company came in at $1.28, which missed forecasts by 6 cents after a 7 cent hit on currency fluctuations. The company's buyback helped tremendously, adding 5 cents to the bottom line over last year's period. Operations added 6 cents, but that currency hit caused earnings to miss. If you take out the currency issue, the company came in a penny ahead.
Overall, revenues were up by 1.83%. Gross margins decreased ever so slightly by 3 basis points to 67.18%. A 7.2% increase in marketing, administration, and research costs hurt the operating side. Operating margins fell from 45.69% in the year ago period to 44.66%. The company also reported a 10.8% increase in interest expenses over the year ago period, partially offset by a 42 basis point deduction in the tax rate. Net profit margins, before subtracting non-controlling interests, declined from 29.97% to 29.25%.
Increasing debt / balance sheet update:
Philip Morris has been one of the best value names in the stock market over the past few years. The cigarette giant has paid a solid dividend and has been one of the most aggressive names in buying back stock. To accomplish such an aggressive buyback, the company has taken on a fair amount of debt, especially in the past year or two. For long-term investors, this is one worry that is increasing.
The table below shows some key balance sheet metrics going back to the end of 2010, with dollar values in millions. The yellow highlight shows where the current ratio is under 1, which results in the company's working capital being negative.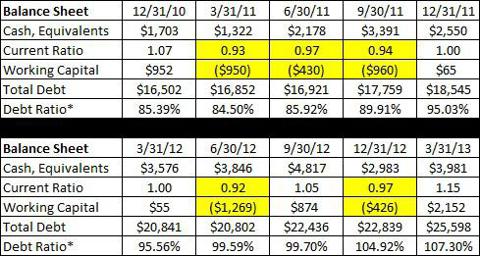 *Liabilities to assets ratio.
Now it might seem positive that the company's cash pile, current ratio, and working capital all improved from the fourth quarter. Normally, that would be good for a company, but these three ratios don't tell the entire story. During the quarter, long-term debt rose by nearly $3 billion, which attributed to the rise in the cash balance. Total debt, which stood at $22.5 billion at the end of 2012, was up to $25.6 billion at the end of Q1. You can see the rise in total debt in the chart below. Dollar values in the chart are in millions.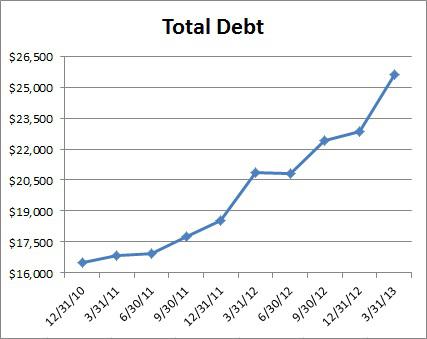 Additionally, the current ratio and working capital only improved due to a shift in the capital structure. The company shifted a large amount of current liabilities to long-term liabilities. Current liabilities decreased by about $2.5 billion, while long-term liabilities increased by more than $3.1 billion. Total liabilities were up by $627 million, while total assets decreased by about $250 million.
This rise in liabilities combined with a decline in assets has pushed the debt (liabilities to assets) ratio to a new high. Just two years ago, the company had 84.5 cents of liabilities for every dollar of assets. At the end of Q1 of 2013, the company had more than $1.07 of liabilities for every dollar of assets. The chart below shows the rise in this ratio. Additionally, the company's total debt to EBITDA ratio rose from 1.55 to 1.74 during the quarter, and the net debt to EBITDA ratio rose from 1.35 to 1.47 during the quarter.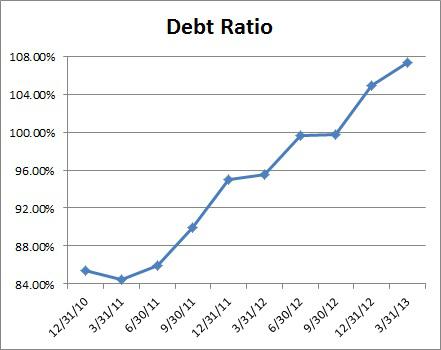 Philip Morris's balance sheet got a bit worse in Q1 thanks to the add on of more debt. The buyback program has done an excellent job of reducing the share count, but I've worried at times that they are spending too much right now. I'm curious to see what happens over the next few quarters. The company has more than $3.25 billion in its "current portion of long-term debt." Since the cash and equivalents balance was just under $4 billion, it is unlikely that they will pay all of this balance back with current funds. Most likely, some or all of the current portion of long-term debt will be refinanced. I'm hoping, and long-term investors should be too, that the company can use some of its cash to pay back some of this balance. It would be nice to see the quarterly debt numbers come down next quarter.
I've heard in the past that investors are not worried about this rise of debt. Interest rates are low now, so there shouldn't be an issue, right? Well, there's a couple of items to consider. First, more debt obviously means more interest. In the first quarter, interest expenses rose by 10.8%, much faster than the 1.83% rise in revenues, and especially negative after the 0.47% decline in operating income. The second issue is refinancing. When this low-interest rate debt comes due in future years, the company might see much higher interest rates. Even if rates don't soar by then, the company's added debt pile might cause lenders to charge higher rates. The other item to consider is the buyback. While the company has bought back plenty of stock, reducing the share count and boosting shares, the buyback may not last at this rate forever. After the 3 year plan ends, the company may not start a new plan, or they might have to slow down the rate of purchases. For a company that trades at a premium thanks to the buyback, a slowing buyback is not an appetizing thought. I'm not calling for this company to have financial troubles any time soon, but the balance sheet is getting a bit worse each quarter. That will have some consequences in the long-term.
Current Expectations:
In the first part of the article, I discussed the first quarter results and how the balance sheet has weakened. The second half of this article will look like one of my typical Philip Morris articles. I'll discuss the current expectations for this space, as well as the premium Philip Morris trades at. I'll also discuss how this could be the pullback that investors have been waiting for.
When comparing Philip Morris to others in the space, I look at three other names: Lorillard (NYSE:LO), Altria (NYSE:MO), and Reynolds American (NYSE:RAI). The following table is one I've used in several articles for this industry. It shows the currently expected growth in terms of both earnings per share and revenues. These are the current analyst estimates for 2013 and 2014, as well as a two-year total. These estimates were as of Thursday, before the Philip Morris report, and I'll explain possible changes going forward in a bit. I've also provided each company's dividend yield as another way to compare these names. The yellow highlight indicates the leader in that specific category.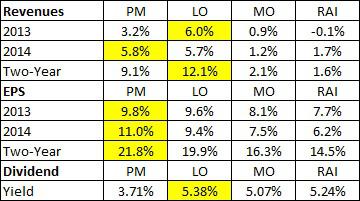 Since my last update, analysts have been a bit negative on Philip Morris. Analysts have taken down their average 2013 revenue forecast from $32.53 billion to $32.37 billion, and 2014 forecast from $34.46 billion to $34.25 billion. I expect that those estimates might creep back up a little going forward, as Philip Morris beat on the revenue front in Q1. Philip Morris currently has the highest expected revenue growth rate for 2014 revenues.
On an earnings per share front, Philip Morris analysts have cut their average 2013 forecast from $5.76 to $5.73 since my last update, and 2014 forecast from $6.40 to $6.36. During Philip Morris first quarter report, the company took down their 2013 earnings per share forecast, noting an additional $0.13 impact from currency fluctuations. The old forecast was for $5.67 to $5.78, and the new forecast is for $5.55 to $5.65. We'll see in the coming days what the analysts say, but going into this report, analysts expected the most earnings per share growth from Philip Morris in 2013, 2014, and the two-year total.
When it comes to Lorillard, only one change has occurred since my last update. Analysts have taken down their 2014 revenue forecast from $5.21 billion to $5.20 billion. While that change is ever so slight, it has taken Lorillard from a tie for first place in 2014 revenue growth into second place. Lorillard still has the highest projected 2013 revenue growth and two year total, and second highest projected earnings per share growth for all three categories. Lorillard also has the highest dividend yield as of Thursday's close.
Altria and Reynolds sit far behind in both revenue and earnings growth forecasts. Since my last update, Altria has not seen any changes in its analyst forecast. The only change Reynolds has seen is that analysts have increased their 2014 earnings forecast from $3.39 to $3.40.
Current Valuations:
I always say that growth is important, but the more important part is how much are you paying for that growth. Well, the following table shows valuation metrics for each, as of my last update and now.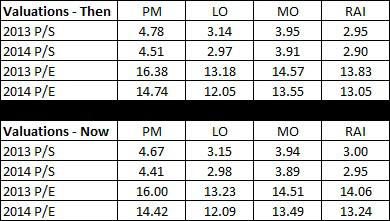 Since my last update, Philip Morris has come down in valuation, which makes sense since the stock is down more than $2.50 since my last update. This is why I continually publish articles on Philip Morris, showing when to buy and when to step to the sidelines. I told investors to avoid buying above $94, and it rose all the way to $96.60. We've now come down about $5, and wouldn't you say that under $92 is a better buy point than above $94. I certainly would.
As anyone who has read my past articles knows, Philip Morris has always traded at a premium to these other names that I look at. That premium can be found in the table below, since my last update.

The premium has now come down twice in a row. When Philip Morris was trading at a 44% premium on this year's price to sales, I just couldn't recommend buying it. At a 38.8% premium now, that seems more reasonable. Likewise, going from a 19.17% premium on this year's price to earnings (over two updates) to a 14.85% premium gets Philip Morris back into line with where it should be.
The analyst take:
Don't just take my word for it when it comes to Philip Morris. It's always good to see what the analysts say. The following table shows the average rating, where a 1.0 is a strong buy and a 3.0 is a hold. The table also shows the average, or mean, price target currently, and the upside to that target from Thursday's close.

Philip Morris maintains the best rating, but just the second highest upside to the average analyst target. Generally speaking, the best time to buy Philip Morris is when that upside reaches 8% to 12% (or more), while 3% to 5% (or less) is the time to stop accumulating. At Thursday's low of $90.70, Philip Morris was close to that 8% upside level. Again, it's a better buy under $92 than it was at $94 plus.
Technical factors looking better:
I mentioned in my past article that some of the technical factors were showing that the stock was overheated. I cited the fact that the stock had broken out, pushing above its upper Bollinger band. In the past, that has meant a pullback was coming. Well, now that we've seen a pullback, I've added an updated chart, shown below. Philip Morris is now closer to the lower Bollinger band, which has been a level of support for this stock in the past.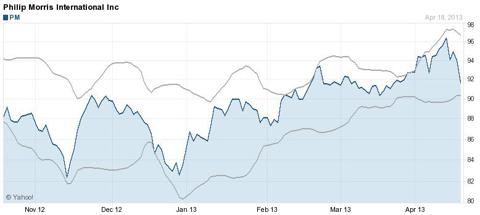 (Source: Yahoo! Finance)
Final Thoughts:
Philip Morris pulled back after earnings, with a little help from the recent market decline. The earnings report was mixed. Revenues were good, earnings were light, and currency headwinds are expected to continue. The company's balance sheet got a little worse, which may cause some problems down the road.
Overall though, this was the pullback investors have been waiting for. This is why I argued above $94 to not add to your position, and those that have listened now have a better entry point. We've now come down about $5, and it was more than that at times on Thursday. I wouldn't even be surprised if we test $90, but that probably only happens if the market goes lower in the near term.
Philip Morris remains a great dividend idea, and a solid value thanks to the buyback. The debt issue may be a problem down the road, but for now, they are using it to buy back shares and that is pushing this stock higher. Be careful not to pay too much for this name though, and you'll be rewarded in the long run.
Disclosure: I have no positions in any stocks mentioned, and no plans to initiate any positions within the next 72 hours. I wrote this article myself, and it expresses my own opinions. I am not receiving compensation for it (other than from Seeking Alpha). I have no business relationship with any company whose stock is mentioned in this article.
Additional disclosure: Investors are always reminded that before making any investment, you should do your own proper due diligence on any name directly or indirectly mentioned in this article. Investors should also consider seeking advice from a broker or financial adviser before making any investment decisions. Any material in this article should be considered general information, and not relied on as a formal investment recommendation.