Many of our recent articles have focused on undervalued high dividend stocks and blue chip dividend stocks. This week, we've found a Dow component stock, Boeing, (NYSE:BA), which looks undervalued on several bases, and also has attractive options yields, which dwarf its dividends.
Dividends: BA increased its quarterly dividend by 11% in February, and it should go ex-dividend in early May: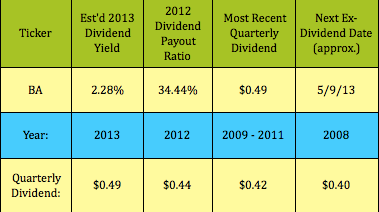 Dividends vs. Options: Even with the dividend increase, BA yields just 2.28%. However, this short-term June $87.50 covered call pays $2.35, over 4 times BA's May dividend, and offers you yields ranging from over 15%, up to nearly 28% annualized.
You can see more details on this and over 30 other trades in our free Covered Calls Table.

Click to enlarge
There are 3 basic scenarios in covered call trades with dividend stocks:
1. Static - Your shares don't get assigned/sold away.
2. Assigned - Your shares do get assigned/sold away.
3. Ex-dividend date - Your trade income will be affected by whether your shares get assigned before or after the ex-dividend date. The table below lists the income for all 3 scenarios:

Click to enlarge
Afraid of another possible "Sell in May and go away" market swoon? As usual, there are many opinions on both sides of that issue - 2012's spring pullback lasted from early April until June 4th, and then the market took off, until mid-September.
This put-selling trade, from our Cash Secured Puts Table, is another way to grab a high yield over the next 60 days, and still have some protection. Selling a June $85.00 put, below BA's $86.12 stock price, offers a much higher payout, (over 19% annualized), than the May dividend, and gives you a break-even that's nearly 5% below BA's current price.

Click to enlarge
Performance: BA has had a good run over the past year, and in 2013, and is less than 4% below its 52-week high. This may also support the conservative put-selling strategy listed above, vs. buying it outright at its current price:

Earnings: BA currently looks undervalued on a 2013 PEG basis. The company finished 2012 with a record $319 billion backlog. BA's big issue is whether it can gain approval from the FAA to release its grounded 787 planes.
Current company guidance for Core 2013 EPS is $6.10 to $6.30, and the consensus analysts' estimate is a bit higher, at $6.37. BA's guidance "assumes no significant financial impact from the FAA directive", and BA expects to deliver over sixty 787s during 2013. (Source: BA website) With many airlines having aging fleets, it seems that the demand for new planes should certainly continue in 2013 and 2014, and that 2014's average EPS estimate may be too conservative.

Click to enlarge
BA also looks undervalued vs. its peers on a Price/Sales, Price/Book, and P/E basis: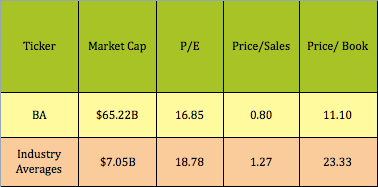 Financials: BA boasts a whopper ROE of over 83%, has strong Interest Coverage, and carries less debt than its peers:

Click to enlarge
Disclaimer: This article was written for informational purposes only and is not intended as investment advice.
Disclosure: I am long BA. I wrote this article myself, and it expresses my own opinions. I am not receiving compensation for it (other than from Seeking Alpha). I have no business relationship with any company whose stock is mentioned in this article.
Additional disclosure: I'm long BA via being short BA put options.